Introduction
Writing technical article is one of the professions that can be pursued as a side hustle, full-time, or even for just sharing your thoughts and code with the world through writing articles. Every developer should at least give it a try to write articles so that they can excel in their career.
Tools won't help you in improving your writing skills drastically but they can improve your productivity and efficiency in writing articles. I have used a variety of tools in my writing journey but few of them stick with me. I don't use a lot while writing but whatever I used is here.
Also, this is part of a section from my ebook, Zero to Hero in Technical Writing: Making Consistent Income. It covers topics related to writing technical articles online. Tips and tricks from my journey of writing articles. If you want to deep dive into writing technical articles then you should get the ebook. You can get the ebook here.
Note: I am running a launch campaign right now, you will get the ebook at a discounted price now. So grab it soon.
So, let's get started.
Dropbox Paper is a new type of document designed for creative work. Collaborate in real time, assign tasks, make to-do lists and much more. Start today!
I use it for writing articles. The platform is very well known in the writing community for sharing and collaborating on writing projects. It has support for markdown, the preferred way of writing text for developers.
Recently, It got support from Grammarly which makes it even more awesome.
---
A tool that blends your everyday work apps into one. It's the all-in-one workspace for you and your team.
Use any of this to manage your topic ideas, upcoming projects, or anything related to your writing. Choosing between these depends on what you prefer, Trello has a great board for project management while Notion can do this along with providing other views.
I would recommend Notion as you can do more on the platform in terms of views, customizing the look, or simplifying managing it.
---
Millions trust Grammarly's AI writing assistance to communicate with confidence and make writing faster and more delightful. Getting started is simple — download the app today.
One app that helps me in solving my grammar errors is Grammarly. You might know it or use it if you write frequently. It's good and helped a lot. For people like me, non-native English speakers, it's an awesome tool.
I used their free plan which just helped with grammar. Premium plans helped in tone and restructuring the sentence. I feel like the premium plan will change your voice and way of writing articles, I suggest using the free plan only.
Sometimes, I also use Hemingway for cropping lengthy sentences.
---
Canva is a free-to-use online graphic design tool. Use it to create social media posts, presentations, posters, videos, logos and more.
A place where I design my thumbnail and illustration. They have tons of designs that you can use for free. It's quite easy to customize a design or you can start from scratch.
I have used a lot of tools like Canva but nothing is like Canva. The variety of templates is impressive.
---
Carbon is the easiest way to create and share beautiful images of your source code.
I used this tool to add beautiful images of my code. I prefer, adding code as a text. So, that others can easily copy it and test it. But still, sometimes I used to add code as an Image. I use this when I have to explain syntax or code that is less likely to be copied.
---
CodeSandbox is a cloud development platform that empowers developers to code, collaborate and ship projects of any size from any device in record time.
Whenever I need to add the complete project with the code to the article, I look forward to these platforms. They both have awesome embedded support that can be viewed in the article directly. If the project contains only HTML, CSS, and JS then CodePen is preferred. Otherwise, with a complex project with React or NextJS, CodeSanbox is useful.
---
Quickly create beautiful website and app mockups from screenshot for free. Pika lets you capture website screenshot from URL, add device and browser frames, customize background and more.
I recently discovered this tool that provides a beautiful background to screenshots. You can provide a link to capture screenshots too. I use this in tooling articles where I discuss tools for developers. I used Pika Style to capture screenshots of those websites to display in my article.
All these beautiful backgrounds in this section are generated using the Pika style.
Conclusion
These are just 1 topics among the 12 topics that I have covered in the ebook. The complete list of topics that I have covered are these:
Introduction👋
Why should you write technical articles?💡
How to start your blog?🌱
What should you write?🤔
Researching the topic🔍
Writing style to follow🎨
Markdown📄
Things to do before publishing the article📑
Things to do after publishing the article📢
Tools to Use🛠️
Challenges of Writing Technical Articles📚
Earning money through Technical Writing💰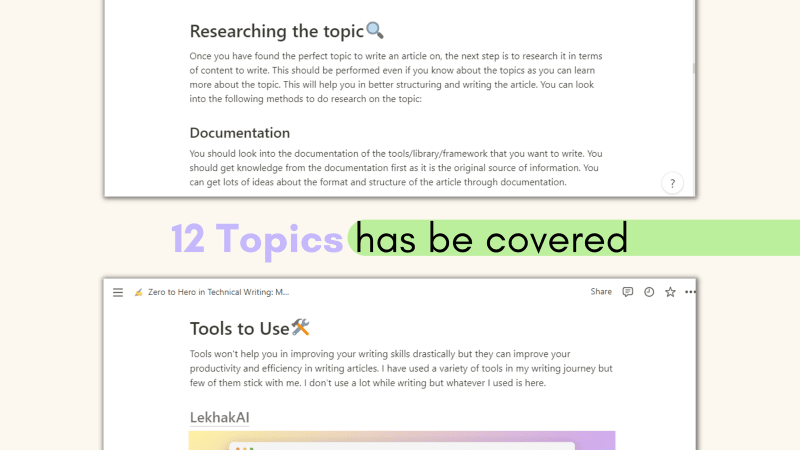 If this excites you then you should look at the ebook here. It is available in ebook PDF and Notion template variants. You can get the ebook here.
Note: As I mentioned above, I am running a launch campaign right now, you will get the ebook at a discounted price now. So grab it soon.
I hope this article has helped you in knowing technical writing. Thanks for reading the article.