Hello folks, I'm Srushti Rathva. I'm currently in my 2nd year pursuing B.Tech in Computer Science Engineering from Indian Institute of Information Technology, Vadodara.
I was selected as a mentee for this program in 2022 and I received a direct internship offer from Microsoft. I'll be sharing my experience and tips through this article.
Microsoft Engage is a mentorship program organised by Microsoft itself for second year students.
1. Registration
Eligibility Criteria :
Students in their 2nd Year
Students enrolled in a full-time engineering program Bachelors, Masters, Integrated Dual Degree and related degrees
6 CGPA and above
No backlogs

If you're eligible, you can register on the Microsoft job portal.
2. Selection Process
After registration, applications are shortlisted for the Selection Tests. If you meet the required criteria, you'll receive a link for Selection Test.

This year (2022) we had two selection tests.
Selection Test 1 :
10 MCQs need to be answered in 30 minutes.
Required DSA skills.
No negative markings.
DSA is key mantra !
After the selection test 1, students were again shortlisted for Selection Test 2.
Selection Test 2 :
2 Questions need to be answered in 30 minutes.
Required DSA skills.
No negative markings.
3. Learn
After Selection Test 2, selected students were informed and were divided into group of 10-12 students. Each group of students was assigned a mentor who himself/herself is a software engineer at Microsoft.
During these 4-5 weeks, multiple sessions were organised which included AMAs and Tutorials. In addition to this, we had weekly sessions with our mentor. Sometimes it was a group session and sometimes one on one. Also, we had weekly assessments.
These weekly sessions with mentor and weekly assessments were said to be evaluated thoroughly.
4. Build
Now, here comes the most crucial part which can lead to the direct internship offer !
Also during this course of time, students were meant to build the project on one of the given challenges.
5. Submit
After completion of the project, students were meant to submit their project.
We're told to submit a 4 minute demo video and source code of the project.
After the submission deadline we had 2-3 webinars which were exclusively for Engage mentees.
Results
After the project submissions were over, I was eagerly waiting for the results to come.
Soon after 2-3 days, I got a gift from Microsoft ! This premium upgrade was gifted to everyone who submitted their final projects.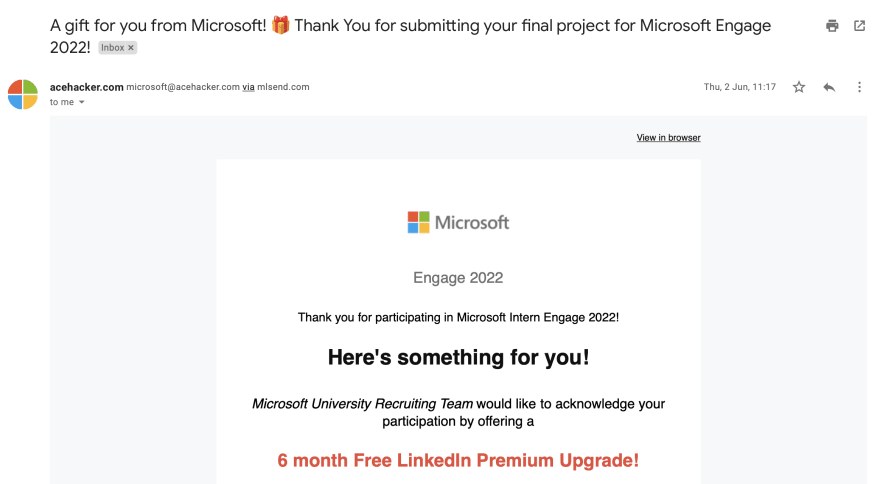 I was informed that results would be shared at the end of 21st June. I still remember myself waiting for the results on that day, I was continuously checking my mails and LinkedIn till the late night. I didn't know when I slept. In morning, I checked my mail again to see if there was an update and to my surprise I was offered a direct internship offer !!!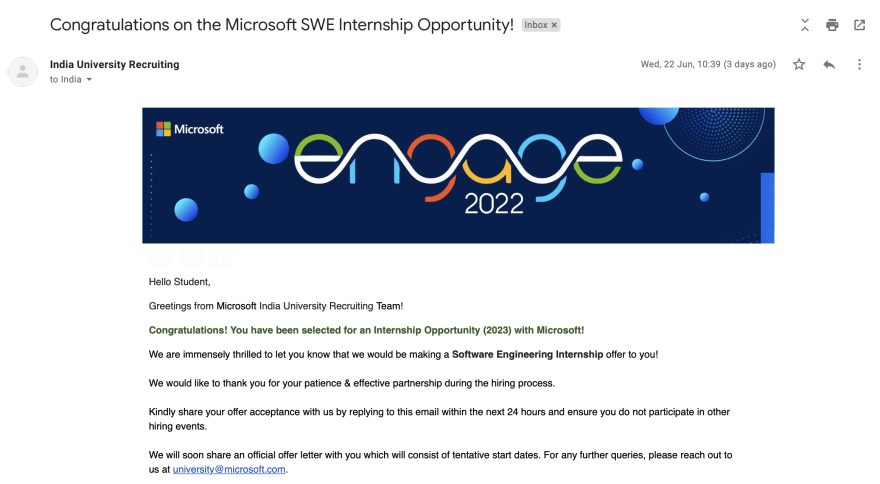 Some students got direct internship offer and for the everyone else who at least submitted their projects got interview rounds.
Tips
As I said DSA is must.
Do your weekly assessments well.
Mentor Feedback matters. Attend weekly sessions with your mentor and ensure to be interactive.
Try to complete your project early and add some additional features apart from required features.
Try to catch panel's attention through your project demo video.
Even If you don't get selected, don't loose your hopes. There are bunch of opportunities for you out there. Keep trying ;) .
If you have any doubts or queries, feel free to ping me. I'd love to help you. You can connect with me on LinkedIn or Twitter.
If you liked this article, please hit the like button, leave a comment, and do follow @srushtie for more such articles.