We are excited to release a major update to the popular Marquee VS Code Extension. Most notably, we've fully open-sourced the repository (under the MIT License) to encourage community participation in Marquee's roadmap in the form of discussions, feedback, and code contributions through public channels on GitHub.
Install Marquee from the Marketplace or search for "marquee" inside VS Code's extension tab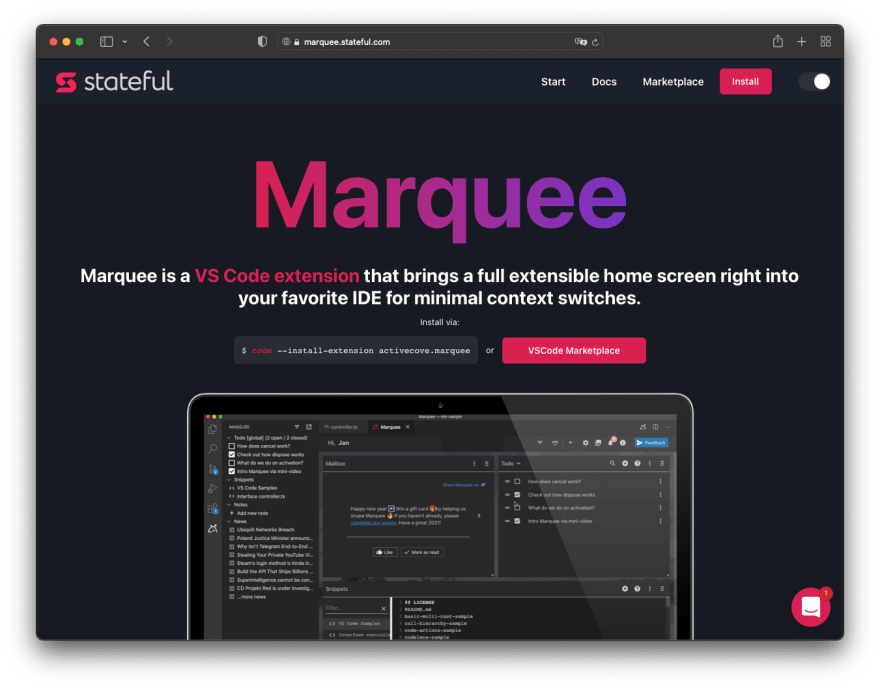 A lot has changed under the hood to boost Marquee's performance in this open source release (v2). It also includes a handful of improvements:
A revamped project website at https://marquee.stateful.com/
Ability to change feed channels in the Hacker News widget
A badge as notification that a widget has a filter of some sort enabled
A input field now allows to attach tags to your todos at creation time
A configuration toggle that modifies the default setting whether projects open in a new or same window
Various bug fixes that were reported, including widgets not loading remote content inside of GitHub Codespaces or Gitpod.io
Come find us either on GitHub, our community channels on Discord & Gitter, or through the in-Marquee feedback channels. Also take a look at the roadmap to see what's on Marquee's horizon.
Happy coding!
Sebastian, Christian, and the Marquee Team