It's March 8th 2022 and Women's Day is here! 🥳
At first, I wasn't sure how I should celebrate it this year. But then I decided, to write this blog. 📝
To observe and highlight how women are putting an impact to our society. I believe, there is joy and pride in uplifting them around me. There is happiness in believing in their instincts and supporting their growth.
I felt the best way to encourage them to rock the world, to do the best in what they do best and to celebrate this day was to put up a blog to recognise them even more.
Meet Giulia Spiga, She is an HR Specialist at Entando and she believes
There are skills that you acquire with time, with hard work, with study and determination.
There are values, however, that are innate and are those that I try to bring into my company: listening, empathy, kindness, gratitude.
While, Amanda Martin who works at WiX as a Developer Advocate, feels that, there is immense joy in
Listening and learning every day from all the creative developers that build with our dev tools and helping support them in any way I can
Céline Bayer is the CTO at Veesion. While she does all the amazing work, here is what she feels
I create teams to make people work together and create impactful projects. I really care about people. I realised that they weren't listened to enough.
Also, meet Saumya Singh who is a Software Engineer at Red Hat. As she spends time building a robust community, She believes that
I am a passionate software engineer who loves exploring all spheres of life ❤️ I have enjoyed leadership roles as product managers and also loved public speaking.
I also had started a new Youtube channel to help aspiring folks around Tech, Product, Dev Advocacy and more :)
So many interesting thoughts to learn. There is so much value in what women are doing out there. It inspires me to keep hustling always.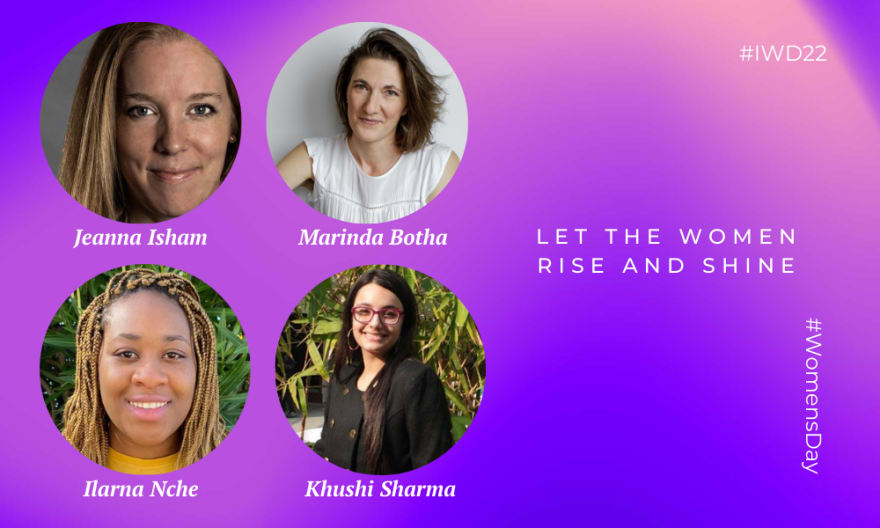 Marinda Botha who owns www.marindabotha.co.uk is a born actor and voice over artist. I have had an opportunity to work with her too in the past! Here is what she says
I love being involved with new tech, tech for good and finding solutions to problems. I am currently involved with a Virtual Reality company, The MetaMovie Project, that does live, immersive theatre projects in VR. Providing entertainment to audiences that is free from geographical restrictions and enables connection and joy to participants, is a wonderful thing in these uncertain times.
Listen to Jeanna Isham from Dreamr Productions, who works as a Sonic Branding and Sound Strategist. She does such unique work! She says
I share context and perspective on sound in marketing so that more companies (big and small) can participate and make sound 'on purpose'.
Meet Ilarna Nche. She is the CEO & Founder of Adassa Innovations. She is very innovative and here is how she is putting an impact in tech
As a conversational designer and developer, I build voice experiences on Amazon Alexa & Google Assistant. I want to find innovate ways to allow millions of people to utilise voice as much as possible.
Finally, we have Khushi Sharma who is an Incoming summer Intern at Google. While she has worked really hard, this is what she believes
I have always believed in "Tech for Good" and putting that up, I have been involved in harnessing the power of technology and building good out of it :!
Wow, so many interesting roles these women are working in. I'm amazed by the way they are putting an impact to our society.
I would like to thank Giulia, Amanda, Céline, Saumya, Marinda, Jeanna, Ilarna and Khushi for participating in this little post of mine. Huge shoutout and appreciation to all the great work they do!
I believe I've done my part sharing all the wonders these women are doing. You've read it all now. What's next?
Go ahead, check out their profiles. Connect with them. And do share this post with your network ♥️