Hello coder,
If you plan to build your next admin dashboard using React, this list with open-source templates might help you a little bit. All open-source admin panels listed in this article are suitable for hobby and commercial products and are actively supported by the publishers.
---
Thanks for reading! Content provided by AppSeed - a platform used by 2k+ developers across the globe.
---
Selection criteria
Built with React
Permissive license: MIT License, Apache License
Modern Design
The product is actively supported
Minimum tooling (gulp, webpack, parcel)
---
Disclosure - This post contains affiliate links.
If you use these links to buy something (no additional cost to you) I may earn a commission, product, or service. Thank you!
---
Motivation to write this article
The existing Top 20+ React Dashboards articles, most of them, are written by publishers with this bad habit of sniffing a lot of commercial apps in the content, without mention this aspect in the title.
I'm not saying this is good or bad, but is not obvious if the apps are free or not, just by reading the title. Well, this is not the case here. Let's go!
---
Theme provider - Creative-Tim
---
Material Dashboard React is a free Material-UI Admin with a fresh, new design inspired by Google's Material Design. We are very excited to introduce our take on the material concepts through an easy to use and beautiful set of components. Material Dashboard React was built over the popular Material-UI v4.1.0 framework.
---
---
---
Theme provider - CodedThemes
---
Datta Able is a Free React Admin Template, around all other admin templates in the market. It comes with high feature-rich pages and components with fully developer-centric code. Before developing Datta Able our key points were performance and design. While developing we have gone through various testing & code optimization processes, for making this performance and design-centric backend application.
---
---
---
Theme provider - BootstrapDash
---
For all the dark mode fans out there, here's the free version of Corona React, a free React admin template from BootstrapDash. This is the new and improved version of Corona React with a new facelift for enhanced legibility and aesthetics! This beautiful template is designed to be easy on the eyes, ensuring a comfortable viewing experience for all the night-owls out there. This admin dashboard template is easy to set up. You can get it up and running within a few minutes. Corona React is also easily customizable.
---
---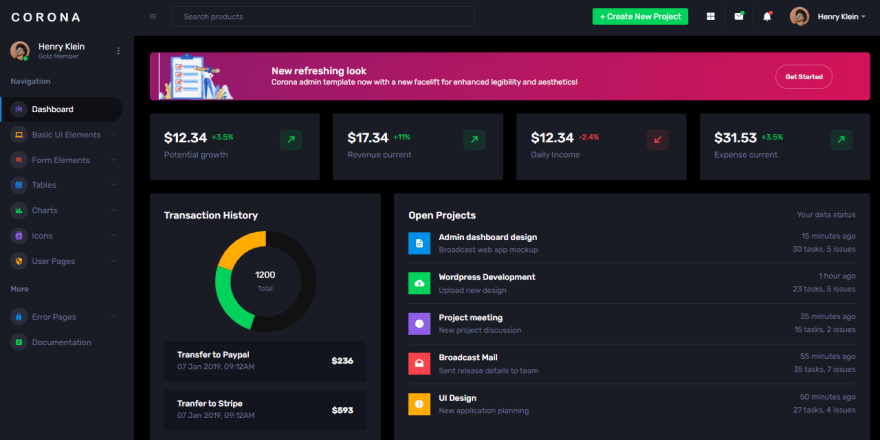 ---
Theme provider - Creative-Tim
---
Notus React is built with over frontend 100 individual components, giving you the freedom to choose and combine. All components can take variations in colors that you can easily modify using Tailwind CSS classes.
If you like bright and fresh colors, you will love this Free Tailwind CSS Template! It features a huge number of components that can help you create amazing websites.
---
---
---
Theme provider - BootstrapDash
---
Star Admin React Free template presents unlimited customization options to users. It gives you access to a wide variety of essential elements that will allow you to bring a unique touch to your web application. The template features a carefully crafted dashboard with plenty of neatly arranged and organized components and is capable of making the process of data visualization simpler.
---
---
---
React Dashboard AntD
Theme provider - AntD Design
---
An excellent front-end solution for enterprise applications coded in React. This open-source React Dashboard has ~8k GH stars and 2.2k forks and comes with Internationalization, Dynamic permissions "out-of-the-box".
---
---
---
Theme provider - BootstrapDash
---
Azia Admin React is yet another incredible admin template from BootstrapDash that is based on the Bootstrap framework. The template is tastefully designed and coded to perfection. Azia Admin React comes packed with a lot of bootstrap components, UI elements, and built-in sample pages to kick-start your project.
Azia Admin is packed with all the features that fit your needs but not cramped with components you would not even use. It is an excellent fit to build admin panels, e-commerce systems, project management systems, CMS, or CRM.
---
---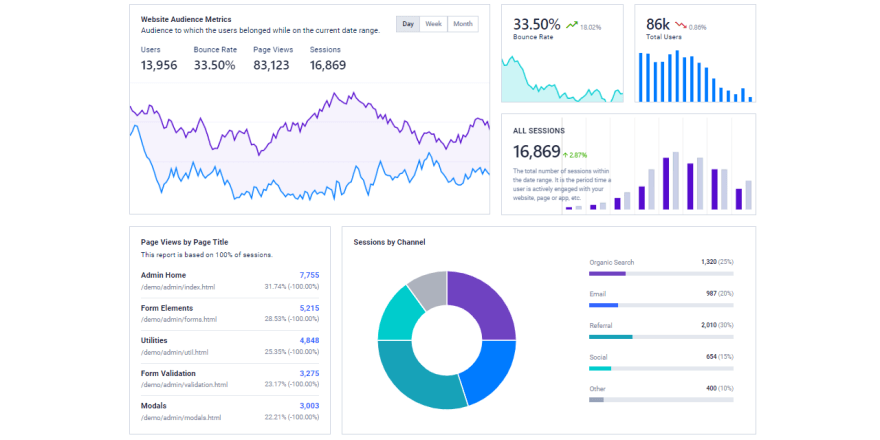 ---
Theme provider - Creative-Tim
---
React Dashboard Argon is an open-source admin dashboard for Bootstrap4 and Reactstrap. React Dashboard Argon is built with over 100 individual components, giving you the freedom of choosing and combining. All components can take variations in color, that you can easily modify using SASS files. Dashboard resources:
---
---
---
React Dashboard Airframe
Theme provider - 0wczar (Freelancer)
---
High-Quality Dashboard / Admin / Analytics template that works great on any smartphone, tablet, or desktop. Available as Open Source as MIT license.
---
---
---
Theme provider - Creative-Tim
---
React Dashboard Black is a beautiful Bootstrap 4 (Reactstrap) admin dashboard with a generous number of components built to fit together and look amazing. If you are looking for a tool to manage and visualize data about your business, this dashboard is the thing for you. It combines colors that are easy on the eye, spacious cards, beautiful typography, and graphics.
---
---
---
React Light Blue
Theme provider - FlatLogic
---
Light Blue Free React Template is an open-source web application template particularly useful for building admin dashboard interfaces with a modern UI/UX. It is built on top of the latest version of React, Bootstrap, and Webpack.
This starter template can be a good skeleton for creating SAAS, CRM, financial management applications,s and so on. We are going to keep it updated and provide more and more components for both free and premium versions.
---
---
---
Theme provider - WrapPixel
---
Material React Admin Lite is a carefully handcrafted beautiful react admin dashboard template of 2019. It's built with a modular and modern design concept. Material React Admin Lite is completely free to download and use for your personal as well as commercial projects.
---
---
---
Theme provider - ArchitectUI
---
ArchitectUI React Dashboard template is a free, open-source admin panel coded in React. It comes packed with a set of beautiful elements and components that can offer you a head start in developing your web application. It has a fully responsive layout, multiple color schemes for both Bootstrap elements and layout components. ArchitectUI React is powered by Bootstrap 4, Webpack and it uses create-react-app from Facebook Dev.
---
---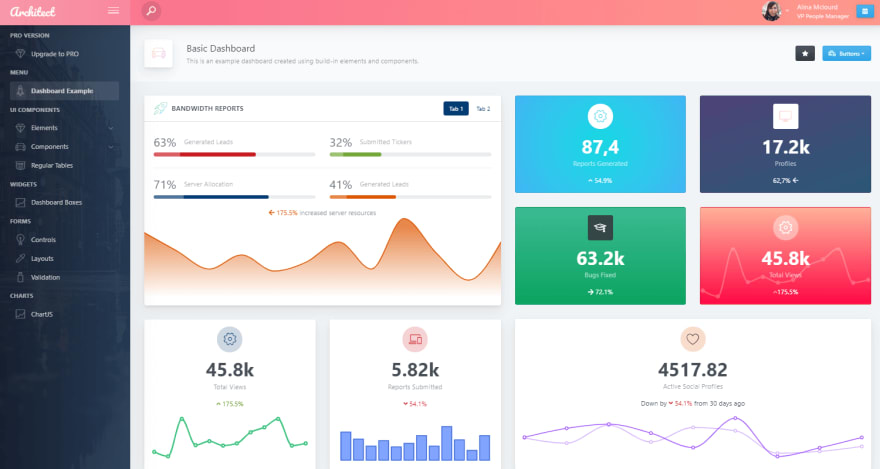 ---
Similar posts, from other publishers
---
Resources
---
Thank you! Btw, my (nick) name is Sm0ke and I'm pretty active also on Twitter.