Hello Coders,
This article presents a curated list with beautiful and Free UI Kits released under permissive licenses by their vendors suitable for hobby and commercial projects. All projects are actively supported and the source code can be downloaded directly from Github (no account required to use the code).
---
Thank you! Content provided by AppSeed - App Generator.
---
---
Disclosure - This post contains affiliate links.
If you use these links to buy something (no additional cost to you) I may earn a commission, product, or service. Thank you!
---
Design - Creative-Tim
Now UI Kit is a responsive Bootstrap 4 kit provided for free by Invision and Creative Tim. It is a beautiful cross-platform UI kit featuring over 50 elements and 3 templates. Now UI Kit will help you create a clean and simple website that is a perfect fit for today's flat design. It is built using the 12 column grid system, with components designed to fit together perfectly. It makes use of bold colors, beautiful typography, clear photography and spacious arrangements.
---
---
---
Design - Creative-Tim
Paper Kit 2 is a free Bootstrap 4 UI Kit with pale colors, beautiful typography and thoughtful drawings. We created it having paper and drawings in mind. Any elements that is vital to code a web project is already here, fully coded. All components are fully responsive and look great on every screen size. Transitions, shadows, colors, they all resemble the flow you would have using pieces of paper.
Paper Kit 2 contains some pages already designed and implemented. Here is the list with the pages available. We are also working on more example pages, that you will be able to access no matter the version you download.
---
---
---
Design - Webpixels
Boomerang is a free Bootstrap UI Kit perfect for building responsive, creative, and modern corporate business websites. It includes over 50 customized components, 5 integrated plugins, and 5-page layouts all of them 100% responsive and fully customizable. High-quality design, smart code markup and easy to customize. Advanced features and extended Bootstrap components that work on any screen resolution. Built with Bootstrap 4. Including familiar toolings like NPM and Gulp.
---
---
---
Design - Themesberg
Pixel is a free, fully responsive and modern Bootstrap 4 UI Kit that will help you build creative and professional websites. Use our components and sections, switch some Sass variables to build and arrange pages to best suit your needs. Pixel is a premium extension of the famous Bootstrap CSS Framework featuring pricing cards, profile cards, timelines and many more. All components are created to comply as much as possible with the WCAG 2.1 standards.
A really nice feature of this product is accessibility compliance. Pixel Lite is compliant with the latest UI design accessibility standards and passes the WAVE evaluation tool and the Achecker tool as well.
---
---
---
Design - Webpixels
Quick UI is a multipurpose website template based on Bootstrap 4 perfect for building responsive, mobile-first projects on the web suitable for businesses, startups, and agencies. The design of Quick is 100% responsive - it instantly adapts to all modern browsers and resolutions. You can now be sure you'll grab your users' attention with any of the pre-built page examples.
Quick is a premium Bootstrap theme that includes adaptable layouts and modular components needed for having a quick and solid start in most web projects.
---
---
---
Thanks for reading! Feel free to suggest more items in the comments.
---
UI Kits - Links & Resources
---
Design - Creative-Tim
Premium Bootstrap 5 UI Kit designed for those who like bold elements and beautiful websites. Made of hundred of elements, designed blocks, and fully coded pages, Soft UI Design System is ready to help you create stunning websites and webapps.
Fully Coded Elements - Soft UI Design System is built with over 300 frontend individual elements, like buttons, inputs, navbars, navtabs, cards or alerts, giving you the freedom of choosing and combining. All components can take variations in colour, that you can easily modify using SASS files and classes.
---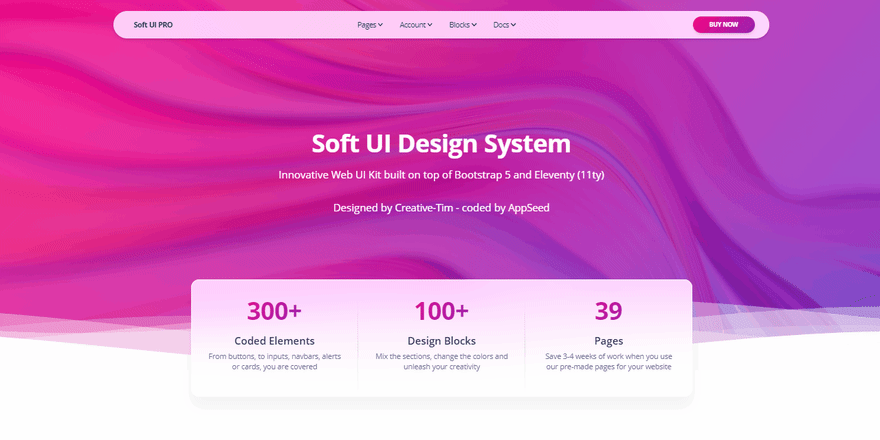 ---