Flask Boilerplate - Open-Source Apps built with automation tools
Sm0ke
・4 min read
Hello Coders,
This article presents a short-list with Flask boilerplates, suitable for simple projects (landing pages, coming-soon pages) generated by a semi-automated process:
Flat HTML themes (bootstrap based) are parsed and transformed into production-ready Jinja2 templates (the native Flask template engine) using an HTML Parser
The processed design is injected into an existing boilerplate enhanced with SQLite database, SqlAlchemy helpers and basic tooling.
A minimum set of tests is automatically executed
---
For more information regarding the automation process, please access: How I've built 100+ open-source apps with automation tools
---
Flask (for newcomers)
Flask (source code) is a Python web framework built with a small core and modularity in mind. With a small footprint, well documented and supported by a growing community, Flask can be a good choice to implement on top a nice production-ready Admin Dashboard.
---
In programming, boilerplate code is a piece of software that can be reused over and over without changing a single line of code. The whole idea behind a starter (sometimes boilerplate code) is to skip coding that piece of code common to many projects.
---
Setup the environment
In order to use the boilerplates, we need Python and Flask installed on the workstation. The Python can be downloaded from the official website and Flask can be easily added using PIP command:

$ 

# Test the Python install 




$ 

python 

--version




$ 

Python 3.7.2



$ 

# install Flask using PIP




$ 

pip 

install 

Flask


---
Boilerplate Code Features
The code-base is organized using a modular structure:
The most relevant files:
app.py - starts the app by putting together assets, database, and app logic
requirements.txt - contains the app dependencies
app\models.py - define a single class (User) used by the authentication flow
app\views.py - handles the app routing
app\data.py - file where app strings (URL's, titles, etc) are isolated
The boilerplate modules:
SQLite database
Authentication Flow (Login and Registration)
Static export via Flask-Frozen
---
How to Build the Boilerplates
All Flask starters share the same code-base and the build instructions are identical for all projects. For instance, if we want to build Flask Paper Kit boilerplate, we need to write a few simple commands in our preferred terminal:

$ # clone the repo

$ git clone https://github.com/app-generator/flask-paper-kit.git
$ cd flask-paper-kit

$ # install the dependencies
$ pip install -r requirements.txt

$ # create the database (using Flask shell)

$ flask shell
$ >>> from app import db
$ >>> db.create_all()

$ flask run

$ # App is running on http://localhost:5000 

If all goes well, the app should be visible in the browser
Pretty cool!
---
UI crafted by Creative-Tim, MIT license: demo, sources
---
App released under the MIT license, Design credit goes to Creative-Tim.
Links: demo, sources
---
---
The app is released under the MIT license, and use Bulma CSS to style te layout.
Links: demo, sources
---
A beautiful dashboard boilerplate enhanced with authentication, SQLite database and ORM.
Links: demo, sources
---
Open-Source app with HTML5Up Solid-State design, released under the CCY30 license (preserve the footer)
Links: sources, demo
---
A simple Flask Dashboard starter with Material design (MIT license).
Links: demo, sources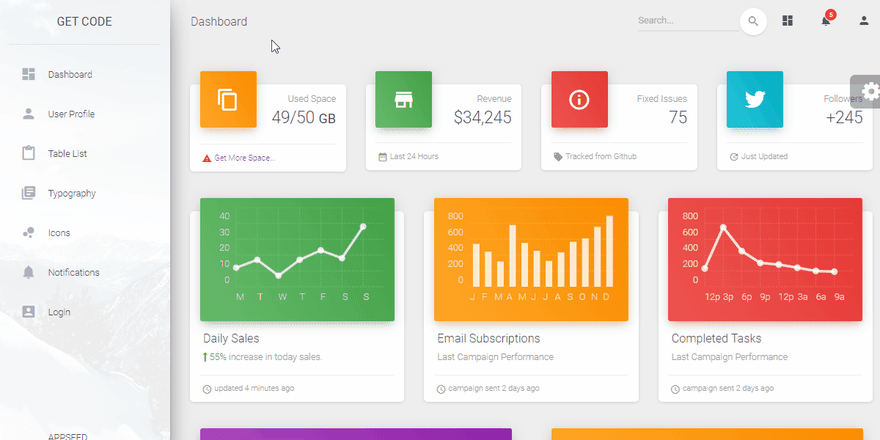 ---
Other resources
---
Thank you!
Classic DEV Post from Jul 26