Hey there!
I know it has been a while, but honestly, these past few months have been very difficult. I lost my job at Twitter (thanks Elon) and I had a procedure earlier this year that caused me to have to take a step back. But I am back actively looking for my next role and coding again! Can't wait to share some of the things I have been building, such as a chrome extension and a site for a family member! Also, I am learning python and refreshing on SQL (more on that later). Anyways, I know you did not come here for my life story. I wanted to share how I added my domain name to my BlueSky account and now I am using it as my username.
What is BlueSky? a decentralized Twitter alternative and viewed as a competitor to the tech giant, pretty much Twitter but decentralized.
What does decentralized mean? It means it is not controlled by the Tesla guy. It is controlled by distributed network rather than one single one.
How do I join? Well right now, it is an invite only, so you can reach out to others who have access to the app already and see if they have an extra invite available. I am sure once it is out of beta it will be available to everyone.
I am on! How do I add my AWS domain name as my username? I got you!
Prerequisites: You already use/have AWS as your domain name or have a domain name on AWS.
Step 1: Head over to the BlueSky app on your phone.
Select your profile picture in the top right corner
Select "change my handle"
Select "I have my own domain"
Enter your domain name & copy the domain value, keep the app open, and head over to AWS.
Step 2: Head over to AWS Route 53 (I googled Amazon Route 53) and click on the hosted zones section.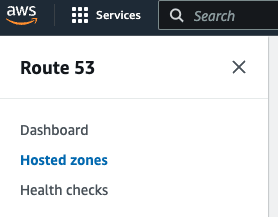 Step 3: Click on the Domain name you would like to use:
Step 4: Click on that yellow/orange "Create record" button

Step 5: Update the record name with the information provided by BlueSky and save the record
Record name: _atproto

Record Type: Txt

Value: Paste the value provided.
You should see the record now
Step 6: On the BlueSky App, click on the Verify DNS Record.
YOU DID IT!
Now you should be able to use your Domain name as your username on BlueSky.
Let me know if this helped or if any issues arise so I can update the post.
Sincerely, Brittany
As always, I love to end my blog post with a song. I recently saw one of my favorite jazz bands Brasstracks live and this throwback has been on repeat lately. Enjoy!