Hi there 🙋🏻‍♀️. I was recently introduced to the world of Virtual Streamers/Youtubers/Influencers by my partner. He sent me the video below, where I learned all about CodeMiko 😍.
I thought Vtubing was WAY cool; being free to create whatever world you wanted. But it wasn't until I watched Ready Player One that I realized how much I wanted to create my own fully-interactive avatar.
"In 2045 the planet is on the brink of chaos and collapse, but people find salvation in the OASIS: an expansive virtual reality universe created by eccentric James Halliday. When Halliday dies, he promises his immense fortune to the first person to discover a digital Easter egg that's hidden somewhere in the OASIS. When young Wade Watts joins the contest, he finds himself becoming an unlikely hero in a reality-bending treasure hunt through a fantastical world of mystery, discovery and danger." (via)
I absolutely love how this movie shares a positive sentiment about virtual reality and gaming, and also touches on the significance of human connection IRL 💞. Oh, and let's not forget how it clearly portrays the valid fear conscious people have against unconscious corporations 👏🏻.
Anyways, I was so excited to look into the virtual streaming space after finishing the movie that I even tweeted about it 😜. And guess what? Codemiko actually responded back with some words of encouragement 🤯!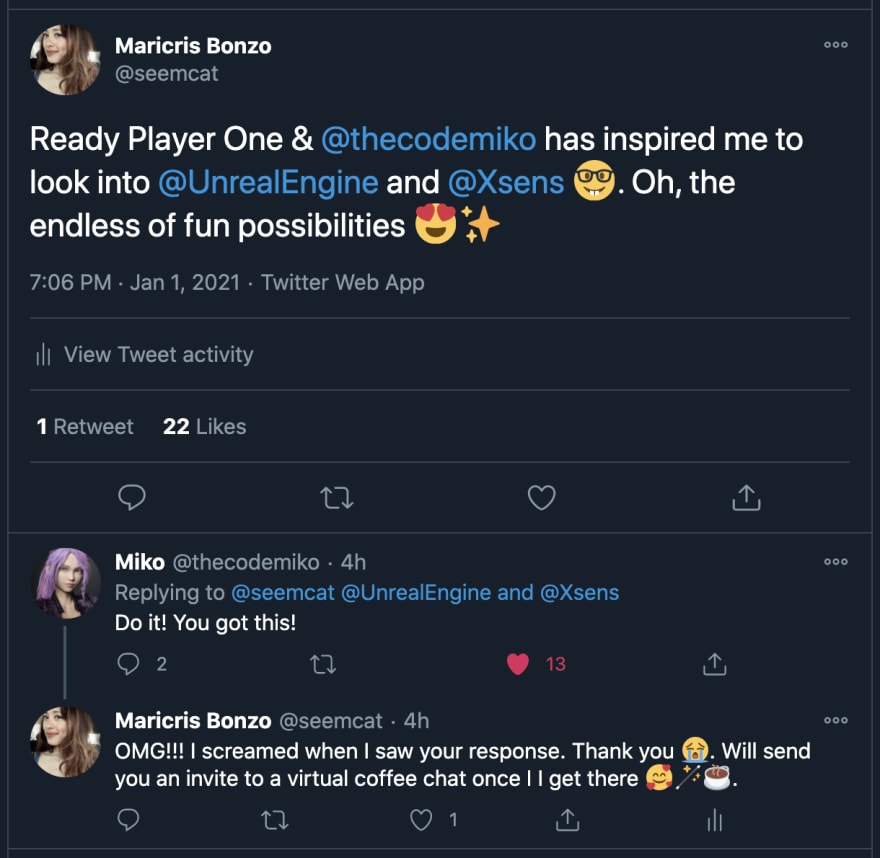 (Original Tweet)
So here I am, doing my research as to how, what and why I'm going to do this. I find that turning my thoughts into a blog helps me learn the material better. So I'll be documenting my journey to becoming a Vtuber here. Who knows? Maybe these blogs could help others who are on a similar path!
Alright. Here we go 🥵🌱.
---
The first step I take before starting any fun project is to ask hellof' questions and do my research 💁🏻‍♀️ (actually, this is something I'll be doing for the entire journey 😅).
Here are the Q & A's I've collected today (def not in any particular order; more like a 🧠 dump):
1. Why do I want to be a Vtuber?
Because it looks like a whole lotta' fun 🥳.
2. What is a Virtual Streamer/Youtuber/Influencer?
Blackwings from Reddit gives a great, simple answer:
"They're voice actors behind an animated avatar." (via)
3. How does the Vtuber landscape look like?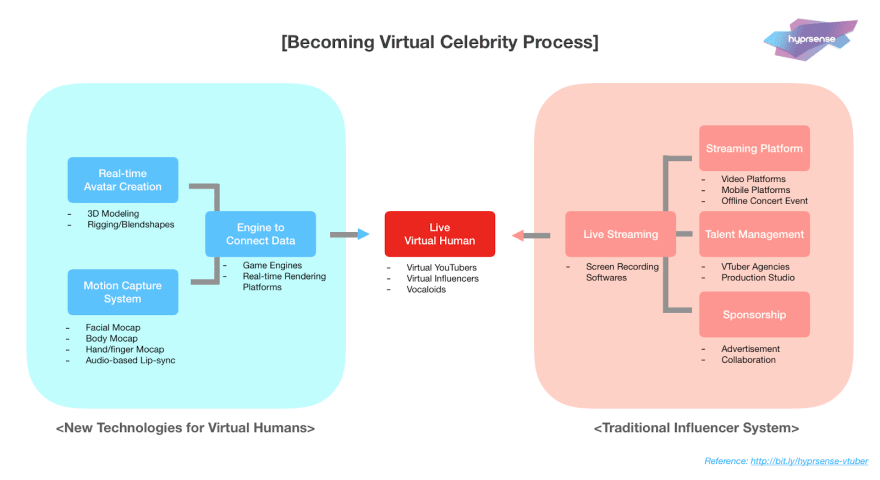 (via)
4. What skills do I need to become a Vtuber?
Skills mentioned by Live3D worth noting:

Figure out who your character's going to be (e.g. What's their soul like? What are their characteristics? What will be their iconic intro?)
Create a model/avatar for your character. Again, it's like humans beings...we have a soul, and then the body is our soul's home/temple 💁🏻‍♀️🤯. The avatar will be my character's home.
Choose the (initial) main direction(s) of your avatar. (For my avatar, I'm envisioning live-streams of either lightning talks, coding tutorials & interviews 🤩✨.)

Skills inspired by Concept Art Empire:

Fundamentals Of Art
Fundamentals of 3D Modeling
Fundamentals of 3D Rigging
5. How can I make an avatar?
Here's a link that might help: Setting Up a Character by Unreal Engine
6. How can I make a scene for my avatar?
Again, found a link that might help: Build a Detective's Office Game Environment by Unreal Engine
7. How can I do livestreams with my avatar, inside of my scene?
I'll need to look into one of these Twitch Integrations for Unreal Engine.
8. How do I create a fully-interactive avatar?
A fully-interactive avatar like CodeMiko is just a voice-over avatar that's being livestreamed via a platform that allows for fun interactions (e.g. the audience could send a specific msg to make her do something quirky). So, to make a fully-interactive avatar, I'll need to design the streaming session to be interactive 🤔.
9. What setup will I need?
Shout out to Xsens for the simple guide to this answer.
Facial recognition

I've chosen: an iPhoneX attached to a head mount w/ Luxand app installed.

Gesture recognition

I've chosen: Xsense for full-body gesture recognition & Manus for finger/hand tracking.

Animation software

I've chosen: Unreal Engine to create my 3D avatar and to serve as my animation software.
---
Wow 💸🤑, this sure as hell won't be cheap NOR easy, LOL 😅. I'll likely save up the money for my equipment while I learn, and then slowly build up my knowledge and tools. A fun goal is to stick to my tweet for CodeMiko & send her a coffee chat invite once my avatar and scene is ready 😄☕️.
Alright, send some positive vibes for me. Until next time! 🦄✨