G Suite vs Office 365 comparison is a never-ending debate. No doubt, there are the two leading cloud-based email services that are fighting to be at the top. However, in 2020 this debate has taken a new path when both the companies announced the 3 months free trial of their complete service. And, currently, there is huge demand from organizations looking for a comparison between G Suite and Office 365 Suite.
In this blog, we will be providing lime-light on this never-ending debate by delivering our side of knowledge. You will get a complete overview of both cloud suite and a solution, in case if you want to switch to different cloud services.
G Suite Vs Office 365 Which is Better?
Below we will be providing analysis for both Suites by comparing G Suite and Office 365 to find out which is best suited for your business. The following are the factor for comparing both suites:
Pricing
Features
Security
Conclusion of Comparison
Comparison Between G Suite and Office 365 Pricing
The initial and most crucial factor when starting out with a comparison between cloud suite is their pricing and plan. Everybody wants to choose the right suit that fits their organization budget. Below we will be providing the G Suite vs Office 365 comparison chart.
When you're first starting out, pricing is an important factor when making a decision. You want to choose a solution that fits your budget.
Let's compare the pricing of G Suite and Office 365 to find out which one offers the most value for your money.
Both suite have competitive pricing that makes it harder to decide while choosing the right one for your business organization. Thankfully, there are other deciding factors to compare both.
Comparison Between G Suite vs Office 365 Suite Features
Office 365 and G Suite both are webmail email client with tons of features the help organization to easily run businesses. Let's look are some of the top features and compare both suites.
Business Email Client
Gmail for Business – G Suite allows admin to register a domain name or use their existing domain name for creating email account.

The domain name is in the format: userName@domainName.com.
It also allows creating 30 email aliases for each user.
The email service will work the same as @gmail.com accounts with a similar interface.
Easily access your emails from Gmail mobile apps.

Outlook Online – It also allows to create a professional email id with same name as domain name.

The domain name will be in the format: usernName@domainName.onmicrosoft.com.
It allows creating 400 email aliases of each user.
It use Outlook as a mailing app that has web version, a mobile app and MS Outlook as desktop application.
File Storage & Sharing
File storage is one of the main reasons to opting for a Cloud-based email client. Apart from just the availability of email service all the time, you will get unlimited storage space to save organizational data. You can access the data from anywhere and anytime either via web service, desktop app or mobile app.
G Suite Storage – G Suite provides Google Drive as a storage platform.
The basic plan of G Suite come up with 30 GB for storage space for each user. For further plans, the storage space is Unlimited.
Using Google Drive one can easily share files with their colleagues or someone else. You can share it with emails or directly and allow then to just view or edit and download them.
Additionally, Wordpress websites allow you to store your website data in your Google drive account directly without any hassle.
Office 365 Storage – Office 365 provides OneDrive for store data in it.
Office 365 provides 1 TB of storage space with all their Office 365 plans. Although this is the sufficient amount of storage space, still it isn't unlimited. This 1 TB of OneDrive storage space doesn't cover the 50 GB of email storage space which is provided separately.
OneDrive storage allow comes up with the web, mobile, and desktop application. If you are using Windows 10 & 8 then, OneDrive comes as the default application. You can use it to synchronize your drive data with your computer.
Other Business Applications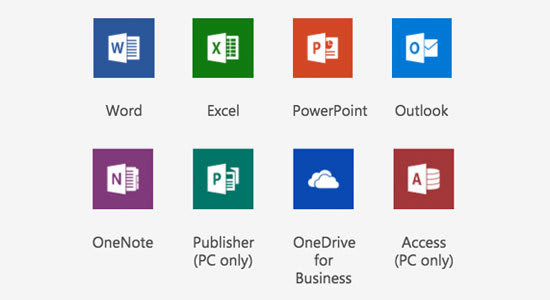 G Suite Vs Office 365 Security Comparison
The security of organizational data is the biggest concern of an organization when using cloud applications. Let's the comparison between the security features of both the suite:
G Suite Security Features -
G Suite security is same as the security used by Google itself which includes automatic detection of suspicious activity, sign-in attempts, hacking attempts, phishing, etc.
Provide Two-Factor Authentication for all user accounts.
Feature to protect from data leak, by providing keyword to block any outgoing communication.
Provides build-in spam, malware, virus detection for emails, documents & attachments.
Office 365 Security Features -
The security isn't as tough as of Google's but it still hard to break
Also provides Two-factor Authentication for all user accounts.
AI tool to learn user habits for detecting suspicious activities.
Also provide spam, virus, and malware detector for emails, documents & attachments.
Conclusion – G Suite Vs Office 365 Comparison
Office 365 and G Suite both are currently the best cloud-based email client available for a business organization. Both suites are easy to use and provide multiple user-friendly applications.
However, if we compare according to price and storage space, then G Suite is the one who is leading. Otherwise, both are the same as well as different in their own means. You can choose the right platform for your organization and test it for free.
Planning to switch from your current suite to a better one?
Then take help of professional software and try to perform the migration yourself. The best software available for free is the SysTools Cloud Migration tool. This automated tool provides 2 complete user account migration for testing out the tool.
It's the right time to make a switch. You have both G Suite and Office 365 for 3 months free trial version and an automated tool for easy migration testing. So don't wait up! Carefully read the above G Suite vs Office 365 comparison guide and choose the best suit for your organization.