Web development is one of the most in-demand and highest paying skills right now. It's great news for freelance web developers, but finding work can get confusing.
There are hundreds of freelance marketplaces popping up, each with their own strengths and specializations. They're full of clients seeking everything from innovative landing pages to better user interfaces.
ZipRecruiter reports that the average income of freelance web developers is anywhere between $24,000 to $128,500 annually. Why the large income gap? Because experience and specialization in the field heavily determine a freelancer's rates.
Many freelancer marketplaces now cater to slightly more to specific levels of skills in web development than others. Some sites specialize in either front-end or back-end dev work, while others seek full-stack developers.
I've compiled a list of 10 trusted websites where you can find work no matter your skill level.
Here are 10 freelance websites to make your hustle less of a grind:
Upwork may be one of the best freelance websites for finding work no matter what type of freelancer you are. The feed of job postings is continually updated. From small businesses to huge corporations, many different types of companies are looking to hire freelancers in different disciplines including freelance designers and freelance developers.
You'll have to learn the artistry of writing effective proposals, and you may have to bid below your pay rate to build up your feedback rating. Many freelance jobs are posted on Upwork, but there's a hungry audience competing for them. Unless you're an Upwork superstar, bidding on a project that already has 30 proposals usually isn't worth it.
That being said, some freelance designers secure plenty of work on Upwork and score frequent projects. Upwork can be worth the time — it offers the potential for great returns once you've established yourself on the freelance platform.
Toptal pitches themselves as a place to find the top 3% of freelance talent. Their screening process is so rigorous that out of the thousands of submissions they get every month, they only accept a few into their ranks. This exclusivity sets them apart from so many other freelance job sites out there. It may seem intimidating getting in, but if you do, you'll get the chance to put yourself in front of some pretty big names — Airbnb, Duolingo, and Shopify are companies that have used Toptal to share job opportunities for designers and software developers.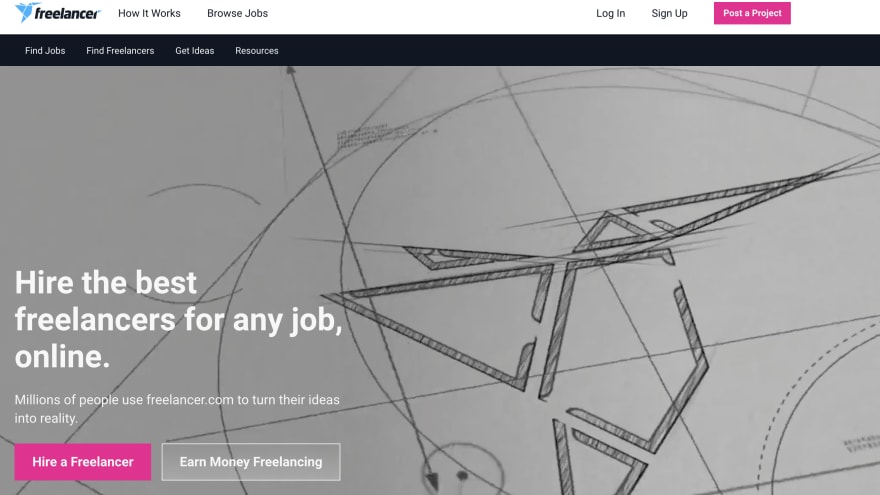 Freelancer covers many different facets of freelance work — everything from design work like graphic and logo design to marketing work such as SEO and copywriting jobs.The wide variety of specializations makes Freelancer one of the best freelancing sites to search for opportunities. You can even find freelance gigs in multiple languages including Spanish, French, German, Portuguese, and more.
Job seekers can filter jobs by several categories including fixed price projects, hourly rate projects, contests, skills, and languages. And every job listing shows an average bid along with the current number of bidders, so you know what to expect before applying. So if you're looking for flex jobs or freelance gigs — Freelancer is a great option.
PeoplePerHour markets themselves as doing a better job of pairing clients with professionals compared to other websites for freelancers. With the help of artificial intelligence, PeoplePerHour aims to bring freelancers and clients together in a more streamlined, precise way.
Once clients submit the project scope, the artificial intelligence system analyzes the details and matches the project with qualified freelancers. Those freelancers are invited to submit their proposals — setting their own prices — and clients choose from a curated selection.
PeoplePerHour remains one of the best freelancer websites because clients and freelancers alike can avoid wasting their time searching for the right fit. Plus, PeoplePerHour builds payments into the system to protect both parties from messy payment disagreements.
If you're still figuring out how to get work as a freelancer, SimplyHired has a lot of great resources that go beyond a simple freelance job board. You'll find guides on resume writing, cover letter writing, and other information to help you out. SimplyHired even has a free online resume builder if you need to revamp yours.
This site doesn't charge employers for job postings, which opens a floodgate of job opportunities. And for freelance workers wanting to be seen by potential clients, SimplyHired makes it super easy to upload a resume and get your profile up and running.
Their job search functions also come in handy, letting you narrow down your searches only to what you're interested in. Having a focused search is much more valuable than sites that display only loosely related results.
Guru has an authentic, grassroots feel to what they do. They encourage transparency on their freelance platform and value trust, making sure that whatever your role, expectations are met. These sensibilities also extend to their job postings, which all clearly communicate what a project entails.
Guru has a built-in vetting process for freelancers, which helps freelancers prove their credibility to potential clients and simplifies the hiring process. Invoicing for your work is simple too, with multiple payment terms and secure payments integrated into the site.
There's nothing sketchy about the platform, making Guru a reputable source to go to if you're looking for new freelance design work or freelance in a wide range of industries.
Fiverr got its name because it originally facilitated quick freelance gigs for five dollars — but it's grown quite a bit since then. Now, you can set your own starting prices, packages, and add ons. Many freelancers use lower sticker prices for small projects to lure in new clients. Kind of like giving them a small sample so they'll want to contract you for larger projects.
It's worth noting that Fiverr also builds payments right into the platform, so you don't have to worry about invoicing your clients or sending them Paypal reminders. Once you complete the buyer's order, the money is transferred to your account. It's a great freelance website for beginners as well as anyone willing to offer a range of rates for different work.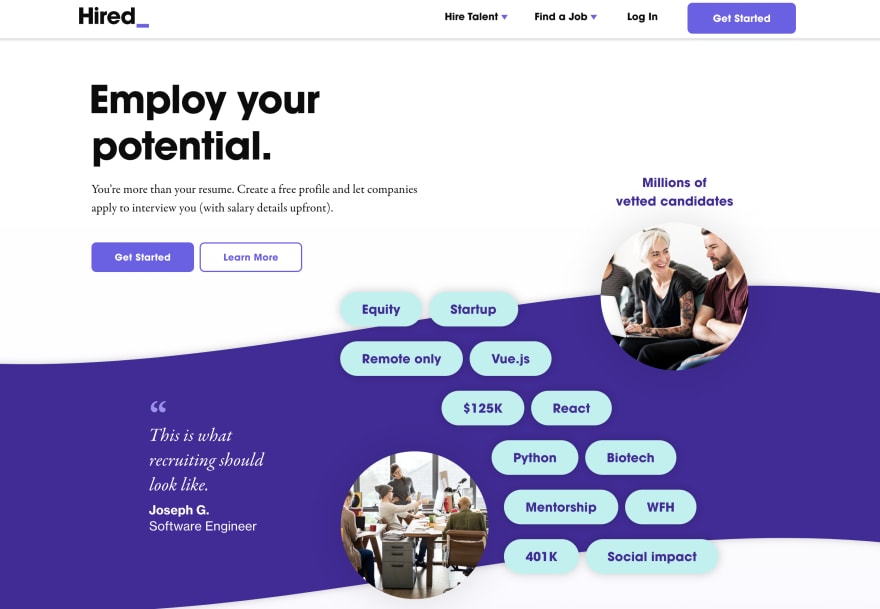 Hired links up freelance front-end web developers with suitable potential clients. The website's algorithm sources for contracts that fit with your skills and preferences. When the system matches you up with a potential client, they are able to request an interview for more details on the project.
Through this process, web developers are able to choose the most suitable contract based on their capabilities.
X-Team provides mentorship and educational resources for the freelance developers that work with them. They also provide their freelancers with contracts that are most suitable for their strengths and qualifications.
By working with X-Team, you might potentially be working with companies such as Riot Games and FOX Broadcasting.
Other than helping you build your career, they also provide their freelancers with further incentives such as funding, gym memberships and much more as motivation and a show of appreciation.
99designs is another great website for freelancers that allows designers to connect with businesses around the world. If you're a designer looking for freelance work online, 99Designs is a great place to start. You can choose the design styles and industries that interest you
However, 99designs does come with some startup costs for freelance workers. 99Designs charges a $100 introduction fee to match you with clients as well as platform and payment fees.
Conclusion
If you liked this blog post, follow me on Twitter where I post daily about Tech related things!

If you enjoyed this article & would like to leave a tip — click here
🌎 Let's Connect