It's 2021 and each of us is striving to begin this new year with a new drive to be more productive.
And to aid that, you're probably on the lookout for a new product management tool that will help increase your team's productivity and thereby your organization's growth.
Trello and monday.com have been two popular tools in the market for a while now but what tool is perfect for your team in 2021? To help you pick the right tool, I have compared the two based on the following key aspects to consider while choosing a tool and then stated the final verdict.
But before that, let's have a quick overview of the two tools.
---
Quick Overview of Trello
Trello is an out-and-out Kanban tool that is a good virtual replacement for your office board with sticky notes.
You can consider a Trello board as a project and its cards as sticky notes that represent each task. The board is split into columns such as Todo, Doing, and Done to which you assign cards. And as you progress, you move your cards from Todo to Done. The columns can be edited to suit your needs.
Trello doesn't offer numerous features and views as its competitors do but you can add functionalities via integrations and power-ups.
Founded in 2011 by Joel Spolsky and Michael Pryor, Trello was soon acquired by Atlassian - the makers of JIRA. And plenty of teams, on comparing Trello vs JIRA, started with Trello for simple project management and eventually switched to JIRA once their team grew and they needed more functionalities.
However now, with more tools like Zepel that have the perfect balance between the two, teams no longer need to go through the pain of jumping from one tool to another.
Quick Overview of Monday
Monday.com, initially named as DaPulse, has been around in the project management software market for more than a decade now. Many organizations have picked monday.com over the years as it caters to both IT and non-IT teams with the goal of being the only tool needed to boost their productivity.
Monday.com offers a pack of features and integrations in a colorful, attractive manner that aims to help you increase your team's velocity with a bit of fun. But these features can be overwhelming and make it hard for you to not lose sight of your task at hand. And if you're new, the learning curve is quite steep, making onboarding difficult.
In all honesty, despite its efforts, Monday is far from perfect. And now, there are more remarkable tools available in the market that would be a better fit for your team. I have covered in this article 5 significant alternative tools that are of a higher standard than monday.com (and Trello).
We'll get to those alternatives soon but prior to that, let us look in-depth at the comparison between Trello vs Monday.
---
Views and Features
Trello
Being a Kanban tool, this management tool doesn't come with many features and views. Here are the key features you can find in it:
Flexible Kanban boards
Content-rich cards with a lot of task-related information like assignees, due dates, etc.
Customizable workflows
Pre-existing templates for different kinds of teams
3rd-party power-ups for additional views
100+ integrations to third-party apps
As for views, Trello comes only with the Kanban Board view built-in for free. It does have a Calendar view and Map view in the paid plan.
Use its "power-ups" to get additional views like list, Gantt, and Calendar free.
Monday
Monday.com on the other hand offers so many features. In fact, you might even say there are far too many features. Here's a list of the key features that Monday offers:
Boards with flexible columns
Multiple in-built views to track progress
Customizable shareable forms to receive client info
Automations to customize and automate workflows
Variety of pre-existing templates for any team
Activity logging and Time-tracking capabilities
Dashboard with insightful reports to analyze work performance
Integrations to a huge number of 3rd-party apps
Mobile app for on-the-go work management
Unlike Trello that requires power-ups for viewing your projects in multiple views, Monday.com has several built-in views available at your disposal such as:
Board
List
Timeline (or Gantt)
Calendar
Workload
Chart
Winner of this round: Monday.com, based on the number of features and views.
Ease of Use
Trello
Trello is perhaps one of the easiest tools to use with a simple drag and drop UI. You can simply drag and drop tasks from one column to another. This way you can streamline your task workflow and keep it straightforward.
But that's pretty much everything you can do with Trello.
Monday
Monday.com provides a very fun user interface filled with colors. Although it also offers drag and drop functionality, the abundant features present makes it overwhelming for newbies to get a hang of it.
It can be hard to concentrate on your goals with so many features out there.
Winner of this round: Trello, hands-down.
Collaboration
Trello
Trello provides the basic collaboration-focussed features like assignees, descriptions, comments, tags, due dates, and so on. You can bring onboard an unlimited number of users for free in Trello. So your entire organization can collaborate with ease on this tool.
But the features are limited and so unless you're a small team that doesn't require a lot of features, it can be a bit frustrating. Also, an integral aspect of collaboration - dependencies, is missing.
Monday
Monday.com does offer similar collaboration-focussed features like Trello but it isn't available all in one place. The task card isn't uniform and it differs from the view you're in. This can get really confusing.
Dependencies can be added to tasks but only as a separate column that you additionally need to keep track of.
Unlike Trello, you can't onboard and collaborate with unlimited users for free. In fact, there isn't a free plan on monday.com. Let's get to the pricing aspect soon.
*Winner of this round: Trello, simply because you can collaborate with unlimited users for free!
Integrations
Trello
Trello has over a hundred integrations to several of the most popular tools you'd need for your workflows. You are also provided with public APIs you can use to integrate and interact your software product with.
Here's a list of some of the commonly used tools you can and might want to link Trello with:
Monday
Monday.com too provides the facility to integrate with so many widely-used apps through its third-party integrations. These include software development apps, CRM apps, marketing apps, and even other apps available for project management.
Take a peek at a few of the major apps you can integrate Monday with:
GitLab, Bit Bucket, and GitHub
Microsoft Teams
SurveyMonkey
Zendesk
Jira
Google's apps like Google Drive, Gmail, etc
Note: For those apps that are missing, you can connect both Trello and monday.com with them via Zapier.
Winner of this round: Neither; it's a tie.
Pricing
Trello
Trello has a comparatively simple pricing scheme and offers a free plan with unlimited users but restricted features.

Monday
Monday.com has a complicated pricing structure without a free plan. Here's what the pricing looks like.
*Winner of this round:*Trello, only because it has a comparatively uncomplicated pricing scheme and it allows the onboarding of unlimited users for free.
---
Final Verdict on Trello vs Monday
On the whole, Trello is a simple tool to manage your product development, but perhaps too simple. Trello is right for you if you're a small organization that needs no more than a kanban board with sticky note-like cards.
Have a look at these kanban board templates to help you implement kanban in the best way possible.
Trello is ideal for design teams and small teams who prefer visualizing the product development process over powerful project management capabilities.
Meanwhile, monday.com in a nutshell is a jack of all trades, master of none. So despite being a flexible tool with many features, you're most likely to get overwhelmed by all those features available to you that you probably don't require for a software development team.
Don't let those distract you and lose sight of your goals!
If you're unsatisfied with Trello and monday.com, worry not because there are far superior software tools out there that offer much more than mere task management.
---
Alternatives to Trello and Monday
Trello and monday.com are decent software to manage your tasks but there are more powerful alternatives available in the market.
Here are a few recommended alternatives to check out.
1. Zepel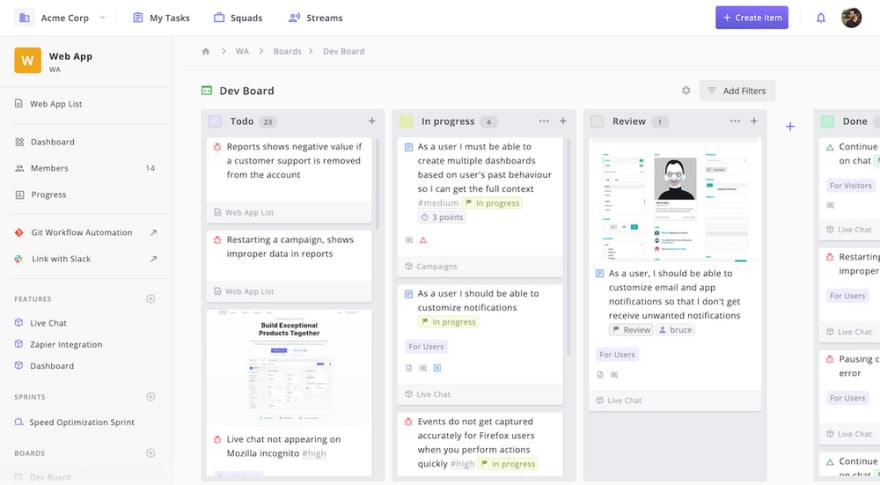 Zepel is the right blend of straightforward and powerful functionalities that will enable your team to onboard painlessly. And build and manage quality software products that your organization aims to deliver.
If you're seeking a tool to implement Agile, Zepel enables you to implement both Scrum and Kanban with ease.
See how Zepel compares with other agile PM tools.
What makes Zepel worth the shot is its deep integration with git and other similar sources, making it one of the most developer-friendly PM tools. So, if your dev team is tired of updating their progress or fails to keep you in the loop, Zepel will do it for them.
It's a win-win, right?!
That's not all! Zepel goes a step further and brings in all your customer feedback from other sources like Zendesk, Canny, etc., to help you prioritize and build features with context.
The icing on the cake is Zepel's pricing that doesn't restrict your features even on the free plan. Additionally, Zepel doesn't charge a penny for the first 5 members forever no matter how many members you add.
Zepel's standard annual plan starts at $5/member/month and its standard monthly plan starts at $7/member/month.
Key Highlights:
Simple UI that eases onboarding
Agile capabilities like Sprints, burndown charts, etc that allow both Scrum and Kanban implementation
Developer-friendly due to deep integration with Git and a variety of similar sources
Gathers customer feedback from multiple sources and helps prioritize it
Great pricing plan!
Trello vs Monday vs Zepel
Trello

Monday

Zepel

Views &




Features

Only the Kanban Board




view is built-in.Simple




limited features in




both free and paid




plans.

Many built-in views




available such

as




Kanban Board, List,




Calendar, Workload,




and Timeline. Has




more features than




required but the




features vary based




on pricing.

Perfect balance

between




the two with features like




Sprints for Scrum and


Kanban board

. And has




an in-built List view and




Board view to help manage




your software development


Squads

. Using

Streams

in




Zepel, you can build




customer-focussed software.




It allows you to bring




customer requests from




multiple tools and




prioritize with context.

Ease of Use

Extremely simple and




straightforward drag




and drop UI. But lacks




the power to implement




agile with its half-baked




agile capabilities.

Colorful and fun




drag and drop UI




but can be quite




complicated and




overwhelming,




especially for




newbies.

Powerful tool with more




than just

dragging and




dropping functionality that




is easy to grasp. You can




create and manage user




stories, tasks, bugs




customize your workflows




and automate them.

Collaboration

Collaborate unlimited




users for

free with ease.




Offers traditional




collaboration-focussed




features but lacks




dependencies to




collaborate efficiently.

Cannot collaborate




with unlimited users




and there's no free




plan.Offers traditional




collaboration-focussed




features but they're not




in one place.




Dependencies can be




added but only as a




separate column.

Zepel lets you collaborate




and onboard

members




painlessly with no




restrictions on features.




Add dependencies and




perform all the traditional




collaboration-focussed




functions.

Integrations

100+ integrations and




power ups are available.

Monday also offers




over a 100 integrations.

Customize and automate




your

workflows with




Zepel's deep integrations




with Git and other similar




sources.

Pricing

Simple pricing plan




with free plan for




unlimited users with




unlimited tasks but




with restrictions on




features. Offers 2




paid plans - Business




class and Enterprise




that start at

$9.99/




user/month

billed




annually.

Complex pricing

with




3 paid plans - basic,




standard, and pro,




starting at

$8/seat




/month

billed annually.




Also includes an




enterprise plan.

Straightforward pricing plan




that

benefits everybody.




Zepel is free forever for the




first 5 members without




feature restrictions and from




the 6th

member onwards, it




starts at

$5/member/month




billed annually.
Have a look at all the features that Zepel offers here.
2. Clickup
Clickup is a noteworthy alternative to Trello and Monday as it aims to be the all-in-one suite for project management. And therefore it offers abundant features while trying to keep it simple. It can get a bit overwhelming and distracting for a software development team.
But it definitely offers some powerful features like its machine learning capabilities that tries to predict who you are likely to assign a task to, time estimates, and so on.
Clickup's pricing scheme has a free plan and 3 paid plans - unlimited, business, and enterprise. Free forever plan enables you to add unlimited users and unlimited tasks but with limited storage of 100MB. The other paid plans start at $5/member/month when paid annually and $9/member/month when paid monthly. Check out the complete pricing plan here.
Key Highlights:
Fairly easy to use UI
Abundant features and multiple views to track progress
Machine learning capabilities (beta stage)
Available on multiple devices
Traditional task-related features like description, due date, assignees, etc.
Here's everything that Clickup offers.
3. nTask
nTask is an increasingly popular tool for project management, catering to both IT and non-IT teams, available today to help you manage your tasks and workflows. Just like all other PM tools, nTask does all the traditional task-related functions like assigning tasks, setting due dates, etc.
But nTask provides features like timesheet management for employee time tracking and meeting management that makes it a desired tool by so many teams.
nTask's pricing model includes a free plan with unlimited workspaces and tasks but limited storage and only 5 members per workspace. The pro plan starts at $1/member/month.
Key Highlights:
Traditional comprehensive management of tasks that includes assignment, deadlines, prioritization, organizing, and sharing
Timesheet management for employee time tracking and cost incurred
Meeting management feature to schedule and keep track of meetings
Alerts, reminders, and notifications available to help teams stay on track
Issue management and risk management capabilities
Check out all the features nTask offers.
4. Hygger
Hygger is a free project management software that is a notable alternative to Monday. With Hygger, you can not only do your regular task-related functions but also implement the popular agile frameworks - Scrum and Kanban via the boards available for it. However, there are better scrum tools available in the market if scrum is your preferred agile framework.
Task management via these boards can help identify bottlenecks at early stages. Overall, Hygger is an impressive choice for a software team that focuses solely on product development.
Hygger's pricing plan has a free plan for up to 5 members and a paid standard plan starting at $9/member/month for 6-100 members. An enterprise plan with discounts is available for more than 100 members.
Key Highlights:
Live activity stream with the statuses of tasks and employees' work logs
Quick overview of task with a unique URL to view a task's status
Release management to plan and track releases
Versions management to combine tasks belonging to a release
Public APIs to build solutions on Hygger
View all the features that Hygger provides here.
5. Asana
Asana has been a crowd favourite project management software for a while now. And it is primarily because of its team collaboration capability where it enables you to keep all your tasks and conversations in one place. It is pretty similar to both Trello and Monday. Read about how Asana compares with Trello.
There are plenty of features, templates, and views available that make managing tasks easy but it comes with a price (literally!). This tool can get pretty expensive and has a steep learning curve. And there are more desirable and cheaper alternatives to Asana with an easier onboarding process.
Asana pricing comes with a free plan for up to 15 members but with restrictions on features and a standard paid plan that starts at $13.49/member/month.
Key Highlights:
Traditional task-related features of assigning tasks and viewing progress
Hold conversations with team members in one place
Share files up to 100 MB size per file with unlimited storage
Receive email updates each time an edit is made in a workspace
To see the entire list of features that Asana offers, click here.
---
Why Zepel is a cut above the rest
Zepel can be the simple yet powerful go-to PM tool for your software team and your organization that you've been on the lookout for, regardless of the size of your squads.
With Zepel, you can go from planning to shipping quality software painlessly. What's more, you can also bring in and manage customer requests to ensure that the features you build are customer-focussed. And this way, your product on the whole is customer-centric.
Sign up with Zepel and you'll get more than just a tool; you'll get a team. 4000+ software development teams vouch for it. :)