Thousands of companies have been using both Asana and Jira to fulfill their PM needs. Asana offers plenty of functionalities for managing both IT and non-IT projects while Jira is widely preferred by product development squads worldwide.
Both of these project management software have their pros and cons. But which of the two apps is ideal for your org in 2021?
Let's compare Asana vs Jira in-detail and find out. But first, let us have a quick overview of both PM apps.
---
Quick Overview of Asana
Asana was founded in 2008 by former Facebook co-founder Dustin Moskovitz and ex-facebook engineer Justin Rosenstein. And today, it has established itself as a team collaboration application in the PM sector. Although Asana caters to both IT and non-IT companies, it is more popular among non-IT teams like marketing, sales, etc.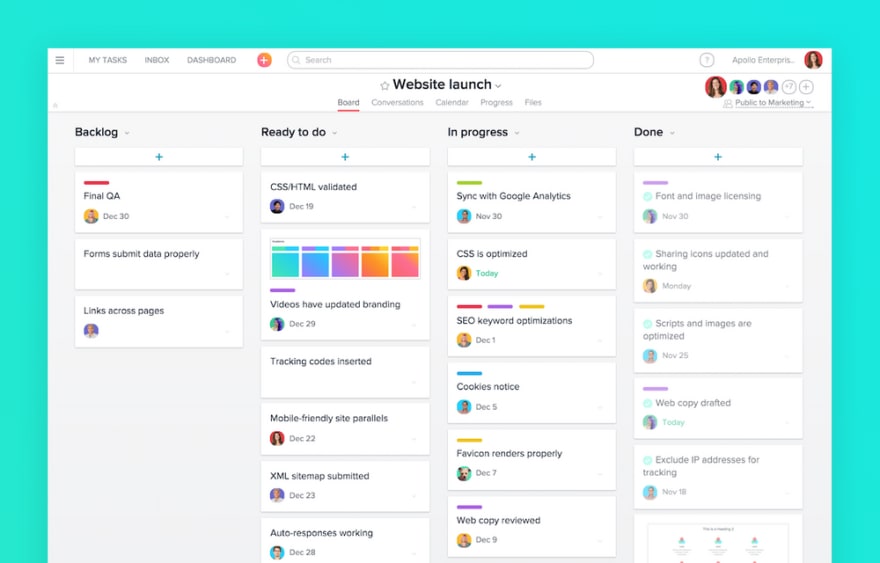 Project management in Asana is task-oriented. That is, here, PM revolves around projects and tasks. So, for every project that you create, you can create work items and subtasks, assign them to squad members, add descriptions, tags, comments, and custom fields.
In essence, Asana is a feature-loaded task handling application that provides a platform for your org to communicate and collaborate.
But are these functionalities useful in managing projects for your org? Let's learn more about Asana and find out.
The good, the bad, the ugly
Here are things about Asana that are likable, not so likable but are tolerable, and aspects you're most certainly going to hate.
The Good:
Asana is very flexible and customizable with its custom templates, custom tags, and custom fields. You can tailor it to serve your needs. You can also find plenty of saved templates to get familiar with.
Asana supports multiple views to help visualize your projects and monitor progress. Additionally, its workload aspect allows you to view what work and how much work is assigned to whom.
A great deal of crowd favourite third-party apps are available at your disposal to streamline your workflows.
Asana's team communication and collaboration capabilities enable you to keep all your work items and related conversations in one place.
The Bad:
The learning curve is pretty steep, making onboarding a difficult task. But once you spend a considerable amount of time using Asana, you will find it easy to use this application.
Budgeting and reporting capabilities to compute and plan your budgets are absent but you can make do without it by creating a custom field to track budgets or using 3rd-party apps with time tracking and budgeting apps like Everhour.
Asana doesn't support viewing tasks and subtasks in a single, nestled view, unlike Zepel. It doesn't get in the way of any work process but it can certainly make task handling easier as it greatly minimizes the chance of missing out on a work item.
The Ugly:
Forget about implementing agile frameworks like scrum. If you require agile capabilities more than simple kanban functionalities, you have no choice but to consider alternatives to Asana.
No provision to add multiple assignees to a task. This can get frustrating when more than one person is working collaboratively on a single task.
The pricing plan isn't affordable and quite frankly, you end up paying too many dollars for very little benefits. You can only collaborate with 15 members in its free plan and that too with basic functionalities only. You won't find such functionality restrictions in Zepel, even in its free plan.
---
Quick Overview of Jira
Jira is a product of the company called Atlassian and was founded in 2002. Initially, the whole purpose of this app was to be an issue and bug tracking application.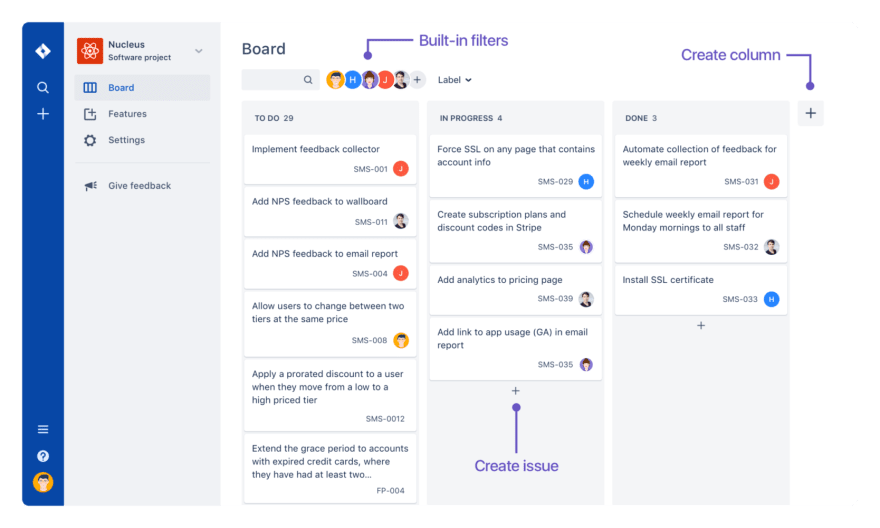 But today, Jira has grown into a project management tool for agile product development. So, it targets app developers, engineers, and project managers who are on the lookout for PM apps to help build applications.
Since this app is difficult to get a hang of for beginners who are new to project management tools, companies get started with Atlassian's Trello. And on comparing Trello vs Jira, they move to Jira for more functionality.
Jira is extremely popular among IT firms, big and small, looking to adopt agile for building products. But does that make it perfect for your org? Read on to find out.
The good, the bad, the ugly
Atlassian's Jira, just like any other PM app, has its pluses, pain points that you can live with, and intolerable minuses.
The Good:
Jira is your go-to application for tracking issues and bugs in your product. After all, it is Jira's USP. You can capture these issues and bugs, assign them to members, prioritize and track them to completion.
Being very flexible, Jira enables you to customize your workflow using its workflow builder. With this builder, you can now set up rules to define how a task/card should move from one status to another.
A massive library of third-party apps for use cases of CRM, code review, and more.
The Bad:
Agile capabilities for building products may be Jira's strong suit but it still lacks finesse when it comes to assisting development squads in implementing frameworks like scrum as its competitors such as Zepel do. You won't find here the elegant Sprints view that has built-in agile reports such as burnup and burndown charts.
Even though you can set up some advanced configurations to restrict the visibility of certain work items in certain kanban columns to certain people, this can lead to miscommunication and lost productivity within your squad if not done right.
Unlike Asana, you can track resources and plan for budgeting but for the monetary aspects of budgeting, you need to use 3rd-party apps like Tempo.
The roadmap functionality to track the overall progress of the entire project is nice but it lacks facilities to gain some oversight.
Jira has an external customer service desk to collect bugs and support requests from customers but unlike Zepel's Streams, it does not bring in customer requests from various customer feedback platforms such as Canny, Intercom, etc.
The Ugly:
Jira's design may seem extremely streamlined from the outside but can result in your agile squad getting micromanaged when you dive in. That's why most developers hate this app, apart from its slow speed. And they prefer alternatives to Jira such as Zepel, which is extremely developer-friendly.
The primary unit of work here, unlike Asana, is an issue and not a task. This is a terrible place to begin building products as you will think in terms of tickets and not features.
Creating workflows is hellish due to its complex design.
The pricing plan limits onboarding to only 10 members in Jira's free plan and it comes with certain functionality restrictions, unlike Zepel that has absolutely no restrictions on functionalities.
---
Comprehensive comparison of Asana vs Jira
Asana

Jira

Views & Features

Asana is packed with utilities

from




traditional task handling to squad




collaboration and CRM. But it lacks




agile capabilities other than a




simple kanban board.





Multiple views namely board,

gantt,




calendar, and so on.

Jira offers quite a lot of

functionalities




but not nearly as many as Asana




does. Its key highlights include issue




and bug tracking functionalities,




roadmaps, and agile capabilities such




as

scrum boards

,

kanban

boards

,




agile reports

, etc.





Has a number of views such as list,




board,and issue detail view.

Ease of use & UX

Intuitive UI that is simple and

user




friendly but owing to the ton of




functionalities Asana offers, the




learning curve is steep.

Easy to set up and use

but the user




experience isn't all that good due




to the complexity in its design.

Developer-friendliness

Asana lacks powerful agile




capabilities and deep integrations




with GitHub, GitLab, and Bitbucket.




Also, it lacks markdown support,




which makes it hard for devs to




share code snippets with each




other. So, it isn't very developer




friendly.

Jira enables quite deep

integrations




with GitHub, GitLab, and Bitbucket




but it is extremely slow. Also, its over-




engineered workflows cause




micromanagement. Thus, most




developers tend to hate Jira.

Collaboration & team




management

Onboarding members is not

that




easy due to its steep learning curve.





Team communication and




collaboration is made efficient with




the conversations utility that holds




all squad-related conversations in




one place.

The extremely steep learning

curve




due to its complex design makes




onboarding a mammoth task.





In terms of squad handling, this app




offers many functionalities from




messaging and file sharing to




collaborative problem-solving.

Integrations & add-ons

Over 160 well-known 3rd-party

apps




from Slack to Salesforce.

Whopping 2000+ third-party apps




and add-ons are available.

Pricing

Asana's free plan allows you

to




collaborate up to 15 users with




functionality restrictions. The paid




plans start at

$12.50/person

.

Jira allows you to add up to 10




members in its free plan, with limited




functionalities. The paid plans start at




$7/user

.

Pros

- Intuitive UI




- Custom templates, tags, and fields




- Several in-built views and

quick




filters




- Workload functionality shows an




overview of how much work each




member is assigned




- Conversations functionality helps




hold squad-related conversations in




one place

- Powerful agile capabilities




- Efficient issue and bug tracking




- Massive library of third-party apps




and add-ons




- Customizable workflows




- Roadmap functionality

Cons

- Steep learning curve




- Lacks agile capabilities other

than




kanban




- Can't add multiple assignees

to an




item




- No nestled view to view tasks

and




subtasks




- Costly

- Being an issue and bug tracker,




Jira's approach to PM is flawed




- Extremely steep learning curve




- Clunky and slow application




- Boring UI with complex design




- Setting up workflows is a nightmare




- Expensive

Best for

Non-IT squads such as

marketing,




sales, customer success, and so




on.

Application development

companies




that prefer managing projects the




agile way.
---
3 Reasons to consider alternatives to Asana and Jira
1. Getting started is a nightmare
When you're looking to get started or onboard your squad, brace yourself for the steep learning curve ahead. Both the apps offer a ton of utilities and add-ons that can be pretty confusing for a newbie to get started with.
2. Too many features and add-ons but of very little use
Asana is loaded with functionalities but lacks agile capabilities other than simple kanban board, which makes it a bit disappointing considering the price you pay for this app. On the other hand, in a pursuit to be an all-in-one suite for application development companies, Jira also offers plenty of aspects including agile functionalities for scrum and kanban. But it fails to deliver any of these aspects satisfactorily.
3. Pricing is heavy on the pocket
Both Asana and Jira will definitely leave a dent in your wallet, despite offering a free plan. You can add up to 15 members in Asana's free plan while you can only add a maximum of 10 users in Jira. But since the two apps have restrictions on functionalities, you must choose an appropriate paid plan. Asana's paid plan starts at 12.50/member/month while Jira's paid plan starts at $7/user/month.
---
4 Alternatives to Asana and Jira
1. Zepel
Zepel is an ideal alternative to both as it is the perfect blend of the two apps but with more benefits. It is intuitive like Asana with powerful agile capabilities like Jira. Thus, you get the best of both worlds.
Painlessly onboard your squads owing to Zepel's uncomplicated design. And efficiently implement popular agile frameworks that you prefer, such as scrum, kanban, or both.
Unlike its counterparts, Zepel is by far one of the most developer-friendly apps as it supports deep integrations with GitHub, GitLab, Bitbucket, and other similar sources. Zepel goes a step further and enables you to set up and automate your git workflows to perform status updates on your dev crew's behalf. Complete this workflow by connecting your Slack to it and receive real-time notifications of progress updates by your squad. Some other sweet developer-friendly perks of Zepel are the markdown support and / commands that help get work done in a jiffy.
And to top it off, Zepel has a functionality called Streams that brings in customer feedback in the form of requests from various external sources such as Canny, Intercom, Zendesk, etc.

Thus, with Zepel, you can prioritize and build customer-focussed features for your product.
Key Highlights:
Intuitive yet powerful UI that eases onboarding
Agile capabilities like Sprints, burndown charts, etc that allow both Scrum and Kanban implementation
Developer-friendly due to deep integration with GitHub, GitLab, Bitbucket and a variety of similar sources
Workflow automation to perform status updates and receive instant Slack notifications
Brings in customer feedback from multiple sources like Canny, Intercom, etc., and helps prioritize it
Great pricing plan!
Have a look at all the functionalities that Zepel offers.
Pricing:
Zepel's pricing plan consists of a free plan that doesn't charge a penny for the first 5 members forever no matter how many members you add. When you add your 6th member, the standard annual plan starts at $5/member/month and its standard monthly plan starts at $7/member.
Best For:
Squads of any size that desire to build exceptional software products.
Zepel vs Asana vs Jira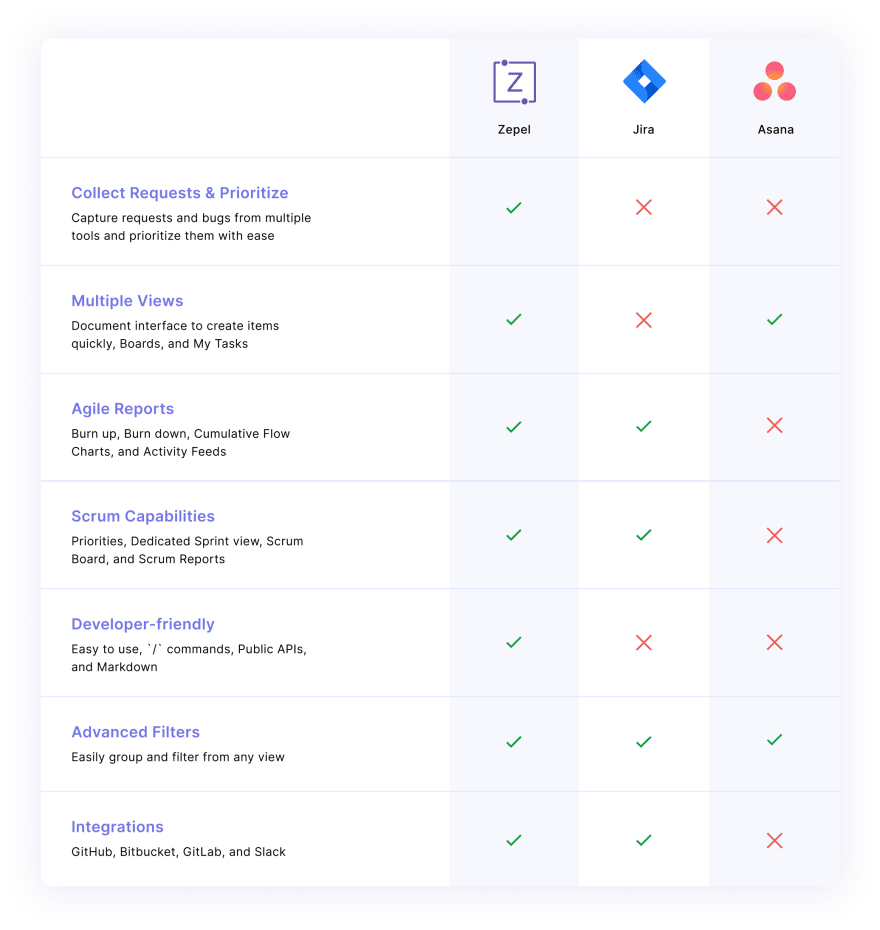 2. Basecamp
Basecamp is a solid tool for project management and is ideal for managing tasks. What makes Basecamp a great alternative to consider is how it effectively brings all members of different squads together. However, Basecamp lacks agile capabilities.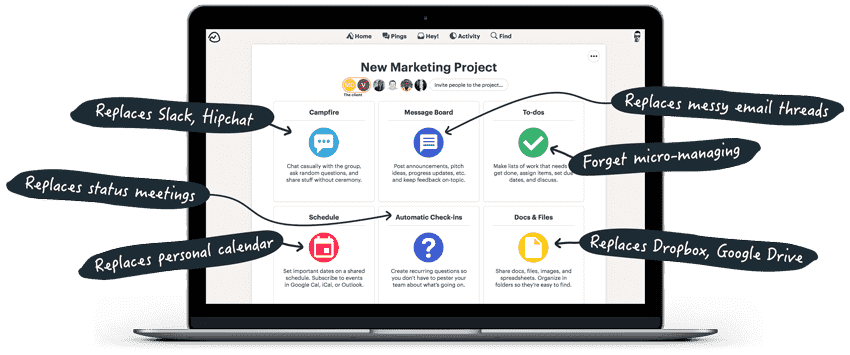 Key Highlights:
Messaging platform with a forum-like view for team communication
Automatic check-ins for frequent status updates
Controlled client access
Hill charts to track progress
File sharing with a storage of 500GB
Here's everything that Basecamp offers.
Pricing:
Basecamp offers a simple plan with a 30-day free trial. At the end of the trial, you will need to pay a flat fee of $99/month for unlimited users.
Best For:
Remote, service-based companies that don't require agile methodologies.
3. Wrike
Wrike is a Jira counterpart that targets agile product development orgs. Akin to Jira, Wrike also lacks an intuitive user interface and has a very steep learning curve.
Key Highlights:
Customizable workspaces
Easy to share, insightful, visual and dynamic reports
Boards, Gantt, and Calendar view to track progress and plan deadlines
Workload and resource administration
Shareable task lists and dashboards
Check out all the functionalities Wrike offers.
Pricing:
Wrike is free for up to 5 members. The paid plans start at $9.80/member/month.
Best For:
Agile product development and non-IT companies that are small in size.
4. Monday.com
Monday.com is a PM app that is very similar to Asana. This app is also loaded with utilities but lacks agile capabilities. Because of far too many functionalities, it is easy to lose focus and difficult to get started.
Read about the in-depth comparison of Asana vs Trello vs Monday.
Key Highlights:
More than sufficient functionalities and multiple views, namely, calendar, gantt, forms, and so on
Customizable notifications and reports
Ability to automate certain tasks
Plenty of templates for almost every type of PM squad
Several integrations with 3rd party apps like Slack, Asana, Trello, Toggl, Google Calendar, and more
View all the attributes that monday.com provides here.
Pricing:
Monday.com's pricing plan is complex and doesn't have a free plan. It offers a 14-day trial post which you must choose a paid plan that starts at $10/member/month.
Best For:
Non-technical IT squads such as marketing, sales, etc.
---
5 reasons to pick Zepel over the others
Zepel is the PM app meant for your squad and your organization for the following 5 reasons:
1. Collaborate with squads of any size
Zepel enables you to onboard and collaborate with product development squads of any size with ease.
2. Implement Scrum, Kanban, or both
Zepel offers powerful agile capabilities that help you implement widely-used agile frameworks such as scrum, kanban, or a combination of both. So, if you think agile, think Zepel. ;)
3. Not too many features, not too less
Zepel does not offer too many functionalities as that can be distracting and overwhelming. At the same time, it doesn't lack any key utilities that you'd require to streamline your workflows. This way you can build products without chaos and distraction.
4. Keeps both your customers and your squad happy
Zepel Streams helps build customer-focussed functionalities that are sure to satisfy your customers. And the deep integration with GitHub, GitLab, and Bitbucket is everything your developers need.
5. Absolutely affordable pricing
Zepel's straightforward pricing plan includes a free plan and a paid plan. The free forever plan enables you to add up to 5 members for free, forever (literally!), without any functionality restrictions. Even if your squad expands and you must add a 6th member, you won't be charged for the first 5 members. The paid plan starts at $5/member.
---
These 5 reasons should have helped you realize that Zepel's the right tool for your organization.
But if you're still on the fence, sign up and try Zepel for free. You will swear by it, just like the 4000+ development teams using Zepel.