Asana and ClickUp are two project management tools that appear very similar to one another at first glance. But as you begin to look closer, you will be able to discover the key differences between them and identify which tool suits your development team/development agency the best.
To help you differentiate and pick the perfect project management tool for your org, here's a quick yet comprehensive comparison of ClickUp vs Asana.
---
Quick Overview of Asana
In 2008, Asana was founded by former Facebook co-founder Dustin Moskovitz and ex-facebook engineer Justin Rosenstein. But it was kept in private beta for 4 years and finally launched to the public in 2012. Today, Asana has become a popular choice, especially among non-IT teams even though it caters to IT teams as well.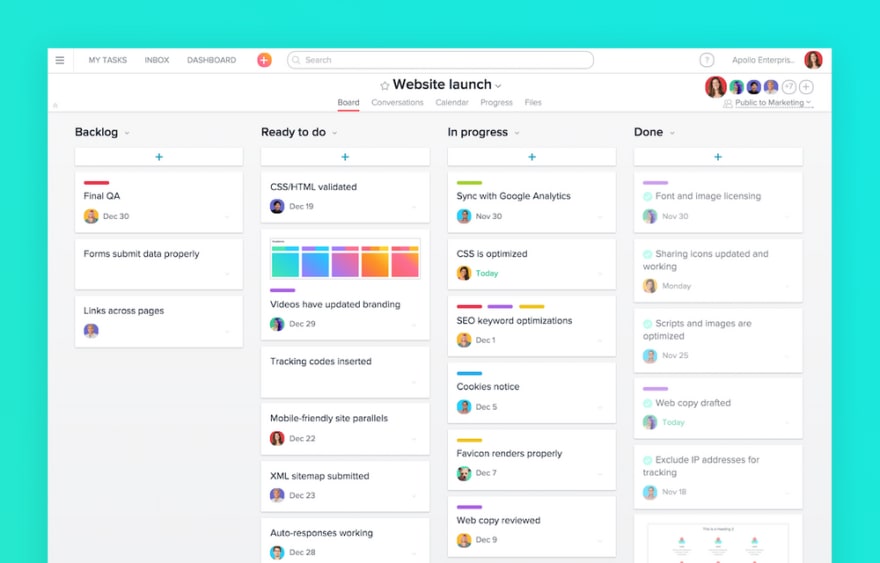 Asana takes the task-oriented route to project management where everything revolves around tasks and projects. This means you create tasks and subtasks for every project that you create and handle them.
Team collaboration is one of Asana's key USPs. This is why apart from traditional collaboration functionalities such as assignees, descriptions, and tags, you can hold conversations related to them.
The plus points
Intuitive user-interface that aims to make work a fun experience
Flexible and can be customized to suit your software team/development agency's needs with its custom templates, custom statuses, custom tags, and custom fields.
Provides multiple views, namely, board, list, calendar, and Timeline to help visualize your projects.
Also has a workload view that allows you to view what work and how much work is assigned to whom and thus control your team's workload.
Plenty of integrations with third-party apps are available for streamlining your workflows
Team communication and collaboration capabilities enable keeping all your work items and related conversations in one place.
Unlimited tasks and projects for teams to get work done even on the free plan.
The minus points
A steep learning curve, which makes the user experience hellish, due to far too many features than required.
Not an agile tool as it lacks agile capabilities other than a simple kanban board
Doesn't support a single nestled view for viewing tasks and subtasks, unlike Zepel.
Pricing is too costly
Can't assign multiple users to a single work item
Doesn't support markdown and / commands to get work done quickly
Top user reviews
Review on G2:
"The project plans are fairly straightforward and flexible. Great for workflow management and collaboration. The price is also relatively reasonable. We use this for simple projects where there are less sophisticated teams collaborating and where communication and simplicity are the main objectives.
This platform is only good for the simplest and most basic of project management tasks. It lacks more sophisticated features necessary for real project management, such as time tracking tools and other features. Also, it's lack of structure proves challenging when it is implemented without a lot of strategic planning and / or forethought.
If you are looking for a simpler tool this can fit the bill, just requires forethought as to how it is being implemented. For more complex product/project management this is not the platform to use."
Review on Capterra:
"Some teams use Asana for project management and perhaps it's good for that. For me I feel it isn't very useful for technology teams. We can't paste code, we have no auto integration with build processes like Jenkins and it's incredibly slow to wait 5 seconds to load each asana task. It's not easy to pass around a task #... as Asana creates these long tokens for every task. Several of us have asked for these features on Twitter with the Asana team and we just are told it's not something that they're interested in adding.
Pros: I guess it's an easy interface to make a task
Cons: It really doesn't offer what Jira or other software packages offer... there's no enforced flow for bug / defect tracking, there's no easy way to pull tickets up (i.e. it's not a simple task identifier such as CR4478, instead it's a 20 character random string. When you pull up an individual task it takes nearly 5 seconds to load it, and you get the Asana splash screen while you wait. You can't easily put code into the Asana tasks. Asana doesn't have 3rd party API connecting (like Jira) to automatically link to Jenkins or other products. As a defect tracking system it's entirely lacking. This may not be what you intended it to be used for, but that's how we use it (for everything) and it's incredibly lacking. We have to be creative with Asana to make it sorta work and it's still not very appealing from the QA or Dev side of things."
---
Quick Overview of ClickUp
Founded in 2017, ClickUp is an all-in-one project management platform that aims to replace all the tools in the market via feature add-ons. You can most likely find any feature in ClickUp that your development team/software development agency needs and can add it to your account, right from task management to time management.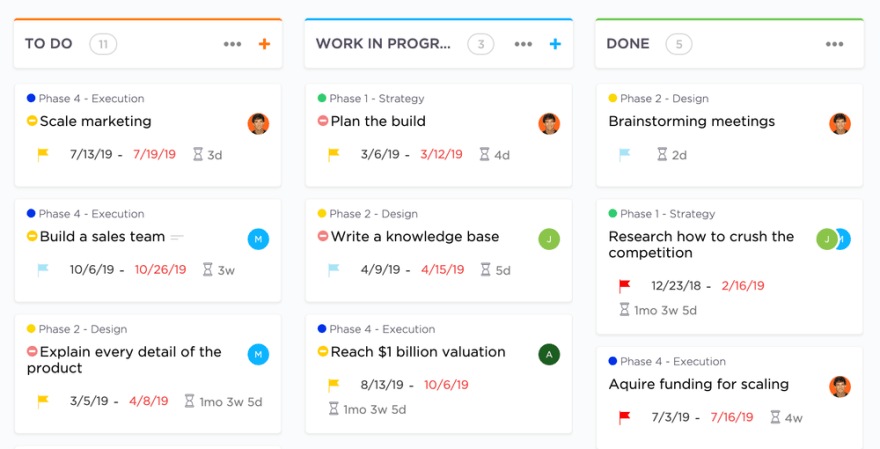 And for those functionalities that this feature-loaded software lacks, you will most likely find an integration for it. That's why ClickUp is preferred by companies of all sizes from any industry and not just a niche audience.
A highlight about ClickUp is that it has a huge fan base among solo users for managing daily activities and not just teams.
The plus points:
Provides a library of functionalities for any company pertaining to any industry
Supports a long list of views, namely, board, list, gantt, workload, box, table, calendar, activity, and mind maps.
Customizable to serve your software development agency's needs from custom tags and custom statuses to custom permissions, where you can control who sees what
A massive number of third-party apps to integrate with.
Good customer support and makes a continuous improvement to the app and its user experience based on customer feedback
The minus points:
Feels bloated due to the ton of functionalities that it provides, which is more than what's required, overwhelming and cluttered, unlike Zepel
Way too many customization options which add to the overwhelming experience that this app radiates
User interface is intuitive but very complex and so has a steep learning curve that makes onboarding a nightmare
Initial setup is incredibly challenging with high risks of messing up processes due to the complex design
Offers agile capabilities but lacks the finesse of a dedicated, full-fledged agile tool like Zepel does
Top user reviews:
Review on G2:
"I like that it has all types of tools to be able to work with the different ways people approach things. I liked that there was an inbox feature.
I felt it was a bit overwhelming and had a steep learning curve. I also wish that I could add more than one person to each area for free. I run a small business and want my clients to see only their projects with my team members without having to create a new space entirely.
I found it tedious to have to tag myself in everything if I wanted it to show up in my inbox."
Review on Capterra:
"Easy to use. Clear and intuitive interface. Easy to assign tasks for the week and update it. Calendar view is very efficient for planning weeks.
Limitation for saving views (for Guest AND for Member) in unlimited plan. To get all features we need to upgrade to Business/Enterprise plan and convert Guest to members: way too much expensive. A full import/export (JSON?) feature, not the current limited csv format, could improve compatibility with our internal custom tools. Moving a small bunch of tasks over the time is easy, but moving many tasks is quite annoying."
---
Key differences between Asana and ClickUp
Getting Started: Asana and ClickUp are equally complex and thus you're going to experience difficulty while getting started. Due to the plethora of functionalities they provide, you can easily get overwhelmed.

Features: Asana and ClickUp are both feature-packed and both include customizable automation triggers and actions. But when it comes to agile capabilities, ClickUp has more to offer such as burndown charts, cumulative flow, etc., than Asana.

Developer-friendliness: ClickUp offers comparatively deeper integrations with GitHub, GitLab, and other developer-favourites than Asana. ClickUp also supports Markdown for getting work done quickly while Asana doesn't provide Markdown support.

Team Collaboration: Asana allows you to hold all your team conversations in one place, making collaboration efficient. ClickUp also offers a similar conversations platform. It goes a step further and provides a documentation feature akin to Google Docs with real-time editing functionality.

Pricing: Both Asana and ClickUp offer free plans. Asana's free plan limits you to add only 15 members whereas ClickUp enables you to add unlimited users. But both the tools' free plans come with feature restrictions, unlike Zepel. Asana's paid plan starts at $10.99 per member per month billed annually while ClickUp's paid plan starts at 5 per member per month.

Customer support: Asana provides support to its customers via email ticketing whereas ClickUp offers live online support via their webchat. In terms of quality of support, ClickUp offers better support than Asana.
---
Final Verdict of Asana vs ClickUp
Asana is best for non-IT companies for handling projects pertaining to marketing, sales, and so on. And so, if you're a software development company and scrum is your priority, you must consider other free project management software tools like Zepel that have all the functionalities of a scrum tool.
Truth be told, ClickUp is a great PM software for your development team/software development agency of any size and any sector. But much like any application that tries to be an all-in-one solution, ClickUp is a jack of all trades, master of none. That might work for a non-IT agency but for a software development org looking to implement agile extensively, it is better to consider other project management apps that are built specifically for agile.
---
5 Alternatives to Asana and ClickUp
1. Zepel
Zepel is the perfect choice of an alternative to both Asana and ClickUp as it is intuitive, has no overwhelming clutter of functionalities, and has all the powerful agile capabilities that your software development squad would kill for. And to top it off, Zepel has an uncomplex design that makes onboarding painless.
With Zepel, you can implement more than just simple kanban. You can implement scrum and even a combination of scrum and kanban efficiently.
Unlike its contemporaries, Zepel supports very deep integrations with GitHub, GitLab, Bitbucket, and other similar sources, making it one of the most developer-friendly apps in the market. Zepel also provides the capability to automate your git workflows so that even if your dev squad forgets to update the status of a work item, Zepel does it for them.
You can complete this workflow by connecting your Slack to it and receive real-time notifications of progress updates by your squad. Developers using Zepel also love the markdown support and / commands that help get work done quickly.

And this is why engineering teams are extremely fond of Zepel and consider it to be the ideal engineering project management software. Zepel removes all the chaos from the development process and makes building software products hassle-free.
Zepel comes complete with a functionality called Streams that brings in customer feedback in the form of requests from various external sources such as Canny, Intercom, etc.
This way you can prioritize and build high-quality, customer-focussed features for your product effortlessly.
Key Highlights:
Intuitive and powerful UI that makes onboarding easy
Agile capabilities like Sprints, burndown charts, etc that allow both Scrum and Kanban implementation
Developer-friendly due to very deep integration with GitHub, GitLab, Bitbucket, and a variety of similar sources
Workflow automation to streamline and control stages of the development process, perform automatic status updates, and receive real-time Slack notifications
Brings in customer feedback from multiple sources like Canny, Intercom, Zendesk, etc., and helps prioritize it
Affordable pricing plan!
Here's an overview of what Zepel offers.
Pricing:
Zepel's pricing plan comes with a free plan that doesn't charge you anything for the first 5 members forever no matter how many members you add. When you add your 6th member, the standard annual plan starts at $5/member/month and its standard monthly plan starts at $7/member.
Best For:
Cross-functional teams of any size that desire to build software products the agile way.
2. Monday.com
Monday.com is a project management solution that is a great alternative to Asana and ClickUp. This app is also loaded with utilities but in terms of agile, it lacks powerful capabilities. Because of far too many functionalities, it is easy to get overwhelmed and the learning curve is steep.
Key Highlights:
Loaded with functionalities and multiple views, namely, calendar, gantt, forms, and so on
Customizable notifications and reports
Supports the automation of certain tasks
Plenty of templates for any department
Many integrations with 3rd party apps like Slack, OneDrive, LinkedIn, Google Calendar, and more
View all the utilities that monday.com provides here.
Pricing:
Monday.com's pricing plan is quite complex. There isn't a free plan. You get a 14-day trial post which you must choose a paid plan that starts at $10/member/month.
Best For:
Non-IT agency and departments pertaining to marketing, sales, etc.
3. Basecamp
Basecamp is a solid task-management tool that is quite a popular choice in the market. The USP of this app is its ability to bring all members of different departments together efficiently. However, Basecamp lacks agile capabilities.
Key Highlights:
Messaging platform with a forum-like view for real-time group chats
Automatic check-in questions for frequent status updates
Controlled client access
Hill charts to track progress
Supports sharing files and documentation with a storage of 500GB
Here's everything that Basecamp offers.
Pricing:
Basecamp offers a straightforward plan with a 30-day free trial. At the end of the trial, you will need to pay a flat fee of $99/month for unlimited users.
Best For:
Remote, service-based agency that doesn't require agile methodologies.
4. Wrike
Wrike is a PM app that caters to agile product development orgs. It offers templates for setting up your agile workflows. But Wrike does not offer an intuitive user interface as Asana and ClickUp do. The learning curve is also very steep, making onboarding a hassle.
Key Highlights:
Customizable workspaces
Templates to set up agile workflows
Easy to share visual dynamic reports that are insightful
Boards, gantt, and calendar views to track progress and plan deadlines
Workload and resource administration
Shareable task lists and dashboards
Check out all the functionalities Wrike offers.
Pricing:
Wrike is free for up to 5 members. The paid plans start at $9.80/member/month.
Best For:
Agile product development companies that are small in size.
5. Trello
Trello is another notable choice to Asana and ClickUp. Trello is a kanban board software that is incredibly user-friendly and perhaps the easiest PM app to get started with. It takes barely 10-15 mins to onboard your entire org. But if you expect Trello to be powerful with agile capabilities to implement scrum, and other frameworks, you will be disappointed. And that's why teams look for Trello alternatives.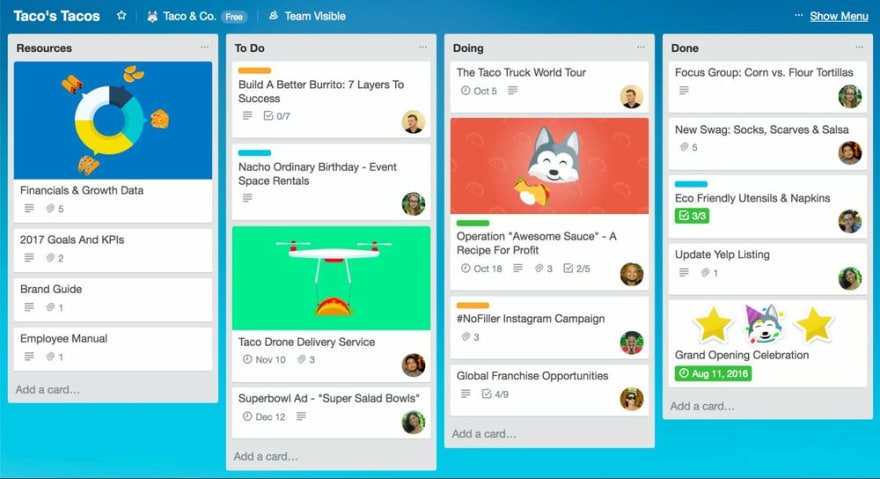 Key Highlights:
Straightforward kanban board software with sticky note-like cards
Flexible with plenty of customizable templates
Fast, responsive, and simple user interface which makes onboarding painless
Ability to add on 'n' number of functionalities as power-ups
A huge catalog of integrations with 3rd party apps like Zapier, Hubspot, Dropbox, and 100+ similar apps
Have a look at all the functionalities that Trello provides here.
Pricing:
Trello's pricing plan is extremely simple. Trello offers a free plan that enables you to collaborate with unlimited users but with functionality restrictions. So if you want to access all its utilities, power-ups, and integrations in the future, you must sign up for a paid plan that starts at $12.50/member/month.
Best For:
Non-technical IT squads such as marketing, sales, etc.
Compare ClickUp vs Trello and Asana vs Trello here.
---
5 reasons why Zepel is your go-to project management software
Rather than giving you straightforward reasons as to why Zepel can be the perfect tool choice for you, I'm going to ask you 5 simple yes/no questions. The purpose of this is to help you understand the requirements your PM app must meet and to realize what Zepel will do for you:
Do you want your PM app to enable you to collaborate with squads of any size?

Do you need powerful agile capabilities to help implement Scrum, Kanban, or both?

Would you want your PM software to be developer-friendly?

Would you like your PM tool to help you build customer-focussed features?

Is affordable pricing a must-have requirement for your PM solution to meet?
If the answer to all the above questions is a 'Yes' for you, give Zepel a shot; you won't be disappointed. But don't take my word for it. See what our customers have to say about Zepel. :)
Sign up and try Zepel for free.