Eu trabalho com desenvolvimento iOS e não costumo fazer nada no backend, o que é um problema em projetos pessoais. Não quis investir tempo estudando JS e seus frameworks (não tenho nem espaço pro cache do npm) e comecei a procurar uma solução mais prática, foi aí que encontrei o Vapor.
Instalação
🍎 A instalação do Vapor é feita através do homebrew

Para ter certeza que a instalação foi feita corretamente:

E essa deve ser a saída:

Usage: vapor <

command

>



Vapor Toolbox 

(

Server-side Swift web framework

)



Commands:
       build Builds an app 

in 

the console.
       clean Cleans temporary files.
      heroku Commands 

for 

working with Heroku
         new Generates a new app.
         run Runs an app from the console.
             Equivalent to 

`

swift run 

--enable-test-discovery

 Run

`

.


  supervisor Commands 

for 

working with Supervisord
       xcode Opens an app 

in 

Xcode.

Use 

`

vapor <

command

>

 

[

--help

,-h]

`

 

for 

more information on a command.
Error: Missing 

command



🐧 No Linux é necessário que o Swift 5.2 (ou superior) esteja instalado.
A instalação é feita compilando o toolchain.

git clone https://github.com/vapor/toolbox.git


cd 

toolbox
git checkout <versao>
make 

install



Hello, Vapor.
Criando um novo projeto:

vapor new first-project 

-n




cd 

first-project

A flag -n responde não automaticamente para todas as perguntas feitas depois de clonar o template.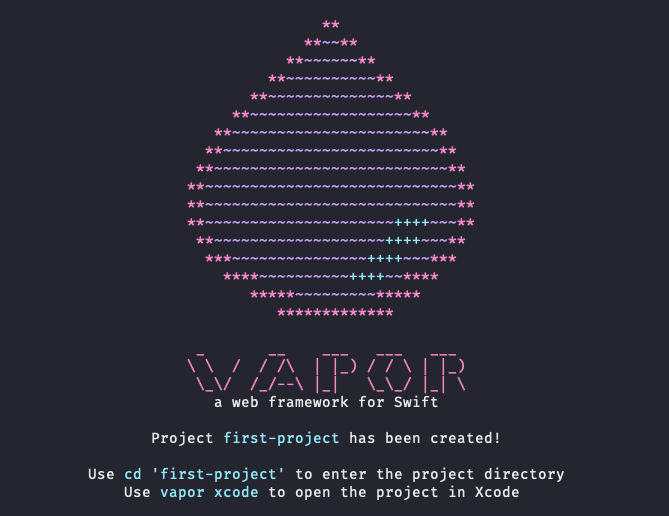 Rodando o primeiro projeto:
🍎 no macOS

🐧 no Linux

Se tudo ocorrer bem, a saída no console deve ser essa:

[ INFO ] Server starting on http://127.0.0.1:8080

E pra testar, basta abrir o endereço no navegador.