In 2023, there should be no debate about the added value of great documentation in software projects. Software engineers should have access to the appropriate knowledge base, depending on the resource type and when they need it. Technical documentation for software developers can take many forms, including evergreen documentation (e.g., procedures for setting up a project), architectural principles that developers should follow in their projects, release documentation, coding standards and guidelines, onboarding guides, and more.
Documentation for technical audiences is a tough challenge for many reasons: it requires a rigorous organization to be kept up-to-date. It can quickly be put aside by engineers who often dislike spending time on maintaining documentation. One common mistake is to consider all categories of documentation at the same level: an ever-green procedure to install software is not the same as a coding standard, for instance, which regularly evolves. You don't need this knowledge at the same time and frequency. Once you understand that, you can define different processes and channels to manage your technical documentation
In this post, we provide an overview of 35 existing tools for managing technical knowledge, which can be scattered into these main categories:
Wiki-like tools where engineers write documentation in the tool's UI (ex: Notion, Confluence, …)
Living knowledge tools, where knowledge emerges from developers' tools and become then dynamic, are used for instance, in code analysis and onboarding sessions (ex: Promyze);
Communication tools, such as Questions/Answers platforms (ex: StackOverflow for Teams, …)
Generated-wiki tools where developers will typically write documentation in markdown, and then all the magic will happen (ex: ReadTheDocs, …)
This post does not consider tools that provide end-user documentation, such as self-service portals (Zendesk, Intercom, etc.). We focus on documentation made by developers for developers. We also exclude API documentation tools, which belong to a specific domain that deserves its article.
Capture notes, break down issues, track your progress, create a knowledge base.
Empowering developers and teams to learn, share, and succeed through online communities and knowledge sharing.
Open Source Notion Alternative
Build better product documentation — faster
Next-Gen Document Collaboration Platform for Teams!
(Open Source) BookStack is a simple, self-hosted, easy-to-use platform for organizing and storing information.
Save time with the all-in-one productivity platform that brings teams, tasks, and tools together in one place.
The all-in-one doc for teams.
New Relic CodeStream is a free open-source extension for VS Code, Visual Studio, and JetBrains.
Confluence is your remote-friendly team workspace where knowledge and collaboration meet.
(OpenSource) The Easiest Way To Document Your Project.
All-in-One Platform for Online Documentation.
(OpenSource) Build optimized websites quickly, focus on your content.
(Open Source) Forums made simple. Modern, fast, and free!
(Open Source) Forem is an open source platform for building modern, independent, and safe communities.
Where software teams break knowledge silos. (We use it at Promyze for our public documentation)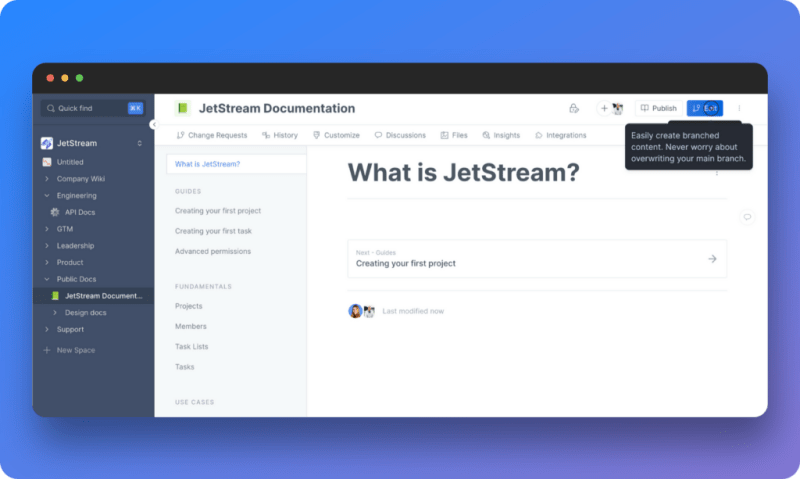 Websites for you and your projects.
(OpenSource) The world's fastest framework for building websites.
Transform your plain text into static websites and blogs.
static site generator from Markdown files.
(Open Source) Project documentation with Markdown.
The all-in-one workspace — for your tasks, notes, wikis, and calendar.
Build a full-featured Docs website in minutes, using Notion as CM
A modern, simple, and blazingly fast way to collaborate — bring knowledge, docs, and projects together in one place.
The easiest way to create an online for your company.
(Open Source) Read the Docs simplifies software documentation by automating building, versioning, and hosting of your docs for you.
(OpenSource) SkyDocs is a lightweight static documentation builder with MarkDown.
Build a culture of knowledge-sharing today.
(OpenSource) Sphinx makes it easy to create intelligent and beautiful documentation.
Knowledge sharing and collaboration without distractions.
Documentation Platform Built for Engineers.
Spotify's docs-like-code plugin for Backstage.
The best way to organize and share knowledge with your teammates.
(OpenSource) The most powerful and extensible open source Wiki software
Connect Developers' Knowledge and share best coding practices, fully integrated in developers tools.
That's all, folks; we hope that post gave you an overview of the current landscape of the knowledge base tools for software developers.
Among the ones quoted above, at Promyze, we use Notion to gather material such as procedures to create new releases of our IDE extensions. We use GitBook to publish the user documentation of our platform. Finally, we use our tool Promyze internally to raise new coding standards continuously. We bring these standards directly in IDEs & during code reviews since we consider this is the moment developers need this knowledge. You don't code with a Wiki opened in a tab.
For each kind of documentation, you must define who should update it, when, and how other engineers will be notified of this change.