A couple of weeks ago in Boston, Progress hosted jsMobileConf, an event for developers looking into and beyond the traditional JavaScript ecosystem.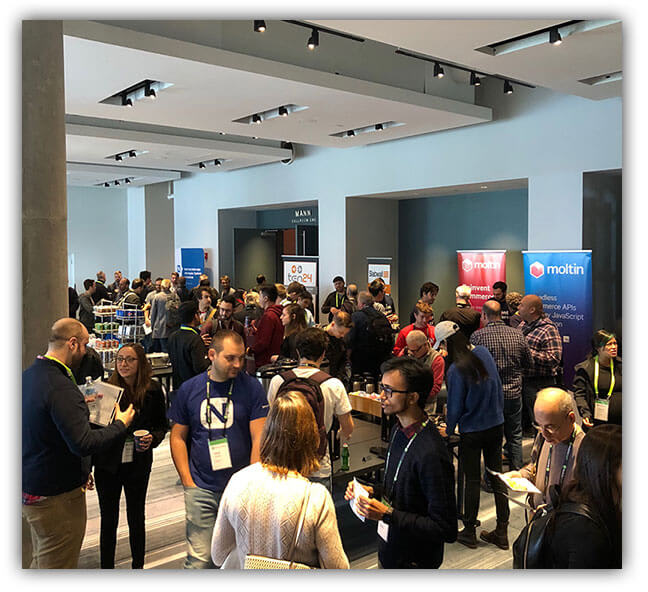 Over 200 attendees packed the Aloft hotel in downtown Boston for a myriad of talks spanning virtually every technology that is impacted by JavaScript. What started as a mobile-only conference (hence the name!), jsMobileConf was molded by its speakers to become a host for cutting-edge JavaScript talks. From blockchain to VR to Machine Learning to AI to mobile apps to IoT, we covered a broad array of exciting new opportunities.
We learned quickly that JavaScript is uniquely positioned as the gateway to a variety of new technologies.
From {N} Developer Day to jsMobileConf
In previous years, what is today called jsMobileConf was known as NativeScript Developer Day (an event laser-focused on NativeScript developers). After a 2016 event in Boston and a 2017 event in New York City, it became clear that we had a lot more to offer the JavaScript community. And we are pleased to say it was a smashing success!
@BOS_TechEvents the #JSMobileConf was great! Learned a lot and met leaders in the industry and inspiring women in tech! pic.twitter.com/99m93XZ9if

— Michelle (@Maverick_7_) October 27, 2018
The quality of the speaker lineup was top-notch, with an opening keynote by Ethan Marcotte (who coined the term "responsive design"):
Thank you so much, folks! And thanks so much for having me! Real honored to be a small part of #jsmobileconf

— Ethan Marcotte (@beep) October 25, 2018
Other notable (and popular) sessions included Simon MacDonald's FaaS and the Serverless, tackling imposter syndrome with Diana Rodriguez, and Chris Fritz's inspiring talk on...believe it or not...writing great docs!
.@cotufa82 rocking her talk on imposter syndrome at #JSMobileConf!!! pic.twitter.com/QyuEcbCfwv

— Brandon Satrom 🥕👖 (@BrandonSatrom) October 25, 2018
While Microsoft's own Burke Holland gave a great talk on VS Code and Live Share, he also got to enjoy Macy Kuang's VR game demo:
🥽 ⚡💡More #jsMobileConf fun with the @MiaomiaoGames booth game champion: @burkeholland 💡⚡🥽 pic.twitter.com/Q1d74YgP39

— 😆Tara Z. Manicsic🐺 (@tzmanics ) October 26, 2018
A special thanks goes out to all of our speakers who helped put on such a fantastic show.
Even Sebastian Witalec, who was spotted handing out autographs!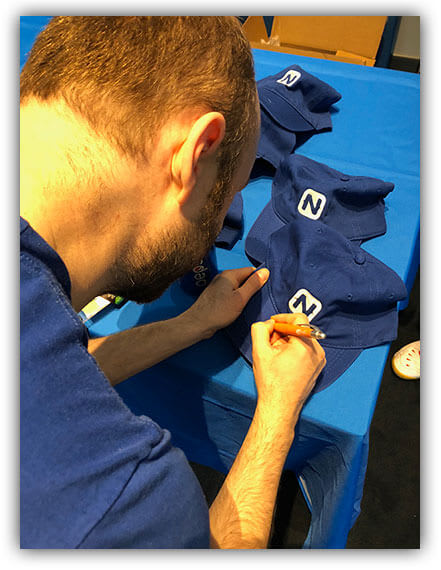 ICYMI
If you missed out on this year's jsMobileConf, have no fear, we've got your back.
All of the sessions were recorded and will be presented on the Progress YouTube channel in the coming weeks. Speaker slidedecks are already available in this Github repository!
Thanks to everyone who made jsMobileConf such a success, from the organizers to the speakers to the attendees...and of course to the sponsors:
I think my colleague Brian Rinaldi summed up jsMobileConf best:
The best part of running conferences is the opportunity to meet amazing people - both speakers and attendees. This was true of #jsMobileConf even moreso! Thanks all for making it awesome. 🙏

— Brian Rinaldi (@remotesynth ) October 26, 2018
See you next year!