How to Attract Customers to your Ecommerce Marketplace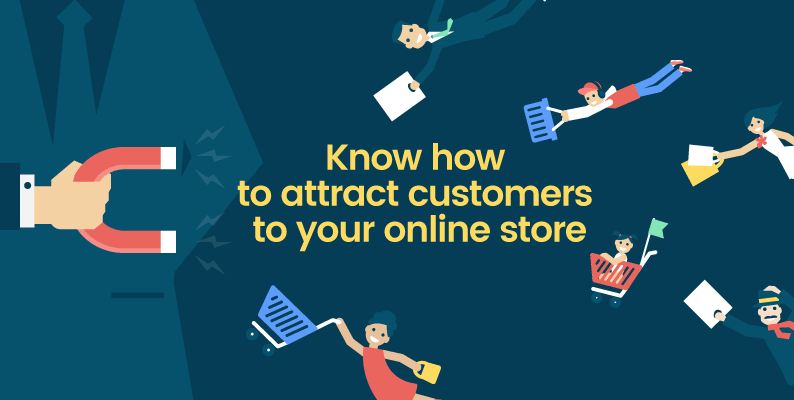 The most important work for an E-commerce entrepreneur begins right after the launch of their E-commerce Website. Figuring out the focus audience and pulling them can be a hard task if do not have a clear tactic to attract your potential customers.
An accurate combination of cohesiveness and marketing tactics in will assist you to attract more visitors to your E-commerce marketplace. It is said that more startups and entrepreneurs have failed regardless of an ideal marketing combination.
There are various factors that you need to consider to attract customer to your E-commerce marketplace. Here are a few tips mentioned below to attract customers.
1 Improve your Marketplace Ranking in Search Results
It is important to confirm that your marketplace and its products are ranking at a notable position in search engine results page.
Most of the top eCommerce Platforms like Magneto offer options to boost the search ranking by providing an option for Meta information. In this stage, the on-page website elements should be tweaked under the supervision of an experienced search engine optimization professional.
Numerous factors come into play, which decide the ranking but the most important ones are quality of content, Meta information, and the bounce rate of the website. It is also `significant to use relevant keywords in URLs as well.
2 Create Engaging Content for Your Online Marketplace
Content plays an important role and it is better to make content an integral part of your marketing strategy. With more keywords, your marketplace will have a better chance of appearing in search results. But the question remains, how to generate content for your marketplace?
To start with, build a content and social media strategy. Making a content publishing calendar and social media posting calendar will help you be more organized and focus your efforts in one direction in a more manageable way.
3 Improve your marketing attempts by starting a campaign
The landing page plays a significant function in a campaign's achievement and it is vital to put an utmost try on improving its user experience. If your landing page is not allied with campaign goals, you might risk running a failed campaign. Frequent aspects like the images, call to action, etc. needs to be perfect and offer a smooth navigation experience for the incoming visitor.
4 Spotlight on user-generated content to create trust
Ratings and reviews by consumers boost the purchasing possibility of other visitors. To earn regular buyers you need to work tough but to persuade the first time visitors, even an authentic user review of another buyer will work.
The user-generated content facilitates with search ranking as well, since it fills the content with relevant keywords and keeps the page updated with fresh content. Moreover, you need to enable a feature that asks the user for a review after a successful purchase.
One more feature, which is gaining fame, is the product questions. In this attribute, people answer the questions asked by some other possible buyers of a product. Think about executing this feature to boost the engagement rate of product pages.
5 Making use of social media
Make use of Social Media and integrate different features like social logins, sharing options, etc. Using social login can enable the marketplace visitor to save time by skipping the registration form.
Social media utilization helps to share product pages is another way which validates the significance of social. To increase your social media efforts, you need to get in touch with influencers and ask them to share your social media posts to get your message across millions of users.
6 Allow affiliate develop the sales of your marketplace
Affiliate marketing and referral marketing are the two best methods to improve sales at minor marketing costs. One of the best examples for affiliate marketing strategy is Amazon. It gave them a significant amount of sales and profits through it.
In addition, if you need to improve your marketing efforts at minimal costs, you need to pay special attention to extraordinary customer service. Printed merchandise, offering discount coupons, personalized packaging, etc. are few policies to take on if you need to boost the overall customer experience.
7 Identify what people are speaking about your marketplace
It's essential to know how your potential purchasers think about you and what their goal towards your marketplace is. Whether it can be getting review and feedback about your services or realizing what people are talking about your marketplace on numerous social media channels.
By incorporating social listening into your marketing tactics, you are being able to boost your services without difficulty. To gather feedback, incorporating live chat and popup forms facility into the marketplace plays a significant role. In addition to that, email marketing can also be utilized to get feedback from the user concerning buying experience and suggestion.
Conclusion
The marketing part gives a challenge for every eCommerce business. However, your probabilities to create a winning policy for your marketplace are always vivid and always provide you to choose the right techniques.
Drive your marketing process in the precise path with approach apt to your business, focus audience and budget.
For more information about E-commerce Business, click here.