FlutterFlow, a low-code platform for building beautiful apps, is a boon for developers. In 2023, the range of free FlutterFlow templates has expanded significantly, allowing developers to create robust, high-quality apps quickly and efficiently. These templates are more than just a starting point; they offer a wealth of built-in functionality, providing developers with a solid foundation upon which they can build their unique apps.
Here are the top 20 FlutterFlow app templates of 2023 that are free to use:
This app template provides an excellent base for developers looking to incorporate subscription-based revenue models into their apps. With RevenueCat Subscription Paywall, handling recurring payments becomes a breeze.
Eventor offers an elegant solution for event management applications. This template includes an event details screen and a ticket feature, making it a great starting point for any event-related app.
For developers aiming to create an app for movie enthusiasts, the Simple Watch Movie template offers a basic structure with a clean, user-friendly interface.
The Animated Menu template brings a touch of dynamism to your app. It's an excellent choice for any app that requires a navigation menu with a modern twist.
This template combines the power of AI with the beauty of art. The AI Art App template enables users to create stunning digital artwork, making it a perfect choice for developers looking to tap into the AI-powered art niche.
The SimpleBlog template is an excellent choice for developers seeking to create a blogging platform. With its straightforward design, it allows users to share their thoughts and ideas easily.
This template is ideal for developers aiming to create an app in the outdoor adventure or rental space. The KayakFlow template provides a solid base for a kayak rental application.
For productivity apps, the Responsive Kanban Board App template offers a robust, interactive task management system. This template makes task tracking seamless and enjoyable.
This app template transforms sketches into images using AI technology. It's a great choice for developers interested in AI and image processing.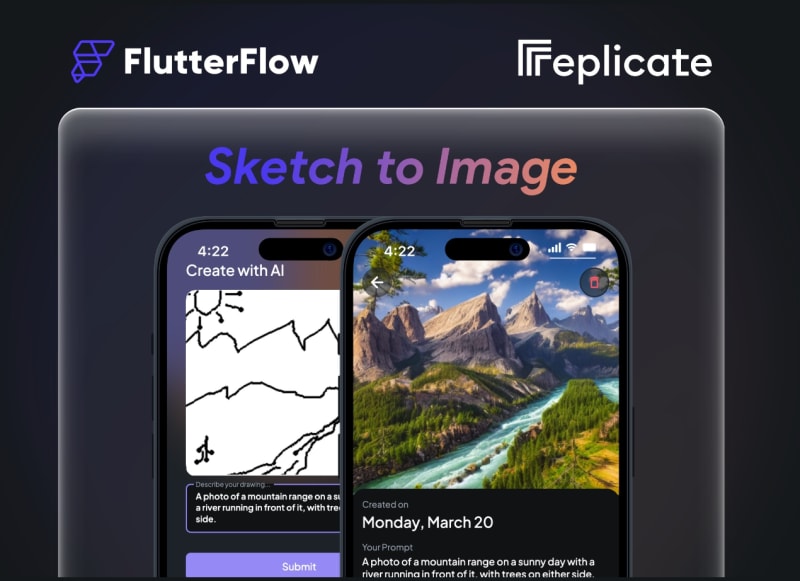 Designed for file sharing applications, the SendGem template enables users to easily share files. It's a great foundation for any file-sharing or cloud storage app.
This template integrates with Appwrite, a back-end server for web and mobile developers, making it a great starting point for developers looking to build apps with Appwrite's capabilities.
If you're building a business or productivity app that involves scheduling or managing meetings, this template could be a great fit. It provides a clean, clear layout for presenting meeting details.
This template offers a unique, circular navigation bar feature that can make your app stand out. It's a great choice for developers seeking to add a distinctive touch to their user interface.
Inspired by the design of Tesla's mobile app, this template provides a sleek and modern interface for car-related applications. If you're looking to build an app in the automotiveindustry, this could be a great starting point.
For e-commerce applications, the Animated Cart template offers a dynamic and engaging shopping cart feature. It can add a fun, interactive element to your online store app.
The Drag & Drop Kanban Board template enhances your productivity app by allowing users to easily manage and track tasks in a visual and intuitive manner.
If you're developing an app for educational settings, the Class Attendance template offers a straightforward solution for tracking attendance. It's a useful tool for teachers and students alike.
For developers in the health and wellness space, this template provides a well-structured foundation for a fitness app. It's designed to help users track their fitness progress and stay motivated.
This template incorporates GPT, an AI language model, to provide industry-specific prompts. It's a fantastic option for developers looking to build AI-powered chat applications.
The Drawer Menu template offers a stylish and practical navigation menu for your app. This side navigation menu is suitable for a wide range of applications.
These are just a few of the numerous FlutterFlow app templates available in 2023. Each one offers a unique set of features and capabilities, enabling developers to create a wide array of apps tailored to various needs and industries. Whether you're a seasoned developer or just starting your journey in app development, these templates are a valuable resource to help you expedite the development process and create high-quality apps.
Flutter Flow marketplace provided by code.market
Are you a developer skilled in FlutterFlow? Do you have a knack for creating brilliant and functional templates? If so, code.market could be the FlutterFlow marketplace for you to not only share your work with the world but also earn income from your creations.
Author links
👉 Subscribe to our 🐣 Twitter
👉 Subscribe to our ✈️ Telegram
👉 Subscribe to our 💆 Facebook community