It's no secret that websites use cookies to save information about the visitor to provide a better browsing experience. Some websites go as far as tracking user's IP addresses and their geolocation. However, antidetect browsers are not only used by individual people – businesses utilize them for various marketing purposes. Since these browsers don't come cheap, we've prepared a list of secure and trustworthy ones to help you choose.
What is an antidetect browser?
An antidetect browser is one that uses technologies like data spoofing and its own digital browser fingerprints, providing internet users with more privacy. Although used by people for individual needs, antidetect browsers are more often utilized for commercial purposes: traffic arbitrage, managing several social media accounts, accessing geo-restricted websites, and more.
You might be wondering: what would happen if I did all of this using a regular browser?
In a regular browser (i.e., Google Chrome or Safari), you would have to use a new profile with a completely different set of cookies. Additionally, you would manually have to change the fingerprint parameters – your IP address, the user agents and even browser extensions, at times.
Meanwhile, an anti-detect browser does it all for you, some even do it all automatically. This way, you won't face any repercussions (bans, for example) in case a website doesn't want you using several profiles.
Now, let's get into the list of top antidetect browsers of 2022.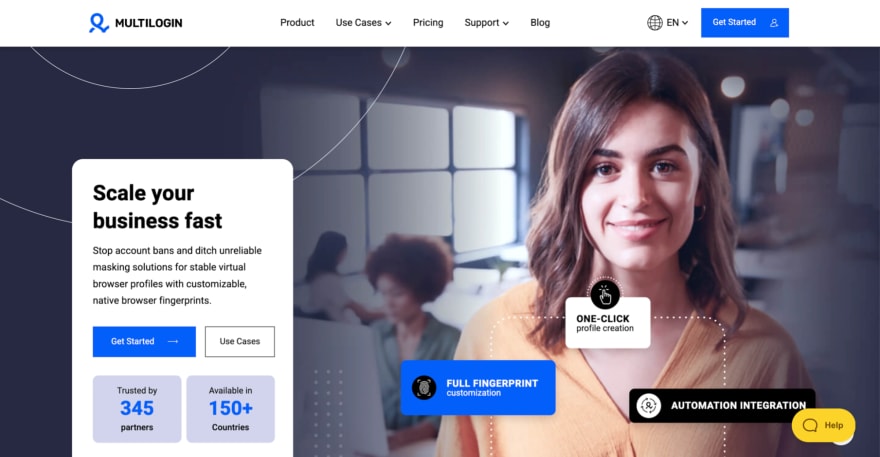 If you need a trustworthy and robust solution that handles difficult tasks without lagging, Multilogin is the way to go – it's known as the golden standard in the industry. Multilogin allows you to create several profiles, modify your digital fingerprints, and automatically integrate marketing tools.
Speaking of digital fingerprints, Multilogin is one of a few tools that tries to spoof your traces completely instead of disabling parameters like Canvas or WebGL. This way, you'll look way more legitimate to the websites you're visiting.
Multilogin allows you to use either modified Chrome or Firefox browsers, both with different fingerprints. If you get the Custom plan, an unlimited number of people can use the tool and control the accounts, meaning you can work with your whole team. You can alter profile settings manually or automatically create quick browser profiles.
Also, you can ask your developers to automate browser profile or account creation within the platform with Selenium and Puppeteer.
Finally, you can have peace of mind knowing that Multilogin stores your data on AWS Cloud with military-grade encryption.
Operating systems: macOS, Windows, Linux

Pricing: From $99/month

Free trial available? Contact support

Main features: Automation, mimic and Stealthfox browsers, profile sync across devices, fingerprint control
AdsPower is another reliable anti-detect browser provider specifically designed for managing e-commerce and social media accounts. The browser is relatively easy to use, since its automation features don't require programming knowledge.
What makes AdsPower different from anti-detect browser providers is their pricing model. AdsPower allows you to select custom numbers of team members and profiles and the price is calculated at the end accordingly. This way, you're not overpaying for features you don't need, making AdsPower a great choice for those who need something flexible.
AdsPower is a China-based service, so it wasn't as popular outside of the country as of until recently. However, with its English version being launched, it became widely-known between marketing specialists as a competent Multilogin alternative.
Operating systems: macOS, Windows

Pricing: from $7/month

Free trial available? You can get a free plan with 2 profile limit

Main features: fingerprint control, account importing, integration with proxies, profile sync across devices
GoLogin uses its custom Google Chrome-based browser. It replaces most of the parameters and adds noise to others for fingerprint spoofing. Although it depends on your configuration, some users have reported that this method results in more CAPTCHA prompts.
The GoLogin browser is rather easy to use: it takes a single click of a button to create fingerprint configurations. It allows you to create numerous browsing profiles, each with its own unique digital fingerprint, so the profiles won't interfere with one another.
Finally, unlike other services, MultiLogin also allows you to use their proxies and change your IP address for even more privacy. Although these proxies may not work well with robust websites, they are enough for regular browsing.
Operating systems: Android, Linux, macOS, Windows, cloud

Pricing: From $24/month

Free trial available? 7 days or a free plan limited to 3 profiles

Main features: profile sharing, fingerprint database, cloud launches
Full control of your data and using multiple profiles challenge-free – these are two things Incogniton is known for. It has all the features you would expect from an anti-detect browser: creating multiple browser profiles (you can do it in bulk, too) and syncing them.
One thing that differentiates Incogniton from other anti-detect browser providers is their free plan: it allows creating up to even 10 browser profiles. But if you decide to upgrade, their bigger plans offer automation features, a larger profile number and ability to use it in teams.
Operating systems: macOS, Windows

Pricing: $30/month

Free trial available? Free plan with 10 profile limit

Main features: Selenium/Puppeteer integration, premium support, API access
Lalicat is based on the Chromium engine and the Tor network; it's known as a tool you can get started with rather quickly. The multi-profile management systems are automatically set up by the tool. That said, you don't need to go through extensive training and spend hours trying to figure the tool out.
Offering their platform in multiple languages, including English, Spanish, Japanese, and others, Lalicat is super convenient for global users.
Operating systems: Windows

Pricing: from $59/month

Free trial available? 3-day free trial

Main features: unlimited fingerprint profiles, cookie sync across devices, unlimited device number
VMLogin (or Virtual Multi Login) is another tool designed for creating virtual browser profiles for browser fingerprinting, setting up business workflows, and developing web automation. The tool has a built-in automation feature that helps to perform repetitive tasks; but if your automation needs go beyond that, you can use Selenium or the Browser Automation Studio to automate other tasks.
VMLogin allows you to create, share, and transfer profiles in the same environment, which enables team collaboration. However, its main feature is the option to build separated browsing environments for each session. VMLogin does it by creating mini-virtual sessions where cookies and cache are separated.
Operating system: Windows only

Pricing: $99/month

Free trial available? Yes, it's available (contact support for further info)

Main features: At least 5-sub accounts and 200 browser profiles, profile sharing, REST API
Ghost Browser is another quite popular anti-detect browser that's based on Chromium. It was originally created to help social media managers, testers, and designers to do their job hassle-free.
What's unique about Ghost Browser is that it doesn't just provide the anti-detect browser – you also get an entire workspace similar to Google Workspace or Microsoft 365. This workspace features components like folders, bookmarks, history, downloads, and settings. Because of this, Ghost Browser is ideal for marketing agencies that work with several different customers and products.
Operating systems: macOS and Windows
Pricing: from $21/month
Free trial available? Offers a free plan  
Main features: proxy control, multiple identities (temporary or permanent), immediate setup
Summary
No matter what websites you visit, be sure that you're being traced, monitored, and possibly recorded, with traces of your data stored in long-term storage. For some, it's an invasion of privacy; for others it interferes with their work. Good news is that you can be anonymous and perform your marketing initiatives without hassle – as long as you have the right dedicated tools such as solid proxies or antidetect browsers.