Welcome to the August edition of Orkes Monthly Highlights.
Let's take a closer look at the exciting events from August 2023 and get a sneak peek of what's coming up in the following months.
PS: If you want to jump right into getting your free one-day pass for the APIDays conference in London (by registering for the Orkes Conductor Meetup associated with that), click here.
August 2023 Events
Microservices and Distributed Applications Meetup Singapore
Aug 4, 2023: Singapore
In collaboration with Microsoft Singapore & Kubernetes User Groups Singapore, we hosted our first in-person meetup in Singapore, bringing together developers passionate about microservice-based applications. The meetup featured incredible sessions from amazing industry speakers and provided the attendees with an excellent opportunity to network and learn.
We were excited to have Rajat Goyal, Engineering Manager at Gojek, Jay Lee, App Innovation Specialist at Microsoft, and Boney Sekh, CTO at Orkes, as our speakers. It was a fun-filled and informative event for all the attendees, fostering connections and engagement among the tech community in Singapore.
Orkes Conductor Developer Meetup Paris
Aug 23, 2023: Paris
We hosted our first in-person Orkes Conductor Developer Meetup in Europe in Paris on August 23, 2023. The event brought together developers who were keen to dive deep into the details of building distributed applications using microservices. A significant focal point of the meetup was how Orkes Conductor addresses some of the common challenges developers face when building complex and mission-critical applications.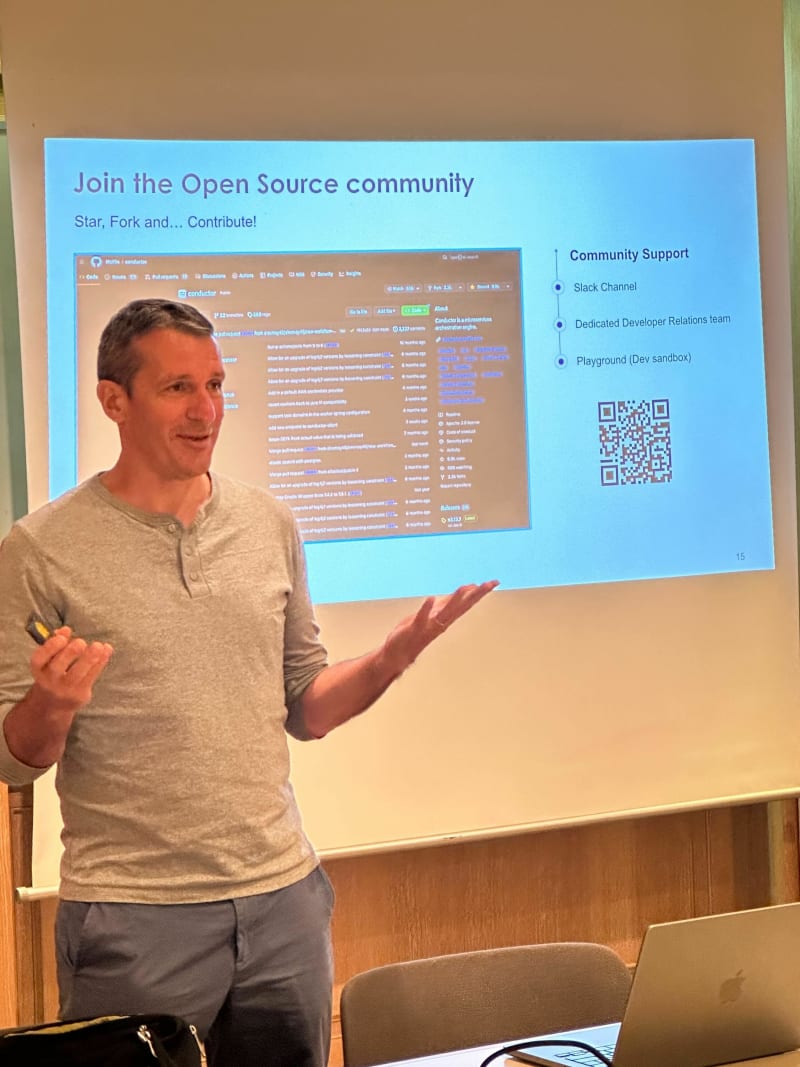 Olivier Poupeney, the Head of Developer Relations at Orkes, delivered a hands-on session during which he highlighted how Conductor can be utilized to mitigate and resolve complexities in workflows in subscription use cases.
Upcoming Events
Microservices and Orkes Conductor Meetup London
Sep 13, 2023: London
We are thrilled to share our first in-person meetup in London on Sep 13, 2023, at API Days London, from 10 AM - 12 PM. Immerse yourself in discussions surrounding practical approaches and valuable insights related to real-world scalable app development, the orchestration of AI, and the seamless integration of Conductor for intelligent and automated decision-making within everyday business operations. Below is the agenda, and we hope to see you there!
Workflow Orchestration at Ministry of Justice by Ben Pirt, Principal Technologist at Made Tech - 10:05 AM to 10:30 AM
AI Orchestration using Conductor by Viren Baraiya, CTO, Orkes - 10:30 AM to 10:45 AM
Exciting Updates and Announcements by Olivier Poupeney, Head of DevRel, Orkes - 10:45 AM to 10:55 AM
Fireside chat on Developer-Centric Scalability – 10:55 AM to 11:10 AM
This event is an in-person event, attached to APIDays London. To make this opportunity even more enticing, we have some exceptional early bird offers for API Days that are ready and waiting for you!
The first 100 registrations for this Conductor Developer Meetup will get a FREE one-day pass to the API Days London event. Claim yours now!
GITEX - Expand North Star
Oct 15-18, 2023: Dubai, UAE
Yet another exciting event on the horizon is our participation at the upcoming Expand North Global Star GITEX, set to take place from Oct 15-18, 2023, at Dubai Harbour, Dubai, UAE. Renowned as the world's largest gathering for startups and investors, this presents a remarkable opportunity for us to forge connections with prospects and communities spanning the entire globe.
We're excited to mark our debut at this Middle East event, and we'd be delighted to have you join us. Let's meet and connect at GITEX!
QCon San Francisco
Oct 6, 2023: San Francisco, US
We are thrilled to announce that we will be speaking at QCon San Francisco in Oct 2023. Olivier Poupeney, our Head of DevRel, will deliver a session on "Microservices Orchestration: Designing Resilient Systems for the Future" at 09:00 AM PDT on 6th October 2023.
Latest Resources
Swing by and take a look at the latest resources from Orkes.
Recent Blog Posts