Let's deep dive into opensource, What is Opensource and how you can contribute and hack this October of 2021 to get the title of hacktoberfest
🚀 Open source is changing the world – one contribution at a time.
👉 What is Hacktoberfest?
Support open source throughout October!
Hacktoberfest encourages participation in the open source community, which grows bigger every year. Complete the 2021 challenge and earn a limited edition T-shirt 👕
👉 How I participated as a Maintainer and what was my end goal behind maintaining "ComEve"?
Maintainers are the keystone of open source. This year's Hacktoberfest has a new, added focus: empowering open source maintainers.
Last year when I joined hacktoberfest, I was struggling to find the valid project and a maintainer, who can support me to getting started with hacktoberfest and guide me the things towards opensource, so that I can contribute and open my first pull request. So, my vision for maintaining a Community Events Platform Project by this Hacktoberfest is to support and guide new joiners who are willing to contribute, I opened everything in terms of issues and created basic issues and middle level issues, so that every level of joiner can contribute, sometimes I hookup the calls with joiners, I did the guidance calls with contributors from India and South Africa to give them a overall walk through.
⚡ Want to Contribute?
👉 What I have Learned as a Maintainer?
Volunteer and giving up personal time to create something of value for the world.
Reviewing and Merging Pull Request
Collaborations with Developers throughout the world.
Maintain a project when you own a team.
Be respectful and allow people to contribute in a way that makes the project better.
Encourage developers however the pull request is buggy and production breaking ding, motivate them to fix and fly high as per terms of opensource.
👉 Now, Time to showcase Proud Contributors of Community Events Platform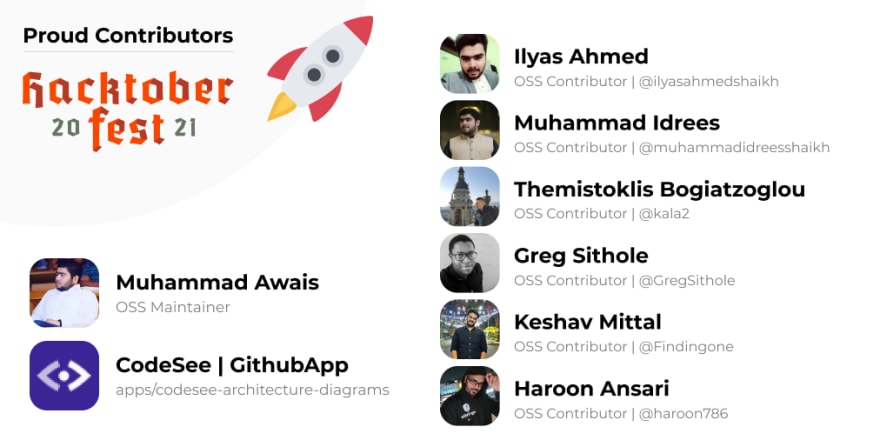 👉 Conclusion
If you have any questions make sure to check out the FAQ page here or reach out to me on Twitter: @developerorium
If you are a project maintainer share your project in the comments below! 🙌
Happy hacking, and good luck! ☕