Balena is excited to announce our official support for the NVIDIA Jetson AGX Orin
Balena is excited to announce our official support for the NVIDIA Jetson AGX Orin. Users of balenaOS can now leverage the incredible power of the Jetson AGX Orin for their edge applications. With 2048 CUDA cores, this new device shines in applications ranging from energy-efficient autonomous machines to manufacturing, logistics and retail among others.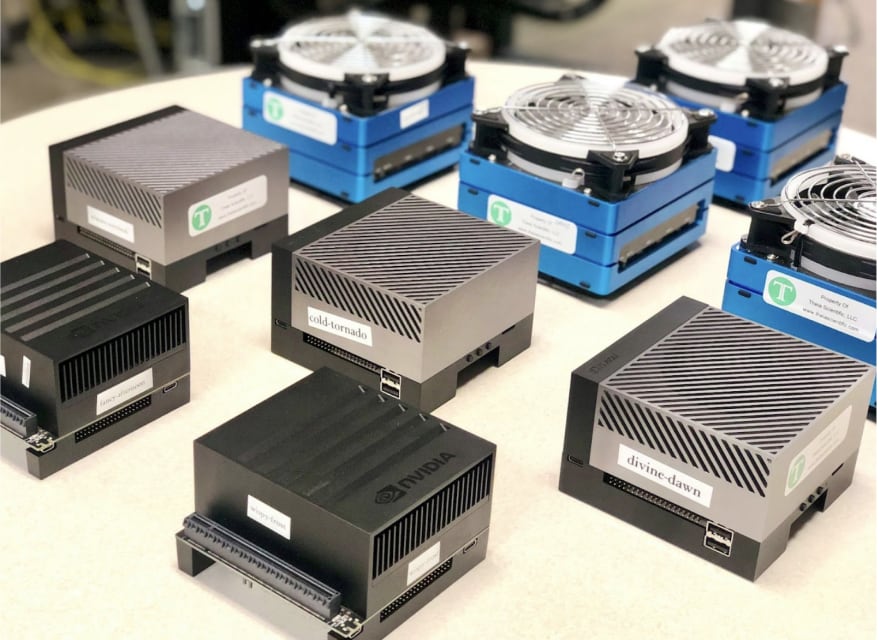 Balena has solved the hard problems of device deployment, management and updating so you can concentrate on your applications. Now those applications can be even more powerful when they're running on an AGX Orin powered by balenaOS.
What is the NVIDIA Jetson AGX Orin
The NVIDIA Jetson AGX Orin(TM) is the newest member of the NVIDIA Jetson devices.
Currently the NVIDIA Jetson AGX Orin runs up to 275 TOPS of AI performance with a configurable power range of 15W and 60W. That means 8 times more performance than the NVIDIA Jetson Xavier in the same form factor.
The Orin has been built with the new NVIDIA Ampere architecture with 2048 cores and 64 Tensor Cores as a GPU with a maximum of 1Ghz of GPU frequency. And as a CPU it uses a 12-core Arm Cortex A78AE 64bit. It also brings a 64GB eMMC memory and 32GB of DRAM.
A customer using the NVIDIA Jetson AGX Orin with balena
Microscopes and processing acquired images to make scientific discoveries and engineering decisions are an integral part of state of the art laboratories. Theia Scientific applies IoT solutions to problematic scientific image processing and analysis workflows in the energy, materials, and life sciences fields of Research and Development (R&D).
Many laboratories have more than one microscope and more than one type of microscope. This quantity and variety are useful for conducting a broad spectrum of experiments and capturing a wide range of images that need to be analyzed. Institutions and facilities with multiple microscopes often refer to them as "fleets". Similarly, a collection of IoT devices is called a "fleet". Hence, balenaCloud is one element used with the Theiascope™ platform for fleet management.
Theia Scientific with the help of Volkov Lab's uses balenaCloud to remotely allow updates, control, and support of Theiascopes™ deployed in any laboratory worldwide.
Read more here about how Theia Scientific is currently using the newest NVIDIA Jetson AGX Orin on their fleet of microscopes. Theia Scientific and Volkov Labs, improved the Jetson AGX Orin inference speeds up to 30FPS. The Jetson AGX Orin running YOLOv5 tripled the Frames-per-Second (FPS) compared with the latest Jetson AGX Xavier.
Jetson AGX Orin balena resources
See our official partners page , read the documentation or try a project today and let us know what you think on Twitter, Linkedin and our Forums. For more information about the NVIDIA Jetson AGX Orin and to see more examples of their platform in action, visit the NVIDIA Orin modules website.