In my previous post about inline keyword, I loudly wondered:
I still don't know if a function that's implicitly inline is actually inlined when it's invoked. There is this c++ maxim that says "inline is only a hint and the compiler is free to ignore it". Does that apply to implicitly inlined functions? In other words, if I were to stick a 500 line definition for a function that's defined in the class definition, will the compiler still inline it?
Turns out, this is a valid question because the compiler is NOT guaranteed to inline a member functions that are present in class definitions even though defining them in the class definition implicitly defines them as inline
The answers in this SO clearly states that it's still up to the compiler's discretion to actually inline the calls to this function. I have highlighted the relevant sections from an upvoted answer: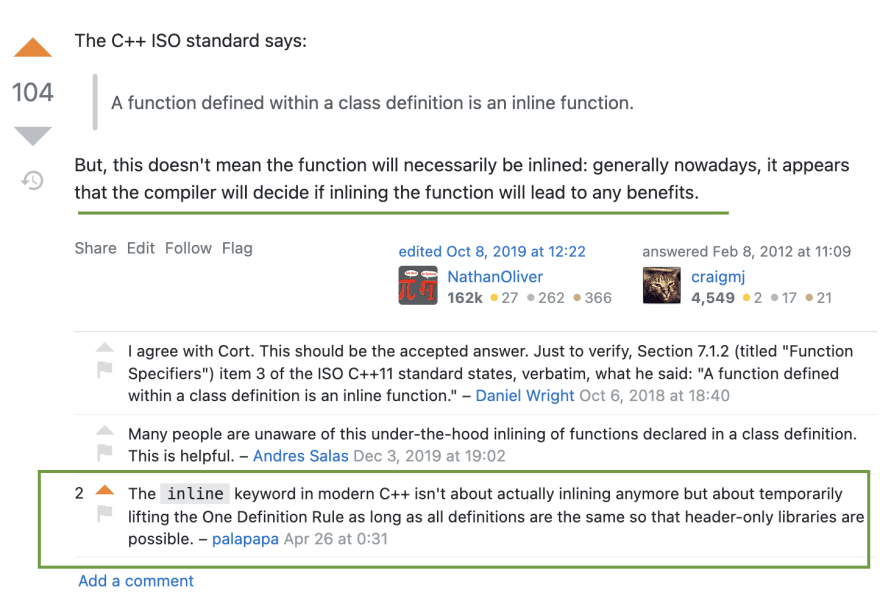 The last comment is more telling because it exactly talks about what was happening to the non-member friend function defined in Foo.h in the previous post. If you were to create a header only library, if you don't use the inline keyword for your non-member functions, you will end up make your library useless. You won't catch this error unless you include your header in multiple sources in your tests (something that's easy to do).
In short, I'm not a fan of this C++ feature. I see SO responses that go to great lengths to explain the feature, but I don't think even the gurus can point to this feature as a strength of the language.