Youtube has become one of the most influential platforms on the Web. Many people tend to choose to start their channel to spread the word and earn money along the way. If you're reading this article chances are you're one of those people who want to find their respected place in the world of YouTubers. To succeed, people combine and mix many aspects that assist the path to achieve their goals. One of the aspects is finding and working with the right tools. That's where we come to help you out. Today we'll present tiny yet significant tools that will help you become a successful Youtuber.
Price: 24 USD/month (Free version available)
We start the list with Veed.io. Veed is a simple and powerful tool that will help you edit, resize, trim videos and more. Additionally, the platform allows you to include automatic subtitles, record the screen, compress videos. One of the main reasons why we love Veed.io is the simple and easy UI allowing you to navigate the platform effortlessly and, what's more important, all the features are available on the single drop-down menu. So, don't lose any time and start editing your videos on Veed.io today!
Price: Free
There are thousands of guides on how to be a successful Youtuber. Many recommend being active not only on Youtube but on social media channels as well. All you need to do is create accounts and promote yourself and your videos. The best way to do this is to use thumbnails from your own video to create posts, collages and more. Thumbnails should be attention-grabbing and interest potential viewers. To download thumbnails from your videos, we recommend using Softr's Youtube Thumbnail Downloader. The Youtube tool is easy to use and free. To successfully download a thumbnail from your chosen video, all you have to do is: 1) Copy the video URL 2) Add the URL, 3) Download the thumbnail.
That's it. Now you have a thumbnail that can be used to boost traffic to your channel and gain more subscribers along the way!
Price: Free
Next up we have Rapidtags one of the most prioritized tools when it comes to Youtube. Rapidtags has already helped many people in taking their Youtube channels to the next level with the help of a list of tools it provides. One of the best tools is the tag generator. With Rapidtag's tag generator, you can generate SEO tags for your videos. SEO tags are crucial for having a successful Youtube channel. When used correctly, tags will help your brand awareness, drive sales, and help you reach a wider audience.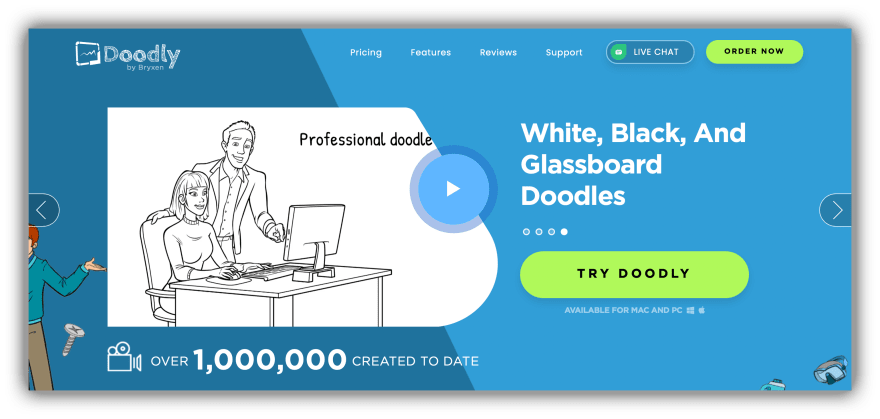 Price: 39 USD/ month (Free trial available)
If you go to Youtube and check the trending page, there is surely at least one animated video in the top 10. It all started a few years ago when creators as TheOdd1sOut, Eddsworld, Domics started their path of becoming one of the most successful YouTubers worldwide. They all started from somewhere, some from Doodly. Doodly is the first whiteboard animation software allowing anyone, without or with a little technical/design skills to create professional, realistic whiteboard videos. One of the reasons why you should use Doodly is its easy functionality and accessible features.
Price: 44.99 USD/yearly (Free trial available)
We started the article with a video editing tool and we would like to end it with one. The last tool we want to present is the Wondershare Filmora. Wondershare Filmora is a video editing software that allows users to quickly and easily make videos with a variety of powerful editing tools. Wondershare Filmora has an accessible and nice intuitive design that makes being a great video editor simple for everyone. The best thing about the Wondershare Filmora is the simplified features and the short amount of time it takes to create videos or edit them.
Final Thoughts
Becoming the next top Youtuber is a difficult yet approachable task. There will be many challenges, burnouts and thoughts of giving up on your dream. But you will need to keep your focus and move forward. The presented tools will surely help you make your small steps to your goal and become the next Pewdipie.