Information comes fast in the modern age. People consume oceans of content every day - texts, videos, pictures, podcasts. In addition, there is a huge number of "golden fishes" in this ocean, which are advertising. And how, in this abundance of everything, to make sure that your content reaches your target audience and works for the benefit of your business?
You need a content marketing system. Thankfully, there are a number of free and open source content management tools.
In this article, we will provide the various free and open-source content management platforms currently available with a brief overview of what to expect from these platforms and some of the current options.

What is Content Management System?
Content Management Systems (CMS) – the software programs that enable you to create, edit, publish, manage and maintain website pages or blogs. And the most important is that you can do it on a single platform. In other words, Content management systems are a "weapon of mass destruction" with the functions of an information system (collecting, storing, and processing data) and functions of a computer program (organizing the creation, editing, and management of content or resource content).
CMS can be called an indispensable assistant for a site owner who does not have special skills to work with it. The system acts as an intermediary that "translates" the human commands and provides him with laconic tools for managing the resource. You do not need special knowledge and programming skills, since the engines allow you to interact with the resource using a simple interface and a visual editor.

CMS advantages and disadvantages:
Advantages:
You can create a website yourself and in a short period of time;
No need to understand design and programming;
Website development will be cheaper;
Conveniently manage the content of the site.
Disadvantages:
You need to monitor the updates and compatibility of new versions with add-ons;
Performance usually decreases if the site has a lot of add-ons;
Patterns. It is difficult to realize your creative ideas if you have to work with pre-prepared layouts.
Not all functionality can be implemented;
Today, there are hundreds of content management systems available. Now, we present a list of some of the leading free and open source CMS platforms. You can check them and rely on them after selecting the best for your business requirements.
Open source content management systems
WordPress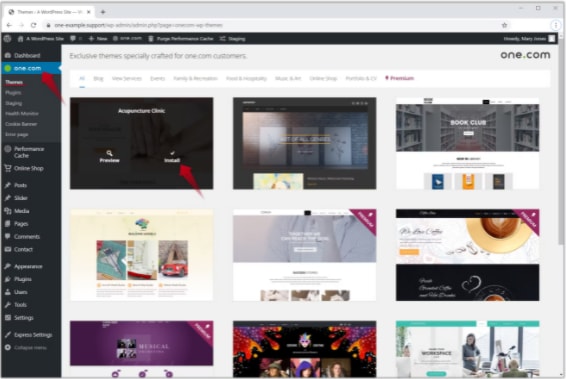 WordPress is a great choice for anyone who wants a clean, functional website. Its numerous plugins allow users to create almost any type of website. Actually, this is the most popular CMS.
The admin panel is much simpler than in other CMS. PHP and CSS files can be edited directly in the admin panel. For example, you can easily paste text from any text editor. Also, WordPress has basic options for promoting a website in search engines. In the "Settings" section you can set the Title and Description meta tags.
Features:
Hosting
Password Protection
Customizable Templates
Google Friendly
Reliable Hosting
Image Library
Social Integration
Scroll Effects
Google Maps Design
SEO Tools
Online Database Builder
Compatibility for Mobile and Tablet
Web Analytics
Blogs
Contact Forms
Desktop platform: Windows, Mac
Mobile platform: Android
Website: https://wordpress.org/
Examples of WordPress websites:
The Walt Disney Company
https://thewaltdisneycompany.com/
Sony Music International
https://www.sonymusic.com/
Joomla
Another of the most widely used content management systems in the world, Joomla is regarded as one of the most user-friendly tools in web content management. Its flexible and powerful features make it a must-have for corporate sites, communities, or sites with e-commerce features. The presence of a convenient admin panel with a wide range of functions: templates, styles, menu management, etc.
However, be careful, it is poorly suited for SEO due to the peculiarities of the logic of some processes.
Features:
Document Indexing
Website Management
Version Control
Full Text Search
Text Editor
Desktop platform: Windows, Mac
Mobile platform: Android
Website: https://www.joomla.org/
Examples of Joomla websites:
National Crime Agency UK
https://nationalcrimeagency.gov.uk/
Tree Hotel - the landscape hotel where nature and imagination run wild
https://https//treehotel.se/en/
Weblfow

Webflow is a visual canvas that lets you build custom blogs, websites, and other forms of media. Its clean, semantic code is ready to be published or hand off to developers.
Features:
Hosting
Customizable Templates
Google Friendly
Reliable Hosting
SEO Tools
Online Database Builder
Create Unique Website
Desktop platform: Windows, Mac
Website: https://webflow.com/
Examples of Webflow websites:
The NU:RO Watch - the minimalist analogue watch
https://http//nuro.co/
Hologram - cellular connectivity platform for IoT devices
https://https//www.hologram.io/
Drupal

The open-source CMS Drupal is recommended to anyone who is comfortable with building websites using HTML, CSS, and PHP. Its flexible with powerful content architecture.
Features:
Website Management
Video Content
Full-Text Search
Text Editor
Audio Content
E-forms
Desktop platform: Windows, Mac
Mobile platform: Android
Website: https://www.drupal.org/
Examples of Drupal Websites:
WWF - the leading organization in wildlife conservation and endangered species
https://https//www.wwf.org.uk/
InStyle - Fashion magazine US
https://https//www.instyle.de/
Prismic
Prismic.io lets developers create apps and websites without having to learn any programming language or framework. With Prismic, you can create a variety of custom features and integrations that can be easily integrated with other solutions. You can also quickly launch landing pages and build data structures that are consistent across all of your content types.
You can compose predefined blocks for composing web pages without help of developers. Prismic allows check your content before publishing, add changes to live publications and set publishing dates. It nicely works with SEO, which is very useful for content management.
We use prismic.io at Mad Devs.
Features:
Document Indexing
Website Management
SEO Management
Version Control
Customizable Templates
Full Text Search
Image Editor
Text Editor
E-forms
Desktop platform: Web App, Windows
Mobile platform: Android
Website: https://prismic.io/
Examples of Prismic Websites
We use Prismic for our website Mad Devs. Therefore, as the best example, let's talk a little more about the first-hand experience.
Would you guess that these pages were assembled without the help of developers, but made using the Prismic functionality? We can easily make changes to sections in a couple of minutes. So our developers do not waste their time on copying and pasting text blocks, adding illustrations. The marketing team can do it themselves. And this is a huge plus of optimizing the processes of the entire company.
All SEO data is also configured in prismic.io. Our SEO specialist can, asynchronously from the team, set up the structured data, set up keywords, etc. And this is also definitely an advantage. After all, we do not waste time on additional communications with developers, the release of pages or content within the site for production. All this is inside one platform.
How to choose right?
In a great variety of systems, we have provided obvious examples of programs that are worth your attention. And finally, we decided to add a hint. What to rely on to choose the right one?
Determine the area. Do you need a blog, business card site, catalog, forum?

Determine the training time. For example, if WordPress requires minimal time to master the functionality, then Drupal will need a little more.

Determine the time for the administration. Not every service can be configured so as not to check the settings regularly.

Determine the effectiveness of the SEO. It is not so critical for CMS, but some built-in plugins can greatly facilitate optimization.
Bottom Line
If you are a large company that is in need of managing content once a website is launched - content managed system may be the right fit for you.
Now you not only know the definition of the term CMS but also met the best representatives of the engines. It should be easier to make a choice now.
Previously published at maddevs.io/blog.