How to Build a Live Video Streaming Website Like Twitch.TV?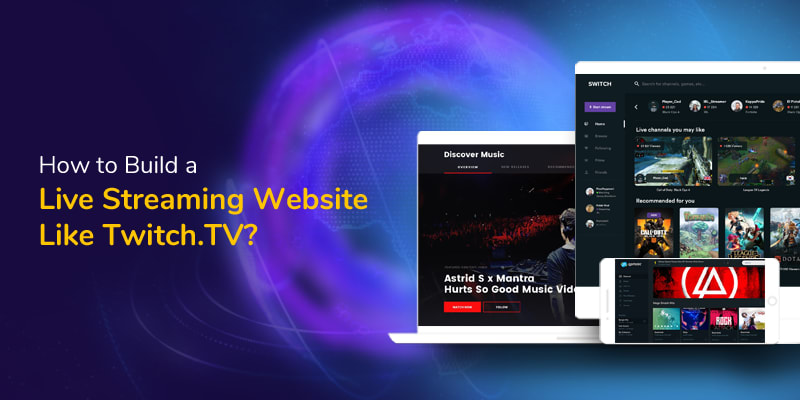 What so if you are going to own a lucrative business like Twitch which worths around $3 Million?
Yes, the live video streaming website like Twitch's market value is propelling at an alarming rate.
In the year 2016, it was found that video streaming technology valued $30 billion and expected to reach $70 billion by 2021. The live streaming trend is outperforming all the types of video streaming by 113% in the fourth coming years. A record found that about 300 - 500 million visits a month Twitch.tv is receiving all over the world. These impressive figures characterize the demand for video streaming website like Twitch. At the current state, most of the entrepreneurs, business professionals, and enterprises are urging to create a video streaming website which delivers profitable revenue. So, the possibility of developing a live video streaming website like Twitch.tv is high due to the promising facts it has created in the market to generate revenue.
VideoBrewery reports that 100 Million Internet users watch video of some online platform, video on demand, live streaming or social video feed, etc. at least once everyday.
Let's face it. Video is the new blogging.
Perhaps that's why this is the best time to start a live streaming website of your own. Hence, the need for a live video streaming solution.
How to Choose the Best Video Platform for Real-Time Live Streaming?
There are three major facets to be considered before building a multi-screen live streaming platform. They are:
Flexibility
Scalability
Security
1. Flexibility:
Your users might be using a desktop, mobile, tablet or even a hybrid device to watch live streaming videos. Can you keep a stance that your live videos will play only one of these devices? No, because you will lose a large chunk of the market.
Hence, you need to make a live video solution that is flexible to work perfectly on all devices and screens like desktop, mobile, tablet, etc. It must blend and work seamlessly with all screen sizes flawlessly.
2. Scalability:
Your first video might get a handful of viewers. The second one even more. The third, perhaps twice or thrice the number of viewers your first video got. Your live video streaming solution must be capable of scaling up video delivery in high quality even at such peak traffic volumes.
3. Security:
Videos and graphical elements are the most stolen digital assets. High-end security provisions like encryption, Digital Rights Management, Access control are needed to safeguard video assets from being stolen or misused.
Contus Vplay - A Modern-day Live Streaming Solution
Contus Vplay is cloud based video live streaming platform with advanced capabilities for live streaming and video management. It enables enterprises to reach their markets quickly with a completely customized live streaming web and mobile application. Developed as a readymade solution with total customizability, Contus Vplay offers everything that you desire to see in a live video solution: flexibility, scalability & security.
You can be a video owner, broadcaster, television channel or first-time entrant into the media industry, Contus Vplay video solution can help solve your challenge of how to create live streaming website or app complete with monetization, video hosting on the cloud, management, user behaviour analytics and much more.
A comprehensive collection of features for 360-degree video flexibility
As a cloud based live streaming platform Contus VPlay helps businesses kickstart their video on demand streaming services by rendering real time live videos without device or platform restrictions. It is a seamless solution which enables access through Any device, Anywhere, Anytime.
Some Highlight Features of Contus Vplay Live Streaming Solution
Contus Vplay allows you to stream any kind of live streaming, from conference rooms to church prayers or town hall meetings to classroom lectures, anything and everything can be streamed live to the world with a live streaming website built using Contus Vplay.
Here are the features that makes live streaming possible:
1. Real Time Streaming
Features to facilitate live streaming straight from camera to user devices with varying screen sizes.
i) Stream straight from an event venue to anywhere
ii) Stream to mobile, desktop, tablet, TV or hybrid devices
iii) High-end video transcoders for video encoding & decoding
2. RTMP & HLS Feed
Enterprise-grade streaming protocols that render maximum video flexibility and adaptability
i) RTMP & HLS support for instant live streaming
ii) Live feed URL for streaming video in custom-built media player
3. Webcasting & Social Casting
Cast your live videos to the web and social channels where they will receive maximum user views and impressions.
i) Webcast your live feed to owned or associate websites
ii) Stream your live feed to social channels
4. Analytics
Know how well each of your video session is working with analytics that give a real-time view of viewership, engagement & much more.
i) Viewership count user
ii) Peak traffic
iii) Engagement levels
iv) Compare traffic for several video events
5. Security
Secure your live video streaming website or app with multi-tiered security systems which include AES encryption, DRM and IP based access control that will help you prevent video assets from data breach.
6. Multi-screen compatibility
RTMP and HLS streaming allows you stream your live videos across multiple screen right from wall-size LED screens to pocket-size smartphones
i) Viewership count user
ii) Peak traffic
iii) Engagement levels
iv) Compare traffic for several video events
7. Player
With embedding a feature enriched player enhances the compatibility of users to watch the live streaming content within the app or web at any time. Control over anything on the player such as Themes, Video replays, Video resolution, and Notifications.
8. Content Delivery Network
Excel the delivery of live streaming content, on-demand across the platforms and geographically dispersed network of servers with high-quality video content at anywhere, anytime and on any device.
9. Scheduled Live Streaming
Go live at any time or in a scheduled time by ensuring that your following users or subscribers to know when you are streaming live content on your website. Locate any geographical area or time to schedule your live streaming video across the platforms.
10. Live Streaming Monetization
As live video streaming is more popular than ever, the opportunity of generating more revenue through live streaming monetization models is said to be sky-high. A wide range of monetization models available to trigger your revenue generation chances.
i) Advertisement:
The advertising module lets you run the ad at any point during live streaming events or streaming of video content within the website. The Mid-roll advertisement or initial ADs lets users watch the ads and performs about 90% than other monetization models.
ii) Sponsorship:
Sponsorship models are quite a considerable source for generating revenue for content creators. The sponsorship monetization model powered by Contus Vplay is made simple through optimizing the ad within the video content that is more engaging.
iii) Pay-per-view Model:
This acts as a virtual box office for content creators. The features enable the content owners to generate a decent revenue through live streaming of events and content that is watched by every user will directly reflect in the maps of content owners revenue.
Conclusion:
Contus Vplay' live streaming solution helps enterprises, media professionals, video publishers to build a live streaming website complete with features for publishing, broadcasting, managing, and measuring video performance from a single dashboard.
Classic DEV Post from Jun 24 '19