User and customer satisfaction are the key aspects that keep a business thriving. In the digital sphere, the competition to grab customers is higher than ever and only increasing at an unprecedented pace.
Therefore, you must create mind-blowing web applications for your software products to smoke the competition. Whether managing an existing website or building a new one, it must provide a consistent user experience when rendered through different browsers and OS platforms.
Since browsers don't render the website the same way, how would you classify your web app as browser-compatible? The answer is — by doing cross browser compatibility testing to ensure your website functions correctly across the latest and legacy browsers and their versions.
However, before devising your cross browser testing strategy, selecting the right browsers for your target audience is super important. To test on the right browsers, you need to consider the geographical location of your visitors, the devices they use, and the browser version they prefer. You should begin browser compatibility testing by covering the most popular browsers followed by the least ones.
Let's take a look at some key browser statistics you should know in 2022 for cross browser testing.
Global Market Share for different browsers
With 67.54% of the market share, Google Chrome continues to be the undisputed leader in the web browser space, followed by Safari (13.04%), Edge (4.53%), Firefox (1.99%), Samsung Internet (3.52%), and other browsers.
As you can see, Chrome has captured the largest share of the global browser market. So, make sure Chrome is part of your testing strategy.
Even though Chrome dominates the market, you shouldn't ignore Safari, Edge, Firefox, and other browsers. Web browsers like Safari and Edge are crucial for businesses despite their low worldwide usage.
Since Apple users use different devices like iPhones, and iPads, running the latest and legacy iOS versions, therefore it's crucial to test on Safari for browser compatibility.
While prioritizing your browser list, you must also give equal importance to browser versions. As per the below stats, you can pick Chrome for Android, Chrome 96, Safari iPhone, etc., for your testing purposes.
The latest version of Google Chrome is 105. However, there might be chances that the users are still running legacy Chrome versions like 78, 67, 88, etc. Therefore, you need to test your website on legacy browser versions too.
The continuous use of legacy browsers has a direct impact on the functionality of your website. If your website is not optimized for older browser versions, you might lose user traffic and significantly affect your ROI.
Testing on older browser versions can help you in,
Consistent user experience

Customer retention

Organization security

Enhanced ROI
Are you using Playwright test for automation testing? Run your Playwright test scripts instantly on 50+ browser/OS combinations using the LambdaTest cloud. Sign up for free!
electing the browsers based on different devices
Various devices with different screen sizes and resolutions run on different network speeds and have additional hardware capabilities. Considering these factors, it becomes critical that a web app be fully optimized to provide a seamless browsing experience across different screen sizes and platforms.
The above metrics show that Mobile devices are the most used platform globally, with 56.72% of the market share compared to Desktop (40.84%) and Tablet devices (2.43%).
Desktop
To perform web testing, here is a breakdown of the top Desktop browsers.
Chrome — 66.58%

Edge — 9.69%

Safari — 9.51%

Firefox — 8.15%

Opera — 2.81%
Google Chrome dominates the global desktop market in 2021–2022. Edge is the second most popular browser, Safari and Firefox take the third and fourth positions, and Opera takes the fifth spot.
Let's analyze the browser market share based on different platforms like Windows and macOS.
Windows
As of August 2022, Google Chrome holds a whopping 74.59% of the global Windows browser market share, whereas Edge's market share rose from 12.69% in 2021 to 14.39% in 2022. Firefox has continued to expand its share with 4.79% of the market. On the other hand, Microsoft Edge, the successor of the outdated IE browser, holds approx 2.25% of the market share.
macOS
56% of users prefer Chrome for mobile web browsing, making it the number one mobile browser on macOS. Safari browser ranks second with 38.09%. Next, we have Firefox with a 4.60% share, and then comes Edge and Opera with 0.78% and 0.31% users, respectively.
Mobile
Mobile devices are now the leading choice for web browsing and online activities. The browser vendors are proactive in making the required tweaks to ensure the rising demands, and evolving functionalities of mobile devices go hand-in-hand. Therefore, you must build mobile-friendly websites that are uniform across various screen sizes, resolutions and platform versions.
Below are the browsers for mobile devices that you should consider for mobile web browser testing.
Chrome — 63.83%

Safari — 25.06%

Samsung Internet — 5.06%

Opera — 1.89%

UC Browser — 1.54%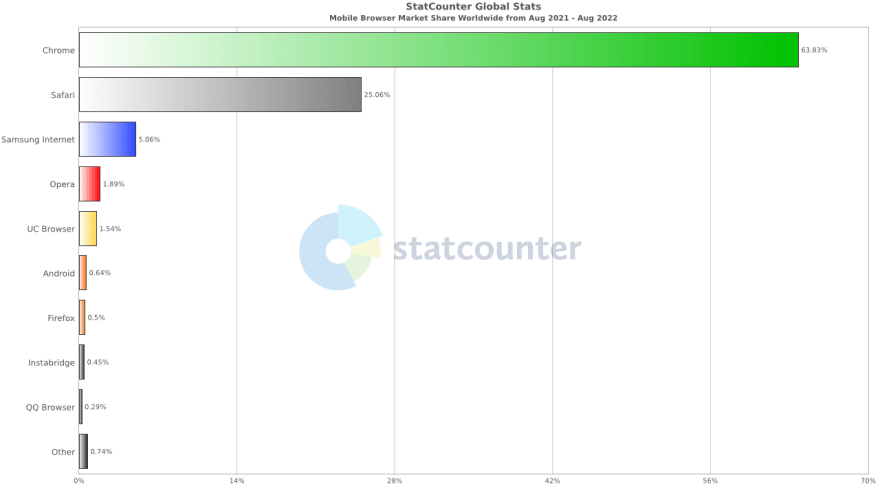 Besides Desktop browsers, the supremacy of Chrome can be seen across mobile browsers too. It covers 63.83% of the global mobile market share, followed by the Safari browser (25.06%), Samsung Internet (5.06%), Opera (1.89%), and so on.
Let's analyze the browser market share based on different mobile platforms like Android and iOS.
Android
Regarding Android browsers, the first three positions go to Chrome, Samsung Browser, and QQ Browser, with almost 82.60%, 7.07%, and 3.78% global market share. Baidu and Opera take the fourth and fifth positions. Hence, keeping these browsers in your strategy for mobile browser testing will be helpful.
iOS
Safari is the most used browser on the iOS platform, with a market share of 89.32%. Surprisingly, Chrome stands second on the table with an 8.45% user base. Hence, it is clear from this example why it is vital to consider every device and platform while performing cross browser testing.
Tablet
Now let's look at the browser popularity on Tablet devices.
Chrome — 48.03%

Safari — 36.18%

Android — 13.89%

Opera — 0.74%

Edge — 0,33%
Chrome is still the most popular browser for tablet-based testing, with a market share of 48.03%. Safari ranks second with a 36.18% user base, followed by Android, Opera, Edge, etc.
Let's analyze tablet browser market share based on the iOS tablets like iPads.
Safari and Chrome are the two most critical browsers for iPadOS. As we can see from the below figure, almost 99.2% of users trust these two browsers. These figures can greatly help you make a browser testing strategy.
Selecting the browsers based on different geographies
Until now, Chrome has been the preferred browser for most users. Suppose you target a global audience for your website or web app, then the user behavior and preferences to select browsers changes based on different continents or geographies. Therefore, it becomes crucial to understand your user base based on your target geography.
This Playwright Automation tutorial will guide you through the setup of the Playwright framework, which will enable you to write end-to-end tests for your future projects.
Let's evaluate the most popular browsers based on different geographies.
United States Of America
Chrome and Safari are the two major browsers in the United States Of America, covering 85.22% of the entire US browser market share. In North America, after Google Chrome, there is tight competition for the third spot among browsers like Edge, Firefox, Samsung Internet, Android, Opera, etc.
Europe
As far as Europe is concerned, Google Chrome continues to enjoy supremacy over other browsers. Then comes Safari in second place. As per the below figures, Firefox and Edge browsers are the top contenders for the third spot, followed by other browsers.
Germany
In Germany, Chrome makes up 47.74% of the German browser market. Safari accounts for 21.55% of the market. 12.13% is the market share of Firefox, and 6.94% of the market goes to Edge, followed by other browsers.
UK
Chrome is the top browser in the UK as of 2022, holding a 49.46% market share. Safari is Chrome's nearest competitor, accounting for 32.65% market share, with Microsoft Edge taking the third spot with 7.8% of the market share.
Asia
Apart from Google Chrome and Safari, Samsung Internet is the top trending browser in Asia in 2022, followed by Edge, Firefox, UC Browser, etc.
Selecting the right browsers for Cross browser testing
With the myriad of browsers, devices, and OS out there, it is pretty tedious to cover all the major browser and OS versions. Therefore, you need to determine the most popular browsers and versions on the following basis:
Popularity: Select the major browsers on various platforms like Windows, macOS, Android, and iOS. To find the latest trends of popular browsers and platforms, use web analytics platforms like StatCounter, Statista, etc.

Web analytics: Find your website's user statistics and analytics using different analytics platforms like Google Analytics. After that, break down those analytics based on the browser, browser versions, geographies, and OS that your target audience uses.
Based on the above research, jot down the most major browsers and OS combinations and select the one with high-user traffic.
Check out this Playwright Automated Testing Tutorial: Getting Started With Playwright Framework.
How to test effortlessly on a multitude of browsers?
You have now understood that Chrome is a trending browser on all continents. However, you shouldn't overlook other popular browsers like Safari, Edge, Firefox, etc. Besides that, you must select the right browser based on different devices and geographies essential for targeting global audiences. In addition, you need to ensure that your website or web app works seamlessly when rendered on those browsers (latest and legacy), browser versions, and geographies.
To test on different browsers, operating systems, and devices, you need to set up a vast test infrastructure. However, this is not a feasible approach; instead, you can do this by using cloud-based cross browser testing platforms like LambdaTest.
It is a continuous quality testing cloud to enable test orchestration and execution. You can perform manual and automated browser testing across an online browser farm of 3000+ real browsers, devices, and OS combinations. You can get instant access to the latest and legacy browsers running across real OS like Windows, macOS, Android, and iOS.
Other top-class features of the LambdaTest platform include:
With in-built developer tools, you can debug on the go.

Localization and geolocation testing on different browsers, screen resolutions, and OS combinations.

Test your locally or privately hosted websites using the LambdaTest Tunnel binary file or the Underpass desktop application.

Real device cloud to test web and mobile web applications.

LT Browser — a mobile-friendly tester for responsive testing of web applications across 50+ pre-built viewports.
Subscribe to the LambdaTest YouTube channel to get the best updates on Selenium automation testing, Cypress testing, Playwright testing, and more.
In a nutshell
Testing on the right set of browsers relies heavily on the target market. Therefore, organizations and enterprises must provide hassle-free web experiences to their users.
For an effective cross browser testing strategy, businesses should consider the target audience, its browser matrix, and the proper selection of best automation testing tools. You need to maintain the appropriate balance between selecting browsers-OS combinations to cover the maximum target audience.