Great News for iPhone users! The latest update for your Apple device has arrived - iOS 16.4! IOS 16.4 is Packed with exciting new features, bug fixes, and improvements, this update is a must-have for anyone who wants to take their iPhone experience to the next level. But wait, there's more!
In this blog, we'll dive deep into all the significant updates that iOS 16.4 offers. So, sit tight and get ready to be blown away by what Apple has in store for you!
Explore Top 30 Apple iOS 16.4 New Features, Updates, Bug Fixes, and Changes
1. New Emojis for the Keyboard
iOS 16.4 came with a fresh new update about emoji characters. Now, in Apple keyboards, there are a total of 21 new emojis with various skin tones.
2. Page Turning Options/Animations in Books
Apple Books underwent a modification in its page-turning animation, switching from a skeuomorphic effect to a minimalistic swipe effect. To modify the effect, access the Reading Menu while reading a book, select "Theme & Settings," and then click the new button for the page effect next to the Appearance button. It will allow you to choose between the following:
The Slide effect was introduced with iOS 16 and iPadOS 16, offering a simplistic approach to page-turning.
On the other hand, the Curl effect was the previous realistic page-turning animation available on iOS 15 and iPadOS 15. -The option for None may seem misleading as it involves a slight cross-fade transition. For an actual "none" effect, one can use "Reduce Motion" specifically for Books.

An alternative way to modify the default page-turning animation is by accessing Settings and selecting Books, followed by Page Turn Animation.
3. Dark Mode is Now Supported in Text Files in Safari
Apple adapts Safari's interface to a dark theme when the Dark Mode is enabled system-wide. However, web developers are responsible for implementing night-mode themes on websites. Online plain text documents like.txt files are now automatically reversed, going from having white backgrounds and black text to having black backgrounds and white text.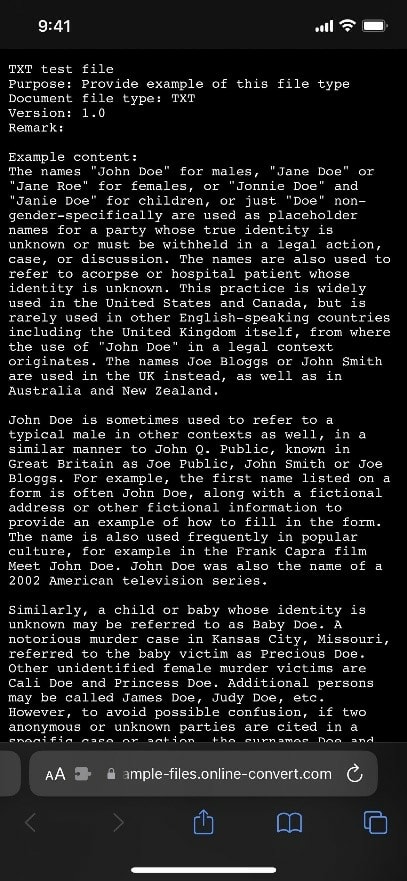 4. Push Notifications from Web Apps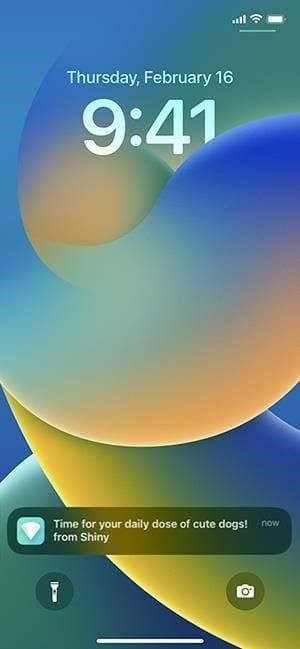 Each web app added to the Home Screen on iOS 16.4 is assigned a manifest ID, and a unique identifier is created by tagging the provided name. It ensures that your Focus settings will be synchronized even if you add the same web app to multiple devices. So, you can stay focused and productive across all your devices seamlessly!
5. Home Screen Web Apps from Other Browsers
Historically, Apple has prohibited WebKit browsers from adding website bookmarks and web apps to your iPhone's Home Screen. However, this limitation no longer exists with iOS 16.4. Third-party web browsers such as Chrome, Edge, and Firefox now feature "Add to Home Screen" options within their share menu, provided they have implemented this feature. Depending on the website, this could result in a web app that loads outside the web browser and appears in the App Switcher or a simple webpage bookmark that opens directly within the browser.

6. Say Goodbye to Safari-Only Home Screen Bookmarks!
Before iOS 16.4, opening a webpage bookmark from your Home Screen would launch Safari in a new tab. With the latest update, all Home Screen webpage bookmarks will now open in your device's default web browser. As an illustration, a webpage bookmark added to the Home Screen using Safari will open in Chrome, the designated default browser, as shown below.
7. Better Home Screen Bookmark Icons
Adding a webpage shortcut to your Home Screen automatically assigns an icon using the favicon provided by the site's web developers. Fortunately, on iOS 16.2, these web pages will be given an icon featuring the first letter of the site's name and a color corresponding to the page.
8. Apple Music Classical
Although it works on iOS 15.4 and later, Apple Music Classical was launched after iOS 16.4 on March 28th. Apple's new classical music streaming service has its own standalone app, which is available exclusively to Apple Music subscribers (except those on the Voice Plan). It is understandable, as classical music typically requires a more complex metadata structure than other genres and necessitates a specialized search tool.

9. Now Remove Duplicates in iCloud Shared Photo Library

With the release of iOS 16.0, the Photos app gained a Duplicates album that can identify duplicate images and videos and assist you in merging them to create a more streamlined photo library. With iOS 16.4, you can enjoy the same functionality in iCloud Share Photo Libraries.
10. 5G Support for T-Mobile and Google Fi Users
In the iOS 14.5 beta, iPhone 12 models could activate 5G Standalone on T-Mobile in the U.S., but this feature did not reach the stable release. However, it is now available in iOS 16.4, but its permanence is still uncertain.
On iOS 16.4, Google Fi's biggest drawback of not supporting 5G on compatible iPhone models has finally been addressed, making it an attractive option who want to give less cash.
11. Background Voice Removal for Cellular Calls
Until now, Voice Isolation was only available for internet-based calls through FaceTime and some third-party apps. Unfortunately, it did not support cellular calls. However, with the latest update of iOS 16.4, Voice Isolation is also available for cellular calls.
12. New Actions for Shortcuts
The latest iOS 16.4 update brings fresh features to the Shortcuts app. Among the newly added functionalities are actions for powering off your iPhone, enabling or disabling Night Shift and True Tone, locking your screen, and managing the Always-On Display on iPhone 14 Pro or Pro Max. These are just some useful shortcuts you can use with iOS 16.4.
Here is the list of new shortcuts.
Auto-Answer Calls
Find Books
Sort By
Intercom
Lock Screen
Set Always on Display
Set Airdrop Receiving
Set Announce Notifications
Set Night Shift
Set Stage Manager (iPad)
Set True Tone
Set VPN
Shut Down
13. Actions Updated for Shortcuts
Aside from new shortcuts, there are newly updated actions for Shortcuts in the latest release.
Ask for Input
Find Contacts
Find Photos
Get Device Details
Nothing
Play Music
Repeat
Run AppleScript
Set Playback Destination
14. New Icon Picker to "Open App"
The Shortcuts app on iOS 16.4 has a new feature that allows you to customize the app icon for the "Open App" action. Previously, the app automatically assigned the official icon, but now you can choose from various glyphs and colors. Additionally, you can toggle between the official icon and your customized one when selecting the app icon.
15. Artist Search and New Sort Button in Music Library
Before iOS 16.4, whenever you searched for an artist in the "Your Library" section of the Music app, you would have to scroll through their albums and tap the small "See More by [Artist]" link to access their Apple Music page. But now, with the latest update, a prominent artist link with a picture appears at the top of the artist's page, taking you directly to their Apple Music page.

The Music app in iOS 16.4 has introduced a new sort button for various types of content, such as artists, albums, songs, genres, compilations, and playlists. Previously, this button was represented by an ellipsis (•••) icon, but an icon has now replaced it with an up and down arrow displayed side by side.
16. A New Animation Waveform in the Music App

The tracking number is replaced with an animated waveform indicator on the left side of the song when you see the currently playing music from a list in the Music app. While this feature existed before, the waveform bars now expand and contract vertically on the top and bottom instead of just the top, and the bars now have rounded edges instead of pointed ones.
17. Blur Background in Apple Music Search

It's another minor update in the music player. The background will blur when you search for anything in the music player.
18. Section of Channels in Podcasts Library

The latest update to the Podcasts app introduces a new feature called "Channels" in the library tab. This section displays all the networks you have subscribed to and the number of shows you follow for each network. Upon opening the channel, your presentations will appear at the top, followed by other shows from the same network.
19. Upgraded Home Architecture
Apple significantly changed the Home app's underlying architecture in iOS 16.2. However, some users faced issues while updating and configuring their devices, sharing their homes, and getting HomeKit Secure Video to record events. As a result, Apple had to withdraw the choice to update to the new Home architecture. But now, with iOS 16.4, the new architecture is finally returning.
If you have already set up the Home app with accessories, the app will prompt you to upgrade to the new architecture. It's not mandatory, so you can skip it if you're not prepared yet and install it later from the in-app Home settings. Remember that all your Apple devices must run the newest iOS software to use the new architecture, just like other significant features.
20. Matter Accessories Updates
To ensure smooth operation, matter accessories, smart TVs, and speakers require frequent software updates. The latest iOS 16.4 update addresses this issue by offering manual and automatic software update support for Matter accessories.
21. Easier Beta Software Updates
Apple has simplified installing iOS betas for developers, the public, and customers by releasing iOS 16.4. You can go to Settings, General, and then Software Update to access the new "Beta Updates" menu. You can choose from various options: Off, iOS 16 Public Beta, iOS 16 Developer Beta, and iOS 16 Customer Beta. If you prefer not to update to a beta version, leave the setting on "Off." However, if you choose a beta option, you can easily download and install the update from the main Software Update screen when it becomes available.
22. Software Updates with Another Apple ID
Now, iOS 16.4 allows you to change the ID without affecting the whole iOS. It will enable devs to install beta updates on devices with different Apple IDs.
23. New AppleCare Coverage

Upon navigating to the "About" section under the "General" settings on your iPhone, you'll notice a newly added "Coverage" menu. In contrast to the previous version, which solely displayed the coverage details for your iPhone, the updated menu now showcases the warranty information for your iPhone and all other associated accessories that are eligible for AppleCare+ coverage, such as your AirPods and Apple Watch.
24. Order Tracking Widgets for Wallet Added

The Wallet app has introduced fresh order tracking widgets that enable you to keep a tab on your purchases made through Apple Pay. With the latest Home Screen widgets, you can conveniently track your orders from your phone. These widgets come in three sizes, allowing you to select the one that suits your preference.
25. Dim Flashing Lights in Videos

A recent addition to the "Motion" submenu within your iPhone's Accessibility settings is the option to "Dim Flashing Lights" for video content that contains "repeated flashing or strobing lights." The feature functions by displaying the instances of flashing lights in the video timeline for supported media, enabling you to have a seamless viewing experience without any discomfort.
26. Voiceover for Maps in Weather App
IOS 16.4 now got voiceover support for city maps in a weather app.
27. Updated Emergency SOS Description and Satellite Upgrades
It got a new feature named "Call Quietly." Also, updates to warning alarms, flashes, and voiceover audio will be silenced using "Hold and release or five button presses to do an emergency call.
With Satellite upgrades, you can contact emergency services without worrying about the cell tower. You can use SOS with satellites now. It also has new features like telling you where the satellite is and when it will be available by time.
28. Always-On Display Menu Changes

In the current Always-On Display submenu, you will find a new description: "The display will automatically turn off to conserve battery when not in use." Additionally, the Show Wallpaper and Show Notification switches have been moved to a "Customize" section. The Always-On Display switch is now at the bottom and is accompanied by the following description: "If you turn off Always-On Display, your iPhone's screen will turn off when it's locked."
29. Focus Filter for Always-ON Display

For iPhone 14 Pro or Pro Max users, a new feature allows setting a Focus Filter for Always On Display. This feature is helpful if you want to Always enable On Display at work but disable it at home. There are many other situations where this feature can be handy.
30. Link Previews with Rich Information on Mastodon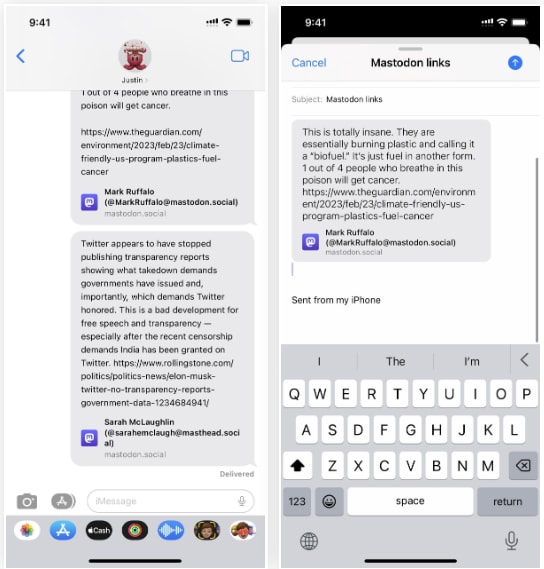 As Mastodon gains popularity, especially after Elon Musk's takeover of Twitter, it is reasonable to expect that Apple will eventually support rich link previews on this social network. In iOS 16.4, when you include a Mastodon link in an email or message, it will display a preview of the post.
Recipients should be able to view the Mastodon rich link in an email, regardless of their software version. However, to see the preview in a message, the recipient must have at least iOS 16.4, iPadOS 16.4, or macOS 13.3 installed. If someone sends you a Mastodon link and they have a software version lower than iOS 16.4, iPadOS 16.4, or macOS 13.3, neither you nor they will see the rich preview.
Bug Fixes
This update addresses the problem of Ask to Buy requests not showing up on the parent's device when made by their children.
It also fixes the issue of Matter-compatible thermostats becoming unresponsive when connected to Apple Home.
In addition, iPhone 14 and iPhone 14 Pro models have received new optimizations for Crash Detection.
Security Patches
As always, Apple iOS 16.4 got security patches to the below apps:
Accessibility
Calendar
ColorSync
Find My
iCloud
Kernal
Photos
Sandbox
Webkit
Apple Neural Engine
AppleMobileFileIntegrity
Camera
CarPlay
Core Bluetooth
CoreCapture
FontParser
Foundation
Identity Services
ImageIO
LaunchServices
NetworkExtension
Podcasts
Safari
Shortcuts
TCC
Other Quick Updates on Apple iOS 16.4
iOS 16.4 now supports New Beats Headphones
iOS 16.4 got Sunsetting Exposure Notifications
A new section was added: "Applicable Legal Basis."
Updated Info Links and Details in Settings
Added new Apple Watch Face Colors
Hover improvements in Apple Pencil (iPad)
Updated Error Messages for Car keys
New Keyboards features for non-English
New Siri Voices for Non-English
Security Patches
Bug Fixes
The Bottom Line: iOS 16.4 Update Is Far Better Than Previous Ones!
In this blog, we have seen all the updates about iOS 16.4. After seeing these updates, I am sure you want to install them on your iPhone too, and you can easily update it by updating your iPhone from the settings.
Make a backup of your iPhone
Open Settings
Tap General
Tap Software Update
Touch Download and Install on the iOS 16.4 update New updates and features in iOS also welcome new possibilities for apps! If you have any iOS app development ideas, you can contact an iOS app development company to convert your ideas into a digital reality.