When you start looking into a career in cybersecurity, one of the biggest things you will quickly learn is how important Kali Linux is to cybersecurity professionals and especially professional penetration testers. In case you're not familiar with this very interesting version of Linux, in this article, we'll dive into what exactly Kali Linux is and discuss the best way to learn this penetration testing swiss army knife operating system.
What is Kali Linux?
Kali Linux (formerly known as BackTrack Linux) is an open-source, Debian-based Linux distribution aimed at advanced Penetration Testing and Security Auditing. Kali Linux contains several hundred tools targeted towards various information security tasks, such as Penetration Testing, Security Research, Computer Forensics and Reverse Engineering. Kali Linux is a multi-platform solution, accessible and freely available to information security professionals and hobbyists.
Kali Linux was released on the 13th March 2013 as a complete, top-to-bottom rebuild of BackTrack Linux, adhering completely to Debian development standards.
A brief history of Kali Linux
Kali Linux was released in 2013 by the organization Offensive Security, which also offers cybersecurity training and certifications. Offensive Security took the pre-existing security-focused Backtrack Linux and redeveloped it into Kali based on the Debian variant of Linux. Kali Linux is free and it is made very clear that it will always be free.
Is Kali Linux illegal?
Kali Linux is not illegal by itself. After all, it is just an OS. It is however a tool for hacking too and when someone uses it especially for hacking, it is illegal. It is legal If you install it for useful purposes like learning, or teaching, or using it in the way to fortify your software or your network as It is not illegal to install any Operating System which is licensed and available for download.
How to install Kali Linux?
Kali Linux installation is a fairly simple process and you have multiple installation options. Most preferred ones include:
Installing Kali Linux by making a Kali (Linux) bootable USB drive

Kali Linux hard disk install

Using virtualization software, such as VMware or VirtualBox

Dual booting Kali Linux with the operating system
System Requirements for Kali Linux- (How much RAM does Kali Linux need?)
All you have to make sure is that you have compatible hardware. Kali is supported on i386, amd64, and ARM (both ARMEL and ARMHF) platforms. The hardware requirements are minimal as listed below, although better hardware will naturally provide better performance.
A minimum of 20 GB disk space for the Kali Linux install.

RAM for i386 and amd64 architectures, minimum: 1GB, recommended: 2GB or more.

CD-DVD Drive / USB boot support/ VirtualBox
Why do hackers use Kali Linux?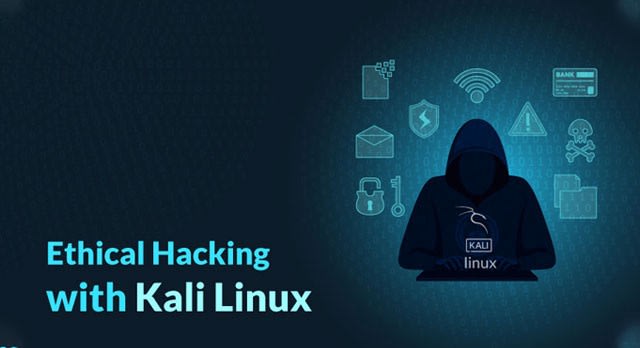 Previously known as Backtrack, Kali Linux advertises itself as a more polished successor with more testing-centric tools, unlike Backtrack which had multiple tools that would serve the same purpose, in turn, making it jampacked with unnecessary utilities. This makes ethical hacking using Kali Linux a simplified task.
Why do cybersecurity professionals prefer Kali Linux?
One of the biggest reasons cyber professionals use and often prefer Kali Linux is the fact that all of the source code is open-source, meaning that the system can be tweaked to the liking of the cybersecurity professional that is using it. This is not necessarily done often, it does provide the option to personalize Kali for specific cybersecurity tasks. Kali Linux also comes with multi-language support.
Interestingly, up until 2019 Kali Linux had been designed to be used for single root user access, meaning that the user is given full rights and access to everything. This was recently changed to accommodate users that were using Kali Linux more often than just for cybersecurity purposes.
The cyber advantage of using Kali Linux
Those were just a few examples of the popular applications that come pre-installed on Kali Linux. While it is true that all of the applications on Kali Linux are free and can be downloaded on other operating systems, Kali Linux makes it a lot easier for the user by doing all of the work for you and compiling them in one operating system distribution.
Kali Linux Features
More than 600 penetration testing tools included: After reviewing every tool that was included in BackTrack, we eliminated a great number of tools that either simply did not work or which duplicated other tools that provided the same or similar functionality. Details on what's included are on the Kali Tools site.
Free (as in beer) and always will be: Kali Linux, like BackTrack, is completely free of charge and always will be. You will never, ever have to pay for Kali Linux.
Open source Git tree: We are committed to the open-source development model and our development tree is available for all to see. All of the source code which goes into Kali Linux is available for anyone who wants to tweak or rebuild packages to suit their specific needs.
Wide-ranging wireless device support: A regular sticking point with Linux distributions has been supported for wireless interfaces. We have built Kali Linux to support as many wireless devices as we possibly can, allowing it to run properly on a wide variety of hardware and making it compatible with numerous USB and other wireless devices.
Developed in a secure environment: The Kali Linux team is made up of a small group of individuals who are the only ones trusted to commit packages and interact with the repositories, all of which is done using multiple secure protocols.
GPG signed packages and repositories: Every package in Kali Linux is signed by each developer who built and committed it, and the repositories subsequently sign the packages as well.
Multi-language support: Although penetration tools tend to be written in English, we have ensured that Kali includes true multilingual support, allowing more users to operate in their native language and locate the tools they need for the job.
Completely customizable: We thoroughly understand that not everyone will agree with our design decisions, so we have made it as easy as possible for our more adventurous users to customize Kali Linux to their liking, all the way down to the kernel.
Conclusion and Key Points
Keep in mind that Kali Linux, while not overly complicated, isn't exactly for beginners, so take your time as you work through the tools. Try to learn at least one new thing each day.
If you're new to the world of Linux, consider starting with another Linux system like Ubuntu to get a taste of what you would be getting into.
Never attempt to use the tools in Kali Linux against any system which are not authorized to access. There are plenty of legally free systems out there to practice your skills.


If you want to know how to download Kail Linux on the android device comment below
Thanks for reading 😊