As stated in my 2018 reviews, one great skill you can can achieve is the ability to track your process, to measure your success and failures along your way of executing and actualizing your career plan. As usual , in this article I'm going to show you my last year resolution and what I have achieve so far and/or what I couldn't achieve.
MY 2018 RESOLUTION
Under Tech career, I wanted to achieve two major things and other minor ones as listed below:
MAJOR
JavaScript

Java EE
MINOR
ABAP
So far in the JavaScript ecosystem, I have gone through a lot of learning curves and improvements, though I wanted to build at least 5 production-ready application in any of the JavaScript framework that I encounter, at least i'm able to build a lot of applications with Vue.js, Nuxt.js (my new found love ), NextJS and AdonisJS. In the Node specs, I'm also very comfortable with Node/Express framework as I have built many apps with it before moving to those frameworks.
In the Java EE, I wanted to learn Spring framework but I failed again this year.
Unfortunately, I still didn't learn ABAP this year, again.
WORK AND PERSONAL PROJECTS
WORK

1. APTECH PORT HARCOURT: In 2019, I was still working with Aptech Port Harcourt as a Software engineering Faculty/Instructor, It was a great experience to teach, instruct and train students from basic to advance knowledge in software engineering, I made fantastic friends by names: The Center Director Mr. Achara , Mr. Emmanuel Ekun, Chidera , Victorine , Richmond chizzy, Akaniyene Akan and lot more. As the saying goes — "every good thing comes to an end", I had to move up the next level, so in September, I resigned in favour of a more practical software engineering role with Orient Cloud Technologies.
2. Orient Cloud Technologies: At Orient Cloud, it was all fun and a friendly work environment, I enjoyed every bit of it especially meeting with like minds and had lots fun. I want to specially thank Mr. Benjamin for such opportunity to work and learn with him at Orient Cloud.
Again towards the end of 2019, December 9th precisely, I scaled up and took advantage of an opportunity to work with Gerocare ( African's Number health Startup ), special thanks to Mr. Lucas Bruce (CTO) and many other friends made by names — Uzor mercy , Anny, Aima Atigari , Jennifer Oro-Oghene(Best Female Volunteer of the Year ) hoping for a greater 2020 with you.
PERSONAL PROJECTS
2019, I did more active work on private projects, and this has been my most active year counting…..
Some of my fun projects I developed are:
1. PORTFOLIO: I built my portfolio with NUXT.JS to learn the amazing prowess of NUXT.JS. Mind you it's my first project with Nuxt.js.
2. ElectroMart: An e-commerce project built with MySQL , Express , Vue.js and Node.
3. Coffee-Shop: A project built with Nuxt.js and Vuetify.
4. CryphtoCurrency Converter: I created a currency converter with GraphQL, — also my first time with building GraphQL.
5. Crypto Price Alerter: This is an Electron desktop application used to notifications when a particular Crypto Currency Price is high or low.
WRITING
2019, I did a lot more with technical writing. I write mostly on backend development and on some frontend tools that I use as a backend developer.
Below is a list of my most popular articles of the year:
OPEN SOURCE
I have always wanted to contribute to open source tools and community though this year, I wasn't able to contribute majorly except in the HNG Internship, documentation reviews and providing mentorships.
EVENTS
In 2019, I did more community participation in speaking at tech conferences.
HNG Internship: HNG Internship is a 3-month online hands-on coding internship that presents interns with weekly challenges in teams and they have to tough it out to successfully complete the tasks in order to move up the stage in competition with peers. I want to officially announce that I successful completed the Internship as a Finalist, I was able to scale through the stages, it was challenging coupled with work, school etc, although I wasn't a complete beginner when I joined but the experience is worth it. Special thanks to Seyi Onifade, Oluwatomisin Lalude, Yokomon, Jonathan Jude, Abasifreke Ekwere and all my OracleJet team members, you are the real MVP.
WHAT WE BUIT
I contributed along side my team members to develop the following projects.
1. Psyche Financial Track: A project to track financial expenses of a User.
2. Teamgravity: A project to showcase our team, overview, team, about us, contact etc.
3. HNG-OJET/ Start.ng: A final project that will be used by more than 15k interns in the up coming HNGi7.0 using tools like OracleJet and Laravel , etc.
SPEAKING ENGAGEMENT/CONFERENCE
2019, I was actively involved, participated and spoke at community events and tech conferences, these includes:
DevFest Aba
I was privileged to give a talk on Backend Development 101 in DevFest Aba, where I elucidate on the different learning curves needed to be a professional backend developer from basic to advanced level.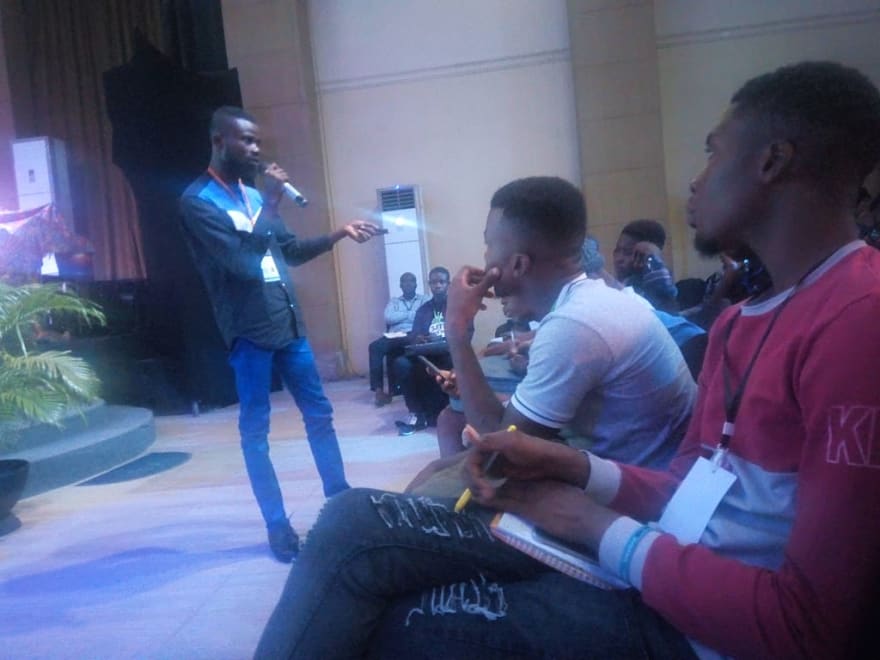 DevFest Port Harcourt
I was opportuned to speak at DevFest PH on the same topic mentioned above, this time with more energy and better delivery.
MENTORSHIP
I was a mentor at Naijahacks , School of Code programs, where I mentored participants on Node.js, technical support, reviewed their code and feedbacks.
Things to learn 2020:
Blockchain Development => First Quarter

DevOps => Second Quarter

More on Front End Engineering => Third Quarter

More on Software Engineering => Last Quarter
Intended Engagements in 2020:
More participation in Mentorship programs

More Speaking engagements

More technical writing
ANNOUNCEMENT!!!
I'm using this medium to inform you of my birthday come 17th January, I can't Thank God enough for His great work in my life.. I stoked to receive your Gifts and best Wishes.
SHOUTOUTS
No doubts that a lot of people made my 2019 a success, I can't mention all the names, but these are the list of the ones I can remember and in no particular order.
Owanate Amachree (my backend babe and my Editor), Jonathan Jude, Seyi Onifade, Precious Luke, Abasifreke Ekwere, Ibe Agwu (My Oga), Owumi Salt David , Anumadu moses , alabo briggs, Augustine Umeagudosi, Nddy Andy (You, don't worry, we go buy benz), Precious Chukundah (You gat my Back, Thanks), Sokari Gillis-Harry (My boss on the low), CREATIVE TECH SCHOOL , Trust Onyekwere,
Pastor Daniel Obasi, Nnamdi (Radiant baby), Wisdom Nwokocha, Mr. Mbadiwe, Mr. Kenny, Clara John, Mary(You know I heart you), Comfort, Yokomon, Emmyz, Kachi (ACIP), Vera, Oluwatobi, Frank (noun), Teddy(my Oga), Zubby (Design King), Sammy(My real android nigga), Ziko, Mr. kingsley (Primesoft), Ayo, Victory(Efe), Kossy, Chioma, Supardyke, Lilsaint (My day one man), LordCharles, Franklin (my frontend guy), Intelligent Innovation Team (New Team Mates), Gerocare team and others.
THANKS FOR 2019, Let's do it again.
Don't forget to clap, if you love this article.