Imagine this scenario - You have finished developing an application and now need to create user documentation for it. As a developer, your primary focus is on writing code and resolving issues. The task of preparing documentation can be intimidating since it requires a significant amount of time and is often tedious. Personally, I would not want to spend hours writing, coding, and capturing screenshots to compile documentation.
Fortunately, with Tango, you can avoid all of that hassle. Tango is an excellent time-saving tool that developers, product managers, and teams can use to simplify their lives.
Tango takes the pain out of documenting processes by automatically generating how-to guides while you work. Our browser extension and desktop application make it easy for teams to share and scale their knowledge so that everyone feels empowered to learn processes, use new tools, and be their best at work.
By using Tango, you can easily create guides and document workflows for your team without any additional effort. Tango automatically monitors, processes, and records the steps you take while using your application. It also captures screenshots and generates useful text descriptions, just as you would expect. With Tango, you can effortlessly create comprehensive documentation that your team can use to understand and navigate your application.
How to get started 😎
Tango provides two options for usage: a free browser extension and a paid desktop application. However, for web-based tasks, the free extension is typically sufficient. The extension offers several helpful features, such as the ability to
capture workflows within the browser
edit and redact images
share and export workflows without any limitations
The free browser extension of Tango can be an excellent tool for creating and sharing workflows for web-based tasks.
To get started, install the free extension
🚧 CLICK TO INSTALL THE FREE EXTENSION🚧
After installing the Tango extension, you will be prompted to create a free account. Once you have created an account, you can access your workspace, where all of your workflows are stored. This workspace serves as a central hub for all of your documentation needs and allows you to easily organize, manage, and access your workflows at any time. With Tango, you can streamline your documentation process and keep all of your important information in one convenient location.
For better accessibility, pin the extension to your browser tool bar. To start the documenting process, just click the Tango extension icon and hit "CAPTURE WORKFLOW".
To make the Tango extension even more accessible, you can pin it to your browser toolbar. When you are ready to start documenting a workflow, simply click the Tango extension icon and select "CAPTURE WORKFLOW." From there, you can continue with your usual workflow, and Tango will automatically and intelligently document each step you take. This feature allows you to seamlessly integrate documentation into your daily tasks without any extra effort. 🔥🔥🔥
Who can use Tango?
Anyone can use Tango, regardless of their profession or technical expertise. If you have a workflow or a how-to guide that you need to document and share, Tango is the perfect tool for the job. Instead of spending hours training people on how to use a software or application, you can quickly and easily document the most important steps with Tango in just a few minutes. Tango is particularly popular among developers, content creators, and office workers who need to share a large number of workflows on a regular basis. With Tango, you can save time and effort while ensuring that your workflows are accurately documented and easy to follow.
How do I share my workflows?
Tango provides various options for sharing your workflows with others. One option is to share your workflow through a link, which can be accessed by anyone. Alternatively, you can embed your workflow on platforms where your team is already working by using the embed option.
If you want to collaborate with others, you can invite them to view and make changes to your workflows. Additionally, you can export your workflows as HTML or Markdown files. However, to download your workflows as PDFs, you will need to upgrade to a Pro plan.
To share your workflow, simply access your workspace, hover over the workflow you want to share, click on the three horizontal dots, and select "Share & Export" from the dropdown options. From there, you can choose the sharing option that best suits your needs.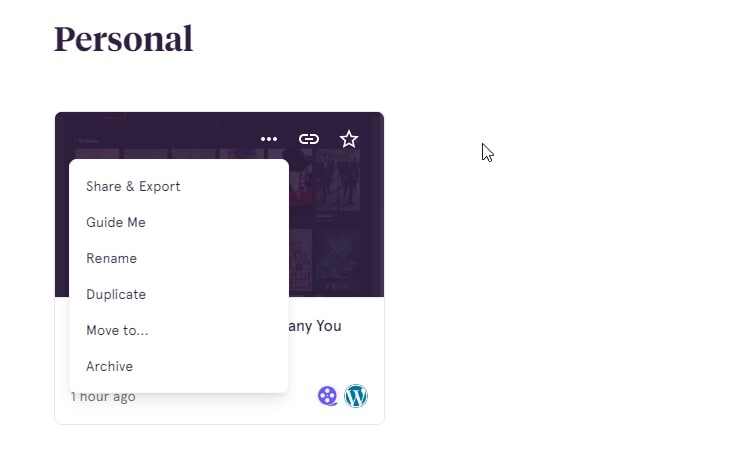 Tango allows you to customize your privacy settings, giving you control over who can access your workflows. This feature ensures that your sensitive or confidential information remains secure and accessible only to those who need it
Tango pricing
As previously mentioned, the free Tango extension is suitable for web-based tasks, but there may be times when you require additional features available only in the Pro plans. These features include:
access to the desktop application
the ability to blur sensitive information
remove Tango watermarks, access usage analytics, and automatic PII detection.
Tango offers flexible pricing options to meet your needs, and you can choose the plan that best suits your requirements. You do not have to opt for the most expensive plan; in fact, you can accomplish a lot with any of the available plans. Remember, in most cases, the free extension is all you need, but upgrading to a Pro plan can unlock additional useful features.
---
Tango saves you time and energy, so you can focus on the things that really matter. Stop pulling your hair out trying to write down every single step, and let Tango do the work for you. Trust me, your future self will thank you for using Tango instead of banging your head against the wall.