What
Create React App(CRA) is a command line tool which setups the React Application for us.

Why
Starting new React Project is Complicated u have to include a lot of files to be able to write code.
Create React App simplify it using 1 line of code , it setup the React Application for us.
It will automatically download all the files and all the dependencies. Like Babel and Webpack.
What is Webpack 🤔 ?
It is a Module bundler.
It will take all your files (JavaScript , CSS etc) and combine them into Single JavaScript file and Single CSS File.
When all the files are combined it is easier for the user to download the website faster.

Also React uses some new Features of the JavaScript which are in-compatible to the Browser so webpack convert it in that browser understand.

Like JSX code into plain JavaScript and Import Syntax into what browser understand*.*
How
To set up the React Application u first have to install the node.
npx

 

create

-

react

-

app

 

my

-

app




cd

 

my

-

app




npm

 

start

  

After this A new browser window will pop up with your newly created React App! If not, open your browser and type localhost:3000 in the address bar.
Skeleton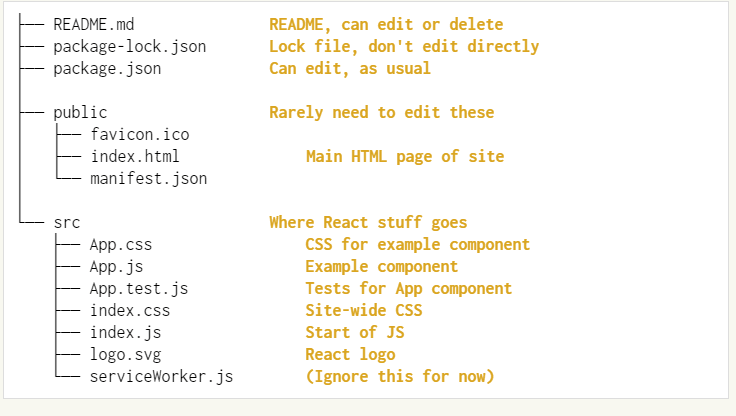 Generally we only make changes in the src folder (in this we define all our Component) rest we leave as it is.
Modules

ES Modules have 2 types of statements → Export and Import
Export
we can export a function or a variable from a file.
There are 2 types of Exports → named and Default.
Let's Suppose we have 2 files in src folder , index.js and helpers.js and we want to export from helpers.js and import to index.js.

**

Helpers

.

js

**





function

 

helper

(){


        

console

.

log

(

'

How can I Help you?

'

)




}

                                          

//**We have this Function to export**





export

 

default

 

helper

;

          

**

//This means that when this file is exported this is the main thing that has to exported.





index

.

js

**





import

 

h

 

from

 

'

./helpers

'

       

**

//U can import it by any name if u are using the Default


                                  

Export

**




h

();



Named Export

**

Helper

.

js

**





function

 

helper

(){


        

console

.

log

(

'

How can I Help you?

'

)




}

                                         



function

 

Sing

(){


        

console

.

log

(

'

Sing a Song

'

);




}

                               

**

// We have these Function to Export.





Index

.

js

**





import

 

{

helper

,

Sing

}

 

from

 

'

./helpers

'

;

      

//**We have used named Export so we have 


                                              

to

 

specify

 

the

 

name

.

**




helper

();




Sing

();



Mixed (default + named both at one time)

**

Helper

.

js

**





function

 

helper

(){


        

console

.

log

(

'

How can I Help you?

'

)




}

                                         



function

 

Sing

(){


        

console

.

log

(

'

Sing a Song

'

);




}

  



function

 

Play

()

 

{


  

console

.

log

(

'

Let"s play a Game

'

);




}

 



export

 

default

 

helper

;




export

 

{

Sing

,

Play

}

  



**

Index

.

js

**





import

 

helper

,

 

{

 

Sing

,

 

Play

 

}

 

from

 

"

./helpers

"

;




**

// Deafult we don't have to include in the curly braces and named we have to include in the curly braces**




helper

();




Sing

();




Play

();




Some Conventions →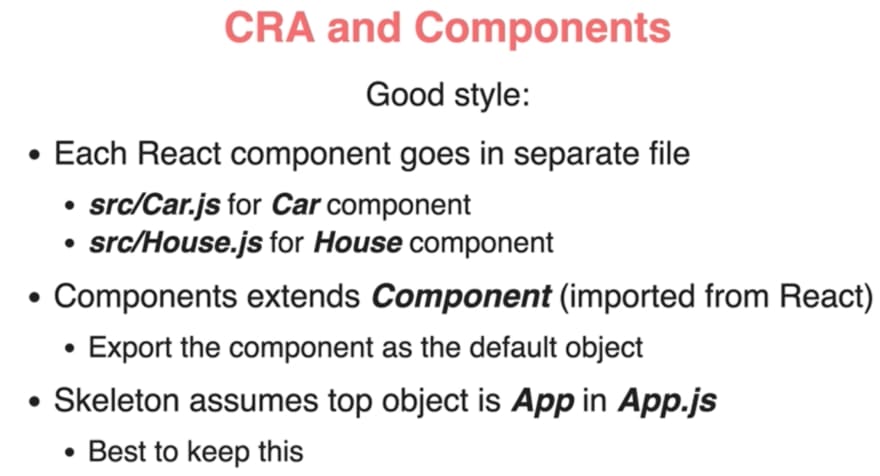 **

Like

,




import

 

React

,{

Component

}

 

form

 

'

react

'





//So now we don't have to write like React.Component





class

 

App

 

extends

 

Components

{




//This will also work.




}

**



Including CSS file in the js file
If u have a CSS file named House.css u can import in the House.js file like this 👇
including image in the Js file
Happy Coding!☺️