We hope you & your loved ones are staying safe & strong as we fight the COVID-19 pandemic together. Today, we're live with a developer-friendly browser that lets you develop & test responsive web applications in a trice. We're calling it the LT Browser and we promise it's going to be a game changer for your development & test cycles. How? We'll find that out soon enough but before we do that, we would like to thank all our users who were involved with the beta testing of LT Browser. Thanks to you, we were able to gather constructive feedback with well-thought suggestions to help us improve the product before we went live.
LT Browser – A Game Changer For Developers
You may have heard "Content is King", it is a quote that's been trending from an essay written by Bill Gates in 1996. Now, if your website or web-application isn't responsive then your content is failing for your users. Here is an example for a non-responsive website.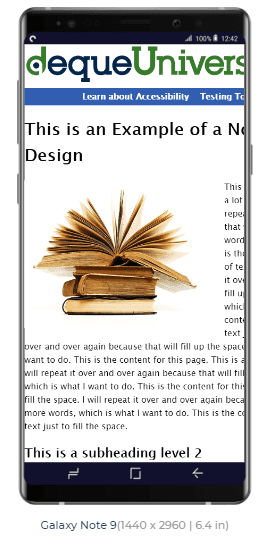 Obviously, your users aren't going to be impressed if reading content becomes troublesome for them. Which is why businesses can't afford to neglect responsive web design. However, developing a responsive web application can pose multiple challenges.
You would need a separate design for responsive web-application or website which justifies your content over a smaller viewport and screen resolution for mobile devices or tablets. Then developers will have to put up extra effort and testers will need a significant amount of time to evaluate mobile view of website across various devices. Some of your stakeholders might be even against the idea to begin with. Probably because they're worried about the time & bandwidth that gets squeezed out to accomplish the task.
Being a cross browser testing cloud, we understand how pivotal it becomes for a business to express itself through a website, and not only over different browsers but for different devices too! We realize the challenges that revolve around the implementation of responsive web design and we wanted to help ease this burden for the developer community. Which is why we're up with the first release of our developer-centric browser that can help you build responsive web applications much faster and test them across any mobile device.
The LT Browser is designed to help developers & testers interact with the mobile view of their websites across multiple sizes of mobiles & tablets. You can perform live-interactive testing to check responsive design of your web-application in a side-by-side view. You could record videos, capture screenshots, debug responsive bugs with developer tools and do a lot more.
Download Now: