Things are busy these days. We want things fast and easy. We get lost with too many tabs open and jumping between lots of tools. This wastes time. A solution could make browsing simpler. It could bring together all the important tools and information in one place. This could save us time and make things more efficient.
Meet Manganum, a new Chrome extension that turns your new tab into a productivity machine. With Manganum, you can say goodbye to disorganized bookmarks, forgotten tasks and missed appointments. This clever extension improves how you browse by making you more organized and efficient.
You can instantly access a suite of productivity apps and features, all at your fingertips. Manganum seamlessly integrates with ChatGPT and Bard, enabling you to effortlessly take notes, translate text, and complete tasks without ever leaving your current tab. It's like everything in your current window.
But Manganum doesn't stop there. It goes further by integrating with a wide range of popular tools and services. From Google Calendar and Keep to Tasks and Translate, all your favorite Google apps seamlessly merge into Manganum, allowing you to effortlessly view your schedule, note down ideas, manage to-do lists, and translate content, all without the hassle of switching tabs.
Not only can Manganum provide you with productivity tools on your new tab. It also allows you to receive SMS messages directly within the extension. This means that even if your Android phone is tucked away, you'll still be notified of incoming texts. All you have to do is log in to Manganum with your Google account and you'll have access to your SMS messages right from your Chrome browser.
A Back story
Manganum, an American startup, has recently unveiled the most feature-rich extension for the Chrome sidebar. This innovative solution offers users convenient access to 14 applications specifically optimized for the browser sidebar, including ChatGPT, Google Calendar, Keep, Tasks, Translator, Todoist, Grammarly, and mini-games, among others.
On May 30, Google released version 114 of its browser, allowing third-party developers to integrate their extensions into the Chrome sidebar. Manganum began developing its own sidebar back in 2021, when Google had no plans for such a feature. With the extension, users can now perform various tasks without the need to switch browser tabs, maintaining a seamless workflow. The startup is currently working on adding Gmail and Google Drive to further enhance the user experience.
According to the Manganum team, their solution currently boasts the most functional sidebar compared to other competitors in the market. As of June 2023, there are 23 extensions available in this segment, with a combined user base exceeding 1 million.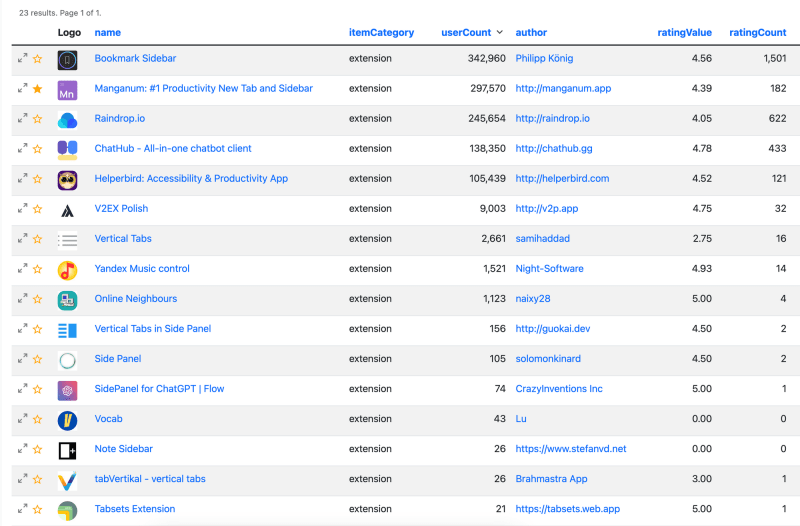 What Do I think?
As an avid user of this extension, I have extensively tested numerous types of extensions for new tabs and other functionalities. However, none have impressed me as much as this particular one. Without a doubt, it stands out as the most functional Chrome sidebar extension available to date.
The developers have ingeniously crafted a sidebar that seamlessly integrates with Chrome, even before the browser itself considered implementing such a feature. This integration adds a whole new level of convenience and productivity to my browsing experience. I am sure it will help you too in your day-to-day tasks and you'll feel the difference once you start using this extension.
The extension's sidebar is a true game-changer. It provides a dedicated space on the side of the browser where I can access a wide range of tools and features without disrupting my main browsing window.
From here, I can effortlessly manage bookmarks, access frequently visited websites, check notifications or copy a 2FA code from a text message, use Chat GPT or Bard and various other tools that are at my fingertips. I can also assign the Shortcut key to them so no matter in which window I am in, I just have to press the keys.
Another noteworthy aspect is the extension's seamless performance. It seamlessly integrates with Chrome, ensuring smooth navigation and minimal impact on the browser's overall speed and stability. I appreciate the attention to detail that the developers have put into optimizing the extension for a seamless user experience.
So, if you're looking for a game-changing browsing companion that will revolutionize how you use Chrome, I highly recommend giving this extension a try. You'll be amazed at how functional, versatile, and user-friendly it is. Trust me, you won't be disappointed.
One day, while @priyanshushh and I were troubleshooting, I shared my screen. He was impressed by the features and design of this extension, so he decided to download it. After a week, he messaged me:
---
Let me briefly outline the features of this extension for you.
Launchpad
The Launchpad feature gives you quick access to your most visited websites, bookmarks and favorite sites. You can access Launchpad with a keyboard shortcut for easy access while you work. This puts the sites you use most often just a keystroke away, saving you time spent searching for or navigating to the sites you need for work and productivity.
Tabs
The Tabs feature gives you quick access to your currently open tabs, search history and recently closed tabs. You can search across all three lists to find the tab you want, whether it's currently open, in your history or recently closed. This saves time spent reopening and searching for tabs you had opened earlier. This puts the tabs you need within easy reach, helping you stay organized and productive.
Translation
The translation features available in your browser allow you to easily translate text, images, documents and entire websites from one language to another with just a few clicks. Thanks to Google Translate's advanced machine translation technology behind the scenes, you can have confidence that the translations are accurate and reliable. So whether you need to translate a snippet of text, an image, a PDF document or an entire foreign language website, the translation features in your browser provide an easy, convenient and effective solution.
Calendar
With the Calendar integration, you have quick and easy access to your Google Calendar schedule from any tab. Just one click gives you an overview of your next events - showing you all your scheduled events and meetings at a glance.
And joining meetings is simple - just one click on the event from your calendar view takes you directly into the meeting in the relevant app, whether it's Zoom, Google Meet, Microsoft Teams or others. All the meeting details are automatically filled in for you.
Tasks
The Tasks feature in your browser gives you a convenient way to manage all your to-dos in one place, without having to switch between different apps. You can access and modify tasks from Google Tasks, Todoist and TickTick all at the same time from a single window.
You can see all upcoming tasks, check off completed items, add new tasks, organize tasks into projects and categories, and more - all from the convenience of your browser.
Keep
The Keep sidebar feature gives you a convenient place to jot down notes and ideas without having to switch browser tabs. Often when reading an interesting article or having a creative thought, you want to make a quick note to yourself but switching tabs can disrupt your train of thought. Your notes are synchronized in the cloud, so you can access and edit them from any device.
You're not limited to using Google Keep with the sidebar notes feature. If you prefer, you can also use Manganum Notes as your notes app instead.
Manganum Notes is a lighter and more minimal alternative to Google Keep. It offers a clean and simple interface for jotting down quick notes. Unlike Google Keep, Manganum Notes does not have as many features or formatting options. However, some may prefer its simplicity and speed
Chat GPT and Google Bard
The Manganum browser extension gives you one-click access to two of the most powerful AI language models - Google Bard and ChatGPT.
With a single click, pop-up windows for both Google Bard and ChatGPT appear right in your browser, so you can instantly ask any question and receive accurate, concise responses in real time. You get to experience the capabilities of these advanced AI systems without having to switch websites or apps.
With the Manganum extension, you have the ability to review your entire history of interactions with both Google Bard and ChatGPT.
Google Bard is geared towards concise summarization and simplification of text, while ChatGPT provides more detailed and explanatory responses. So depending on your specific need - whether you want a succinct summary or a thorough explanation - you can choose the AI model that best suits the task at hand.
Calculator
The Manganum extension includes a suite of powerful calculator features that give you access to different types of calculators right from your browser. With a single click, you can open:
A basic calculator for simple math operations

A scientific calculator for trigonometry, logarithms, exponents and other advanced functions

A matrix calculator for performing operations on matrices

A graphing calculator powered by Desmos, one of the best online graphing calculator tools
Grammarly
The Manganum extension also integrates directly with Grammarly, giving you the ability to improve your writing within your browser.
With a single click, you can check the grammar, spelling, punctuation and style of any text directly from your browser tabs and windows. There is no need to copy and paste into the Grammarly website or switch between tabs - just highlight the text you want to check and click the Grammarly button in Manganum.
SMS Sync
The Manganum Chrome extension allows you to access your Android phone's SMS messages directly from your computer's browser. To use this feature, you need to install the Manganum app on your Android phone and log in with the same Google account you use for the Chrome extension. You then grant the Manganum app permission to access your SMS data. This creates a secure connection between your phone and the Chrome extension. Any new text messages that come in on your phone will then appear as notifications within the Manganum extension.
Games
You can also increase your productivity by taking a quick 5-minute break to recharge your batteries by playing one of these classic arcade-style games: 2048, Pacman, Dino or Flappy Bird. A short respite from work to indulge in a simple yet engaging distraction can help freshen your mood and reduce stress or fatigue.
Time and Weather
Open new tabs to check local weather, time and date. Knowing current conditions, time of day and date helps plan and work productively.
Daily Dose of Motivation
This useful extension allows you to maximize your productivity and growth by providing tools to clear your mind, motivate yourself and hyper-focus your energy on the work that matters most. You can view wise quotes from great thinkers for inspiration and perspective, read positive affirmations to boost confidence and improve your mood, use an unstoppable life timer to help you focus in short bursts of deep work training yourself to be more productive, and focus on a single most important task of the day to help prioritize and stay on track. Accessing any of these features within the extension aims to optimize your mindset, motivation and time management so you can do your most impactful and meaningful work.
Background Wallpaper
This feature allows you to customize your Chrome background wallpaper for a more personalized workspace in two ways. You can either upload a photo you love from your computer or choose from a selection of random wallpapers in different categories like wildlife, architecture, famous artworks, satellite imagery and color palettes. The ability to customize your wallpaper in just a few clicks provides an easy way to personalize your digital workspace.
What's Next?
They are currently developing applications to manage, emails, and files from Google Drive. They are already in development and we will see them soon.
Gmail

This integration will provide a dedicated interface for accessing Gmail accounts, making it easier for users to stay organized, focused, and in control of their inboxes. Features will include inbox categorization, notification settings, smart replies, and snooze functions.
Google Drive

This integration will provide an interface optimized for viewing, editing, and managing files stored in Google Drive accounts. Features will include file previews, file sharing options, file comments, and file search to make Google Drive files easier to access and work with.
Wrapping up
Manganum has the potential to be a true productivity game changer. By bringing all your important tools, information and tasks into one organized window, it can save you lots of time by reducing tabs switching. Manganum makes browsing the web simpler and more focused by eliminating distractions. If you're feeling overwhelmed by too many tabs, forgotten tasks and missed appointments, I highly recommend giving Manganum a try. It's a free Chrome extension that just might change the way you browse the web and boost your productivity in the process. You can download Manganum extension on Chrome Web Store.
If you want more articles on similar topics just let me know in the comments section. And don't forget to ❤️ the article. I'll see you in the next one. In the meantime you can follow me here: