No seu servidor do Discord, criará um canal com uma caixa de texto.

Eu criei com o nome 'Github' e em seguida você clicará na engrenagem, onde tá escrito "editar canal".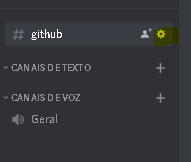 Em seguida, na sua barra lateral esquerda, aperta em Integrações.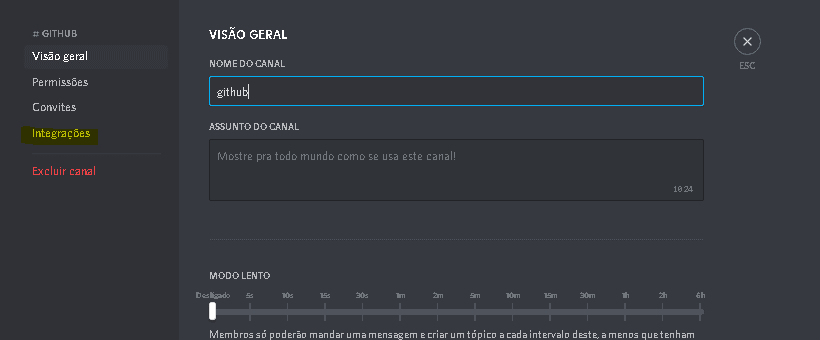 Logo após, apertará em 'Criar um novo Webhook' e vai aparecer a telinha abaixo. Você colocará um nome do seu bot que fará automatização por você e escolha o seu canal, conforme você deseja que ele fique notificando. Feito isso, aperta ali em 'Copiar URL do Webhook', pois usaremos nos próximos passos.
Aperta em salvar alterações no botão verde logo abaixo.
Feito, vamos no repositório lá no GitHub que você deseja emitir os alertas. No meu caso, criei um repositório novo para facilitar a explicação.

Agora você vai em 'Settings' e na barra lateral esquerda, você aperta em Webhooks.
Em seguida, aperta em 'Add webhook'
Nessa janela que surgirá, vamos preencher com atenção para não ter erros, certo?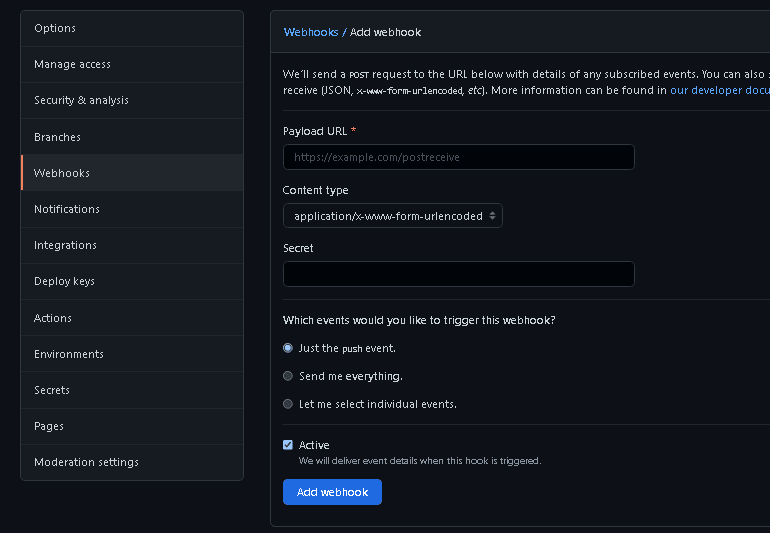 No campo 'Payload URL', você vai colar aquele link copiou lá no Discord após criar o canal, lembra? Isso mesmo, o 'Copiar URL do webhook'. Após colocar o link do webhook, você digitará no final do '/github' sem as aspas.
*Exemplo de como ficará o teu link: *
https://discord.com/api/webhooks/1234567889/1239-1234-I-M/github
No campo 'Content type', você coloca o campo 'application/json'.
Which events would you like to trigger this webhook?
( )Just the push event.
( ) Send me everything.
( ) Let me select individual events.
Nesse campo abaixo, ficará ao seu critério. É totalmente pessoal a escolha, onde a primeira opção pra enviar os eventos de git push. A segunda opção irá enviar tudo, seja até um comentário, push, fork, pr, enfim, tudo. Se você marcar o terceiro, abrirá o leque de opções que você poderá marcar as opções que deseja.
Em seguida, aperta o botão 'Add Webhook'.
Sucesso! Está pronto.
Eu criei uma nova Issue no repositório pra testar e já está subindo no canal do Discord.