Help Center Design
We are continuing updating our Bootstrap based UI kit Geeks UI. We successfully got 350+ customers for our Geeks UI Kit. We got a request from the our customer for help center design. So we just plan this design and update it soon possible.
In the last month we design a Help Center pages in Figma.
Live Preview Help Center
Want to purchase Geeks UI
Well I can't say we were really planning on it but over the last few weeks we've been having a ton of fun dumping new and exciting features into Geeks UI and now feels like the right time to cut a release, so here it is.
Here are the highlights:
Added - Landing Page Demo
Added - Task Page Design Kanban Board View
Added - DataTables (Bootstrap DataTables)
Added - Table Component Page - Bootstrap Table
Improved - Table structure.
Added New Snippets. (Hero, features, and testimonial)
Smooth shadow added in Docs.
Updated Dependencies.
Updated Bootstrap 5.0.1
All features are updated in RTL too.
New Components - Simple Header & Footer ...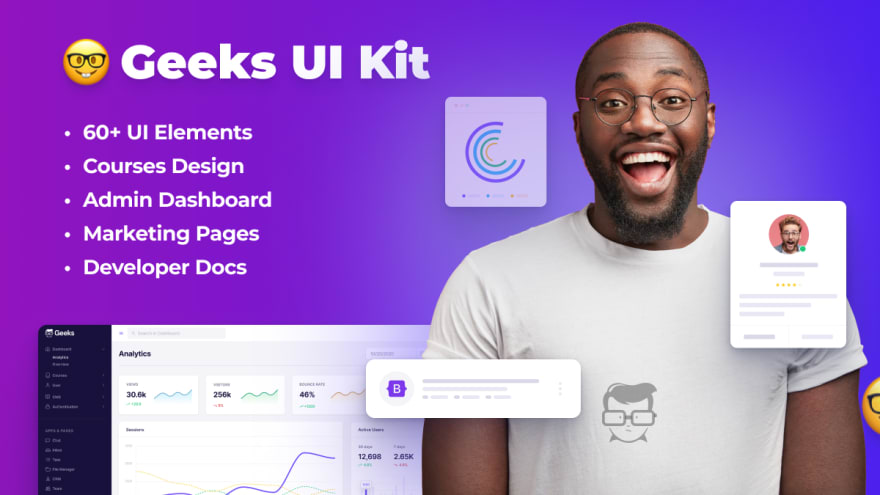 Geeks is a fully-featured bootstrap 5 template with an admin dashboard. It comes with Beautiful UI components & professionally designed, fully responsive pages for course design, landing page, and admin dashboard. You can preview Geeks Bootstrap 5 Template.
...
Geeks Bootstrap 5 RTL Template
Now Geeks UI, Support Bootstrap 5 RTL. We got a number of request for RTL version update in Geeks Bootstrap 5 Template, We work last month and get ready with Geeks RTL Updates.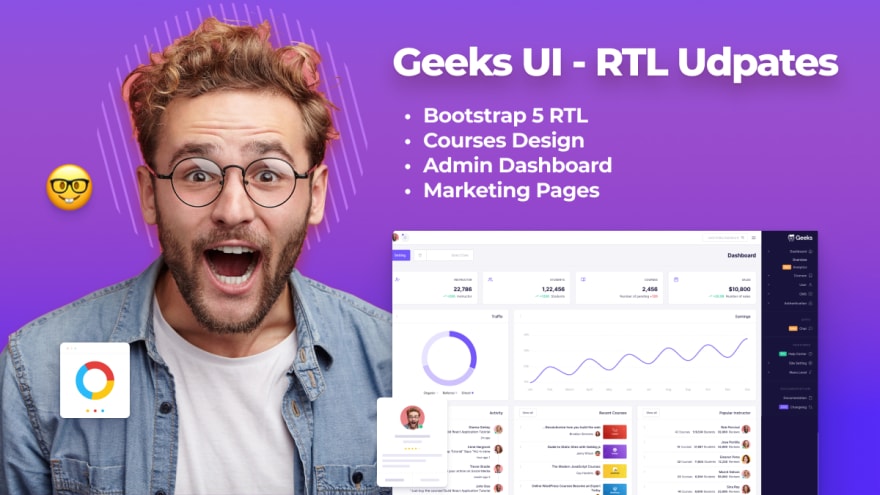 Demo: Geeks RTL Template
...
Geeks Bootstrap UI Kit — Education Learning Management System with Admin Template.
Main Admin Dashboard
Instructor Dashboard
Student Dashboard
Landing Page Design [New - Updated]
Geeks is a fully responsive and yet modern premium bootstrap theme. Geeks UI design is suited for the academy and online courses marketplace with the admin dashboard.
...
Admin & Dashboard Template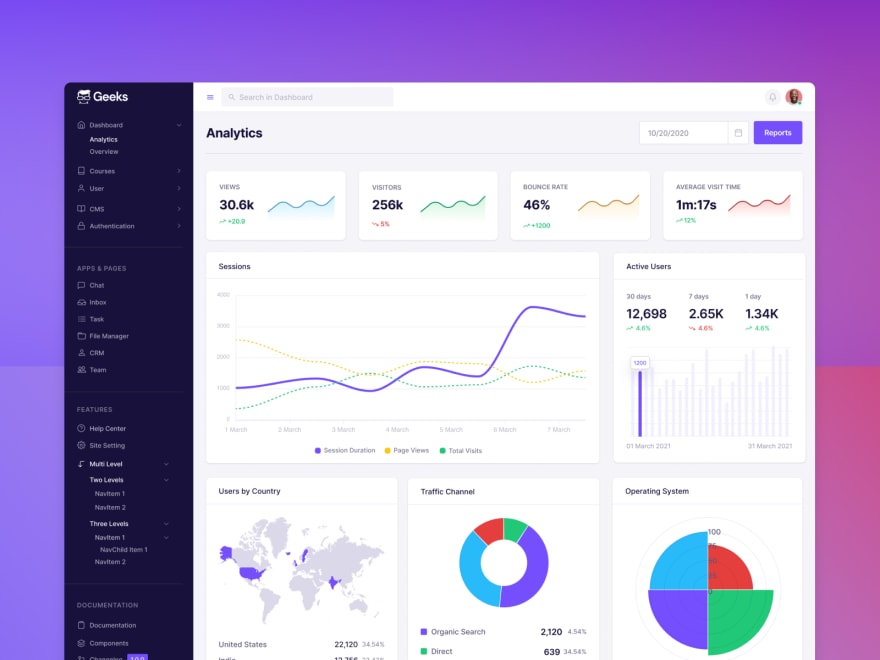 We believe in continuous improvement and updates for our products. Geeks bootstrap theme updated v1.0.2. We have designed & developed beautiful UI components for the analytics dashboards.
...
Geeks provide clean and consistent page designs to help you to create beautiful-looking content.
Geek is feature-rich components and beautifully designed pages that help you create the best possible website and web application projects.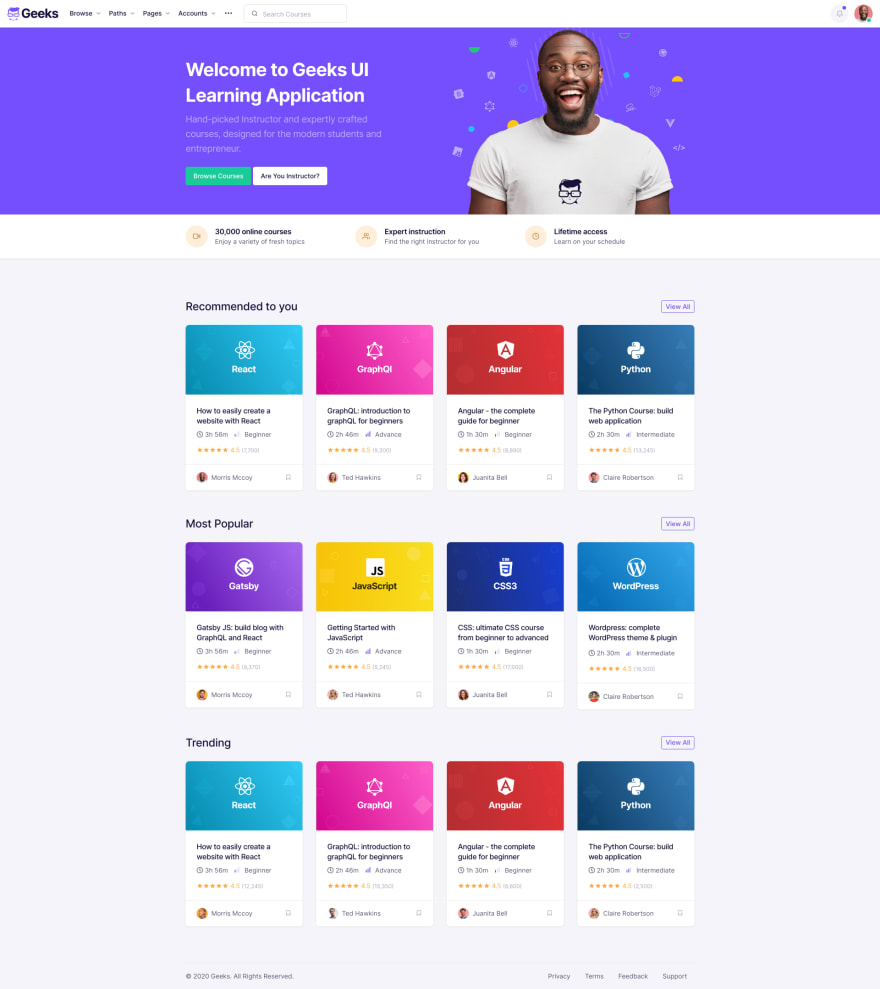 Courses Features
Courses: Build a beautiful online course website or application with these course pages.
Courses Category
Courses Filter (List/Grid)
Courses Single — Page
Courses Single V2
Courses Checkout
Add New Courses
Course Resume
...
Student Dashboard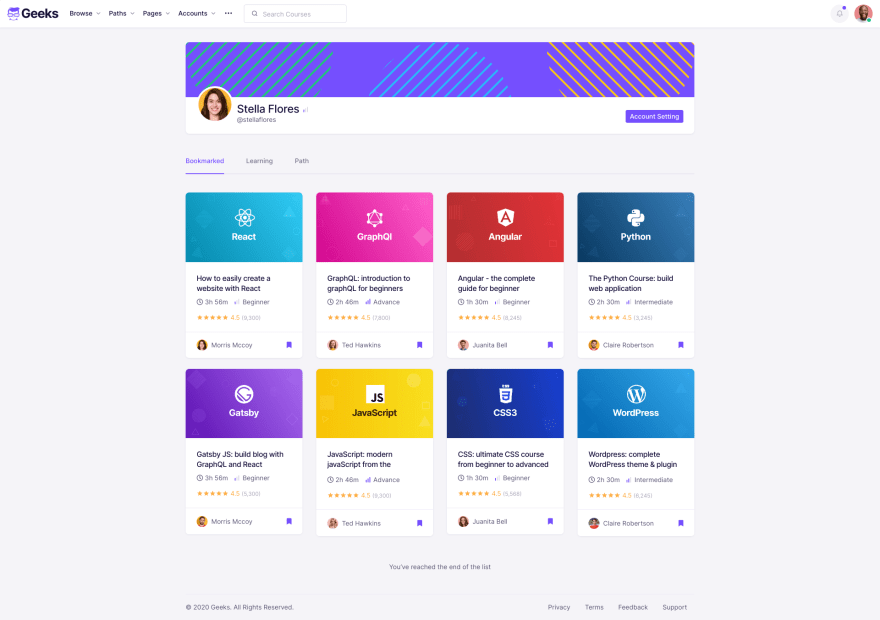 The student profile dashboard will help to create pages like Bookmarked Courses, Currently learning and student path, Subscription, Billing Info, Invoice, delete the profile, notification management, account settings, etc…
Instructor Dashboard
The instructor or teacher profile dashboard will help you to design pages like earning reports, instructor courses, course reviews, manage student enrollments, payout settings, and more…
...
Admin Dashboard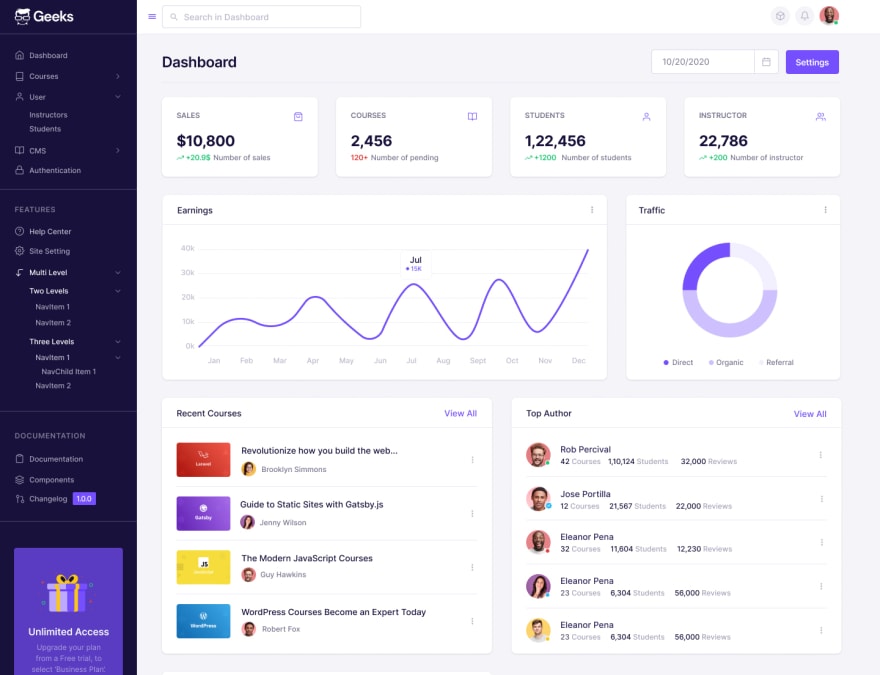 An engaging and effective bootstrap dashboard design will help you to manage overview reports of the site, analytics, instructor, and students, and the site setting feature will help you to manage your site.
Account Settings:
Manage your settings pages like Profile edit, Security, Social profiles, Notification, Profile Privacy, Delete Profile, Billing, Orders.
CMS Dashboard:
In the admin dashboard, you will get to create a post form, post-management, and post category and create a category from the modal panels. A complete content management system.
Supporting pages:
Your ready-to-use page solutions for all kinds of content layouts, such as Sign in/Signup, Forgot Password, Error pages, Pricing page.
Lead Sign up Page
Landing Page Design [New]
In the Geeks Bootstrap UI kit, We design a landing page as a standalone web page, created specifically for a marketing website or advertising campaign for courses.
It will help you to design with great sections like author profile, creative testimonial, FAQ collapse plus design, Courses details with popup description and call to action, etc...