This week, I have a chance to create a command line tool to generate an .html file or folder from .txt file. My tool's name is shinny-ssg and it was built with C#, .Net Core 3.1 and Command Line Utils.
Features:
generate .html files from .txt files with title
accept folder as input path to generate .html files in the destination folder which will has the same structure as original folder
give user the options to specify destination folder and/or stylesheet URL link
Options

How to use
Download or clone the shinny-ssg folder to your local machine
Use command prompt navigate to the folder netcoreapp3.1 in the shinny-ssg folder ( path shinny-ssg\bin\Debug\netcoreapp3.1)
In the command prompt, run shinny-ssg.exe -h to see the options
The file will be generated in the shinny-ssg\bin\Debug\netcoreapp3.1\dist folder by default or in the destination folder if specified by user.
Examples
Source folder: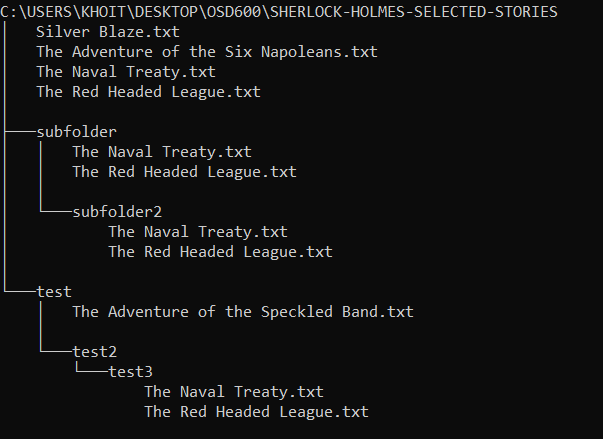 Command:
shinny-ssg.exe -i C:\Users\khoit\Desktop\OSD600\Sherlock-Holmes-Selected-Stories -o ../../Destination -s https://cdn.jsdelivr.net/npm/water.css@2/out/water.css
Destination folder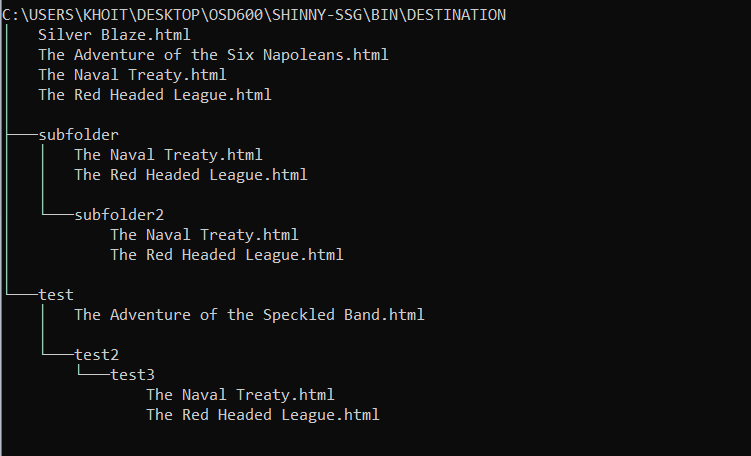 File HTML is generated with Css style

Source Code
You can find my source code in this repo:

shinny-ssg Version 0.1 - CLI Tool to generate HTML File
Features
generate .html files from .txt files
accept folder as input path to generate .html files in the destionation folder which will has the same structure as the original folder
give user the options to specify destination folder and/or stylesheet url link
How to use
Download or clone the shinny-ssg folder to your local machine
Use command prompt to navigate to the folder netcoreapp3.1 in the shinny-ssg folder ( path shinny-ssg\bin\Debug\netcoreapp3.1)
In the command prompt run shinny-ssg.exe -h to see the options
The file will be generated in the shinny-ssg\bin\Debug\netcoreapp3.1\dist folder by default or in the destination folder if specified by user
Command
shinny-ssg.exe -h

shinny-ssg.exe -i <filePath>

shinny-ssg.exe -i <path> -o <folder path> -s <stylesheet link>
Option Function
| OPTION | Function |
| --- | --- |
| -v --version | Name and version |
| -h --help | Information |
| -s --stylesheet | <'link-to-css-stylesheet'> |
| -i --input | specifies an input file or |
…