I am finally nearing the end of what has almost been a year-long project. :party: :party: :party:
From backend development, security, and so much more, I am finally in the home stretch, which means it is time to finish the part I have been putting off till now; finalizing the UI.
---
Now before I ask for your opinion on what I created, there are a couple of things you should note first:
I am not a designer, not by any means. Normally, I do the backend, and someone else does majority the frontend after I sketch something out. But this time, I decided to give it a go myself. It's been a journey, but I think I may have the beginnings of something great (maybe ... hopefully).

This service that I am creating is a webhosting provider, that caters towards people that are just starting out in the world of web developing and hosting. Most likely, many of my users will be brand new to the world of webhosting, and not have much prior knowledge.
---
With that taken care of, here is the design that I have come up with:
Light Mode:

Dark Mode: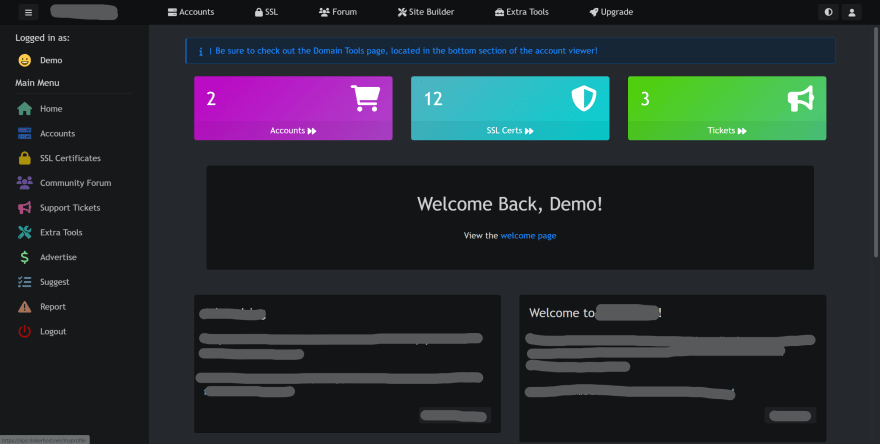 ---
Feedback on the design above (or even just words of encouragement) are highly appreciated. Feel free to say you hate the entire thing (I won't be offended), but don't leave me hanging (let me know how I can fix it).
For the time being, I am not going to release the URL (But if you are truly interested, let me know down below, we can work something out).
Thanks for your time, and if you offered it, your feedback.
---
EDIT:
@webjose @cicirello @zyabxwcd @receter @tarunc
I made some changes to the page, but still not sure what I think about the coloring of the 3 boxes.
Did I improve on some things here, or did I just make it worse?
Thanks again for your feedback!