This post targets all of those who have no idea about what GitHub Campus Experts program is or even what GitHub is, or you might have heard these names somewhere and want to shine a little light on what exactly these are.
What is GitHub?
GitHub is a code hosting platform for version control and collaboration. It lets you and others work together on projects from anywhere. If you are getting into tech and have not used Github, I promise you it will be a delight and will make your life a lot less painful.
GitHub Education helps students, teachers, and schools access the tools and events they need to shape the next generation of software development. There are a variety of programs GitHub offers as part of GitHub Education. Among one is the GitHub Campus Experts Program.
What is a GitHub Campus Expert?
People learn better when they can learn with a community of like-minded peers. A Campus Expert improves the technical community on their campus, with training and support from GitHub. Once you complete the training and become a GitHub Campus Expert, you will have access to resources and support from GitHub, such as swag, sponsorship, and the opportunity to attend events like the company's annual conference, GitHub Universe.
How can I become one?
After reading the above, if you too got excited like me and want to know how you can also become one, Check out this link.
This is the first place you want to go to kickstart your journey of becoming a campus expert. Once you click Start, GitHub will take some time to get things ready for training. You will get all the instructions about your training and submissions, right after it is complete. It took me about a month to complete my training, GitHub does not have any deadline over the submissions, you can submit these at your own pace. After you complete your submissions, you have to be patient and wait for a reviewer to review your submissions. After a reviewer reviews your submissions and merges your PR, the final step is a screening call. And then you would have become the GitHub Campus Expert for your Campus.
Now let us answer some serious questions!
What is the use of becoming a GitHub Campus Expert?
Ever thought about having an enriching community where you can find like-minded peers and have fun together? Or maybe you want to organize many events for your campus so that people get excited and join hands together? Where would you go? Whom would you ask for help? Most importantly, What about the funds?
That is where the GitHub Campus Expert Program will come into the picture. We have a fantastic community of passionate people backed by GitHub all over the world, who will support you in building a better Technical Community for your Campus. If you think that your campus lacks a good technical community, do not wait for a leader or someone, take things on your hand and start the movement.
Leaders are not born; they are made.
Finally, the question for which everyone wants to know the answer to
What tools and resources does a GitHub Campus Expert get access to?
The ultimate resource is always People, People, People.
You will be added to the slack channel where you can find all the GitHub Campus Experts around the world. Then you gain access to tools that help you make resource requests, and collaborate with GitHub Staff and other Campus Experts. GitHub will ship you cool swags as I got below,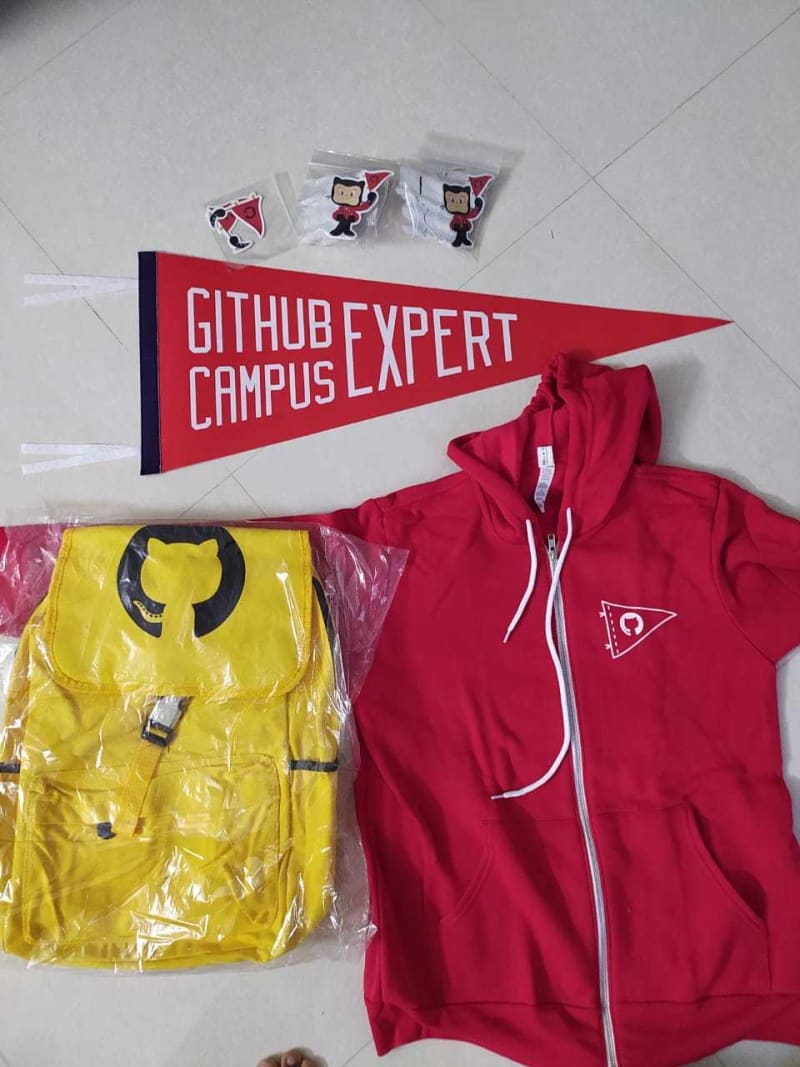 With the network of amazing people and GitHub supporting in you in every way it could, you can build something greater than yourself.
Thanks for reading the article. I cannot thank enough GitHub for the fantastic resources it has given.