When I joined FINN in April 2022, I was welcomed with incredible enthusiasm and was constantly reminded by many people what an exciting role I have. Admittedly, all sounded a bit strange at the beginning but now that I am three months into this job, I can comfortably say they were right! I am the first person officially joining FINN as a Business Automation Manager (BAM), a new role at FINN and a new role in the industry.
As the job title already indicates, this position is located at the intersection of business and tech, and deals with automating business processes. The job combines different disciplines.
A BAM needs to have a good understanding of business processes. Depending on the department you are supporting, this can have a different focus.
Analytic skills are needed to comprehend and create these processes from scratch.
Technical expertise is required to also put them into action.
Generally, my position acts as a point of communication between our business and tech team. Understanding the requirements of the business team for possible automations is necessary to then discuss the best approach for tackling the problem with the tech team. Decisions are made between a no-code solution, which is mostly implemented by me, or a pro-code approach, which is code written by professional developers, our Engineering team.
The main tool that I use is a no-code tool named Make (formerly Integromat). It enables the user to easily create automated workflows via an intuitive UI. Those workflows do not only represent business processes but also support the integration to third party providers (for example, email services, databases). This tool helped FINN to grow very quickly as time-consuming manual work was automated without needing the resources of backend Engineers.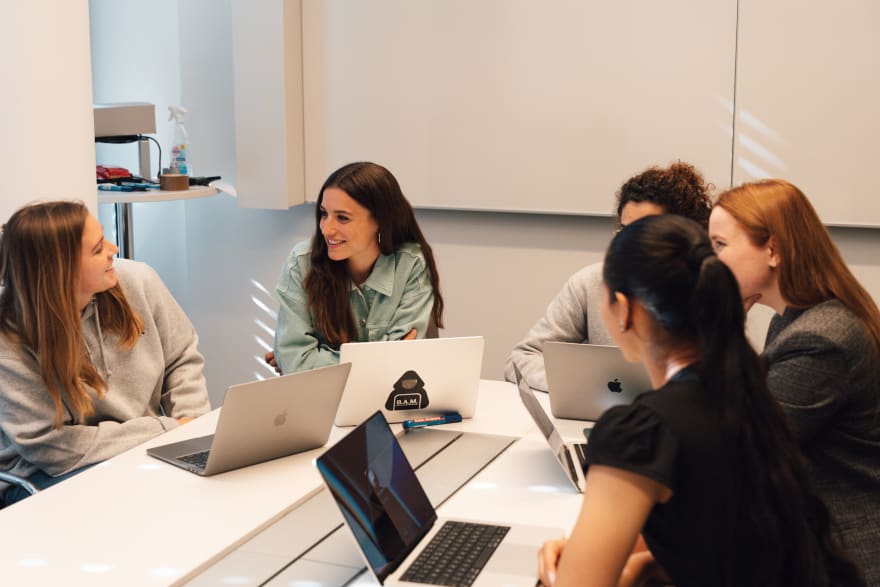 Discussing new Make automations with colleagues
I am supporting the Operations Development Team which is responsible for handling the timely delivery of our cars and the return process after a subscription ends. Hence, I am responsible for all automations that deal with the car coming from the OEM to the compound, being delivered to the customer and, in the end, back to the compound as well as to one of our remarketing partners. This comprises integrating processes with many different partners, with which we maintain a close data exchange for ensuring seamless processes. My daily work thus includes the following tasks.
(Daily) Tasks:
Creating MVPs for automating manual tasks: When we are, for example, planning to integrate with new service partners and we need to share information, no-code automations provide quick solutions. When the scope of the process increases, we reconsider whether this is more suitable for an implementation with pro-code.
Writing technical proposals: When conceptualizing bigger projects, different approaches must be planned before the implementation. This means discussing and getting into feedback loops with various stakeholders that are in our case the product and the operational team. A specific example is the defleeting topic (cars leaving the FINN fleet) that has not been supported by tech solutions as much as the infleeting processes, as they happen at a later stage in our business lifecycle. To create a holistic solution, thorough planning is required.
Maintaining existing scenarios: This comprises making sure automations run reliably and smoothly. As FINN is growing as a company, also our data transfer rate is increasing and more often we are hitting technical boundaries in the respective modules in Make. To ensure that all 130 scenarios, that I am responsible for, are running, I built another Make scenario that checks the statuses of the automations in the last 24h and informs me which ones hit an error or warning.
Questioning the status quo: If an automation is not very robust and regularly fails, it is time to refactor the scenario and adapt it to no-code best practices. It is also possible that business circumstances or external requirements change, which require updating the scenarios.
Participating in the no-code automation squad: Here we are trying to establish best practices of no-code in the company. That is achieved with a new onboarding for Make with hands on exercises for all new joiners. By doing this, we empower everyone at FINN to use our no-code tools for smaller automations.
Documenting existing scenario landscapes with Miro to keep a good overview over them.
Skills that are important for the job:
Skills that helped me in the job are being open and communicative since I am the contact person for various stakeholders. A good mix between paying attention to small details but also staying creative to consider entire processes is crucial too. To implement the latter, analytical thinking and a sense of pragmatism is required. Generally, a good understanding of business and tech basics will help you to succeed in the job.
Challenges in the job:
Starting your first job after university can be challenging. Personally, I was feeling overwhelmed with the amount of existing scenarios and the maintenance work that comes with them. It can be demanding to reproduce someone's thoughts behind setting up an automated flow. Furthermore, understanding the complex business processes that stem from the integration with many different stakeholders was a challenge. However, building better documentation around the automations that support these business processes, was a good approach for me to tackle that complexity.
Conclusion:
As a BAM you have great possibilities to develop into different directions and set the focus as you wish. If you are interested in the strategic alignment of the product, the position gives you that flexibility. But moving in a more technical direction, thus including pro-code into automations and workflows, is also a possibility.
For me the position seems like a perfect fit, since in my bachelors I studied International Business Administration and I completed my Masters Degree in Information System Management. Thus, as a first job after university, this job gives me the opportunity to explore a broad field of topics.
Check out the position of Business Development Manager for Automation, if you want to be a part of FINN's automation journey.