Microsoft announced a set of new services targeted at ordinary consumers, including: New features in its Edge browser that help you to do your work more efficiently, save time, and protect your data and identity online. So if you haven't tried the new Microsoft Edge browser yet, now is the time to try it out, and maybe move to it.
Here are the top 6 new features in Microsoft Edge:
Improving groups feature to organize searches:
Collections allows you to easily collect information from different websites, organize and export them to different files, or return to your search at a later time and start where you left off.
To access this feature, Simply click on the "Groups" button in the top right of the browser next to your account picture, and a menu will open to the right of the browser where you can easily drag and drop web pages, texts or images into the group, without having to open another page or application.
You can then either send your group to Word or Excel, or share it by copying and pasting in Outlook or any other email service.
The advantage of vertical tabs to work more efficiently: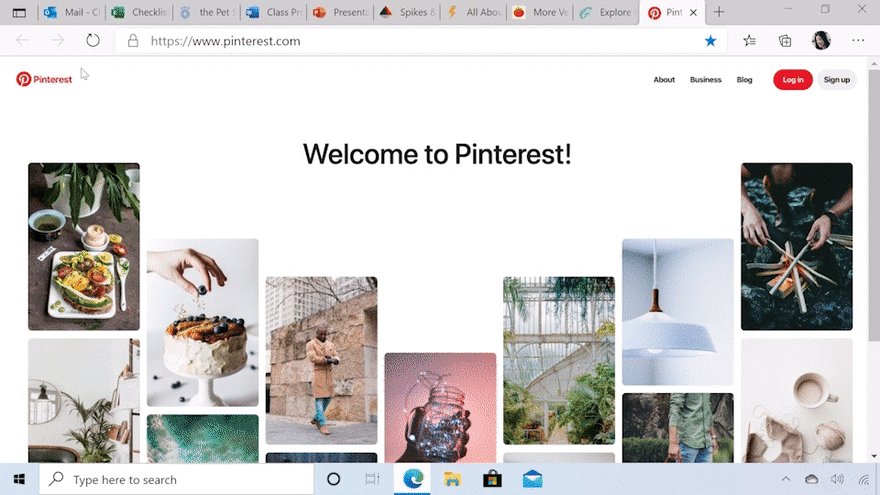 Microsoft has announced a new feature called "Vertical Tabs", a feature that helps you to easily access and manage all open tabs in the browser simultaneously. You can display the tab strip on the left side instead of at the top of the browser, with a fixed width for each tab giving you plenty of room to highlight the page you want.
And if you open many tabs, you can scroll up and down through the menu. You can also click and drag tabs up or down, and even multiple selection to pull the entire groups and organize them as you like.
Microsoft Edge is the only browser so far that allows you to manage private tabs through a menu that opens in one direction with one click.
Smart Copy feature to save time:
Smart copy makes it easy to accurately select, copy and paste the content you want from the web while preserving the original HTML format.
You can use the pointer to select any region or any type of content, and when pasted it will retain the same format, including images or links.
Password Monitor:
Microsoft has added a new feature to the Edge browser called (Password Monitor) to help keep your online accounts safe. Once activated, it will inform you if the login data for the sites you have saved in Autofill have appeared in any data breaches in the dark web.
Immersive Reader mode to make reading more focus:
Microsoft added to its browser the Immersive Reader mode, which removes screen distraction, and creates a simple environment that helps you focus.
This mode also gives you access to a variety of tools that help customize the experience that suits you best, such as the ability to hear the article out loud or edit the text.
Create an application for your favorite sites using the Edge browser on Windows 10
One of the most great features in the new Edge. Many websites offer features or tools that we use so much in everyday life that they can even replace traditional desktop software. On the web, there are websites for everything from managing email and editing documents to playing videos and music. So, it would make sense if there was a faster way to reach those sites. True, we can put it in bookmarks to quickly visit it in a web browser, but Microsoft's new "Edge" browser provides a more convenient solution - by converting those sites into standalone applications that can be handled just like any other application in Windows 10.
All you need to do first is to launch Microsoft Edge browser either through the taskbar or the Start menu, then head to the home page of the website for which you want to create its own separate application - make sure the address bar is that the home page is now displayed in the browser, not a sub-page on site. After that, press the menu button (...), point your mouse pointer to the "Apps" option and click "Install (name of the site)" from the drop-down menu. When the confirmation window appears, to install that website as an application
And here you are! , you have web-based application already

you can also find it in the start menu for windows by searching for it
I hope you enjoyed this article , looking forward to read your opinion about this new features , I am on a new article about features on the new Edge for web developers.