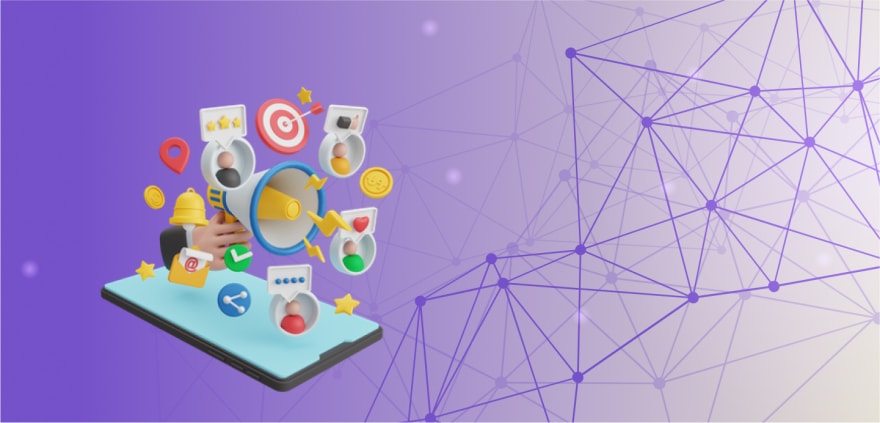 'Web 3.0 will have a remarkable impact on digital marketing.'
This is what I think. Why? I'll explain it in this blog.
Our generation has been progressing with evolving technology.
Earlier generations (the generation of our grandfathers and fathers) desperately needed money, hence jobs for a living. Thus came industrialization. The next generation was more into liabilities for living a comfortable life, and this was the time when IT companies and jobs were at their peak. Today's generation (us) believes in living a contented life. It is the time of social media and marketing. Rather than a big package, we people look for good office culture and work-life balance and focus on investments.
This is how the generations have changed along with the turning points in the structure of the internet and advancements in marketing.
Do you know that 3 million users all over the world make killing on Internet technology every single day? The internet has progressed without slowing down, from a static desktop modeled for content utilization to a more immersive experience. These changes are powered by three prime additions: smartphones, cloud storage, and social media.
And so comes the topic of Web 3.0. It is quite evident that technology has tremendously swapped the way we do business. In marketing explicitly, there have been three waves of tech advancement: Web 2.0, Social Media, and now Web 3.0.
(Web 1.0 is more precisely about text and graphics).
By now, it must have been clear to you that today we are going to talk about Web 3.0 and digital marketing.
So, let's get into it.
Hereabouts of Web 3.0
Web 3.0 (decentralized internet) is the next-gen internet technology. It focuses more on artificial intelligence (AI) and machine learning (ML). However, it is still an improving technology, so giving a specific definition is not possible.
But, you can view it as the World Wide Web, it is decentralized, constructed, uses a blockchain system, and keeps the user's information secure.
The overall idea of Web 3.0 is transparency, openness, and data privacy. With AI and ML, Web 3.0 gives an internet experience that is more personalized and user-specific.
Therefore, Web 3.0 is a semantic web.
According to a study by Gartner, 63% of digital marketing directors struggle to provide personalized experiences. Marketing leaders should use Web 3.0 to better acknowledge end-users demands and preferences.
Web 3.0 offers relevant consumer data and helps digital marketers enhance their targeting and help them offer more personalized services.
I hope Web 3.0 is a little bit clearer to you now. Keep reading to understand more about web 3.0 in digital marketing.
Web 3.0 and Digital Marketing
Web 3.0 is transforming the digital marketing industry through transparency, data privacy, and blockchain technologies.
It also provides several opportunities for marketers to build users' trust and connections.
Some of the transformations in digital marketing because of Web 3.0 are as follows:
User-generated content will be accessible for digital marketing.
The users will be the keepers of their data and can maintain their privacy.
Many virtual communities will come to the fore.
Digital marketing services will be using dApps.
AI and the semantic web will take over the marketplace.
User-generated content will be accessible for digital marketing
The user-generated content has more value in Web 3.0. End-users are important in this web version for digital currencies, holding off their content, and positions on platforms.
And digital marketing services should have to transform themselves according to the changing situation.
Web 3.0 allows users to create their own networks with all kinds of devices. Digital marketers should use this space and merge consumers as content creators into the game to reach out to a larger audience.
Giving acknowledgment to user-generated content will set up a trustful and genuine relationship between the marketers and their target audience.
The users will be the owners of their data and can maintain their privacy.
End-users are self-governing in Web 3.0. The user will be the sole owner of their private data and they will have all the rights to sell and trade it.
If marketers become familiar with blockchain technology, they will have to find a way to retrieve data from the users without any infringement on the consumer's privacy.
Many virtual communities will come to the fore
Web 3.0 focuses on the relationship between users to strengthen connections. Digital marketers should be present in these groups. This is because by entering these channels only, they can access the virtual communities.
Digital marketing will be using dApps
Digital marketers should support decentralized applications (dApps). Because the centralized data collection method is beyond Web 3.0, digital marketers should create decentralized implementations based on blockchain technologies. dApps allow marketers to secure end-users privacy, avoid censorship, and have unlimited development events.
AI and the semantic web will take over the marketplace
Web 3.0 will direct digital marketing to use AI and semantic web benefits in a wide area. Marketers can use open-data sources through AI algorithms to reach out to the targeted audience.
Accordingly, digital marketing services will create more personalized content for its end-users. The semantic web will assist digital marketing to develop from a broader perspective. This way, marketers can understand the consumer's behavior more clearly and develop strategies.
To Sum Up
We are heading towards a future where consumers will have full control and power over their data and privacy. These are all the consequences of the blockchain system, artificial intelligence, machine learning, virtual reality, and semantic web technologies.
In the end, the turning point is Web 3.0. Transparency in data usage, more personalized, accurate insights, user freedom, and decentralization are the basics of web 3.0.
This is the future of digital marketing.
This also means that whoever enters early will reap the most benefits. We understand that digital marketing services can be mind-boggling, especially when you are new to this industry.
This is why we wrote this blog and we are always here to help you with building your audience and building your brand by managing your brand's marketing in the Web 3.0 ecosystem.
You can read the full article here.