These are illustrated notes I made while working through Chris Achard's Fix Common Git Mistakes course on egghead.
The course is a great refresher on the fundamental structure of git, adding and removing commits, and (critically) undoing mistakes of all kinds.
---
The Basic Structure of Git
Chris covers all the various 'levels' your Git files can be at. I personally needed to think of it as a spatial stack to understand how files move between them.
Every time I push commits to Github I see something like this in my head:
I also found it helpful to think of the 'stash' as a side drawer you tuck files away in, and then can 'pop' them back out later.
---
Branches are Pointers
This framing of git branches as "pointers" you can move around changed the way I think about them a lot.
We can move the pointers to different commits, which are just different versions of our project at a specific point in time.
---
Git Log
git log is a handy feature that shows you all your previous commits and their details. It's quite verbose though.
git log --oneline is much easier to read since it only shows you the commit hashes and messages
git log --graph draws a tiny graph in the terminal showing branches and merges

---
Undoing Mistakes
Git Commit Ammend
git commit --ammend lets us add or change files in our last commit, as well as the commit message
Git Reset
git reset will move a file backwards. If you're committed a file to either staging or the local repo, we can bring it back to our working directory.

Git gives us three levels of "intensity" for resetting - git reset --hard, git reset --soft, and mixed.
If you don't specify one, mixed is the default which just moves it from the local repo back to your working files.
---
Git Diff
git diff is a handy utility for seeing what's changed between two commits or two files
You can compare two commits using their branch names or commit hashes: git diff main new-feature
You can also compare two files by passing in both file names: git diff path/to/file/ComponentA.js path/to/file/ComponentB.js
---
Detached Head
A detached head is less morbid than it sounds. It just means we've checked out a commit using it's specific hash name, such as git checkout 49da32
That commit is now the "head" because it's the most recent version of our project.
It's "detached" because we've navigated there directly and aren't on our usual branch structure. We have to "reattach" the commit back to our branch with git checkout -b my-new-branch-name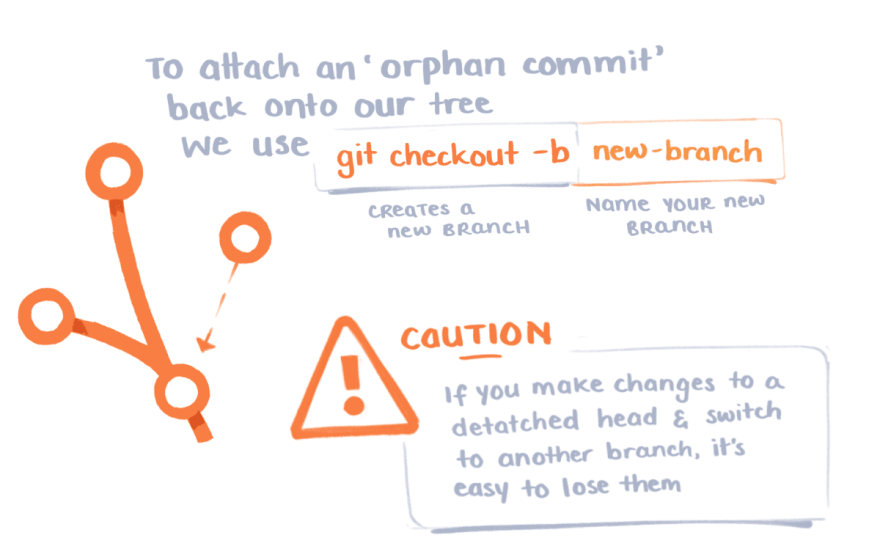 ---
It feels good to be less lost in the git forest now.
I hope some of these techniques make your git log less sad too :)
There's plenty more in Chris' course that I left out here.
---
👁‍🗨 If these are hard to read, you can download a free high-res PDF version on the course itself.
Dev.to limits image sizes a lot and it's hard to make it readable on here. Apologies!