We are pleased to announce that SkyBiometry's face detection technology has been integrated into Eden AI API.
Face detection is a computer technology that locates and identifies human faces in digital images or videos.
It is used in a variety of applications, such as security systems, biometrics, and image analysis. Face detection algorithms scan an image and identify the presence and location of faces within it. They can detect faces regardless of orientation, scale, or pose. The technology is based on computer vision and machine learning, and it works by analyzing the visual characteristics of faces, such as the eyes, nose, and mouth, and recognizing patterns in the image data.
The output of a face detection system is typically a bounding box that outlines the location of the detected face in the image.
‍
‍What is SkyBiometry?
SkyBiometry is a biometric technology provider that delivers cloud-based face detection software as a service (SaaS) and is a spin-off of Neurotechnology, a trusted provider of high-precision biometric identification, object recognition, and computer vision technologies for more than 20 years.
‍
Why do we offer SkyBiometry in addition to other face detection APIs?
Eden AI offers SkyBiometry AI solutions on its platform amongst several other technologies. We want our users to have access to multiple AI engines and manage them in one place so they can reach high performance, optimize cost and cover all their needs.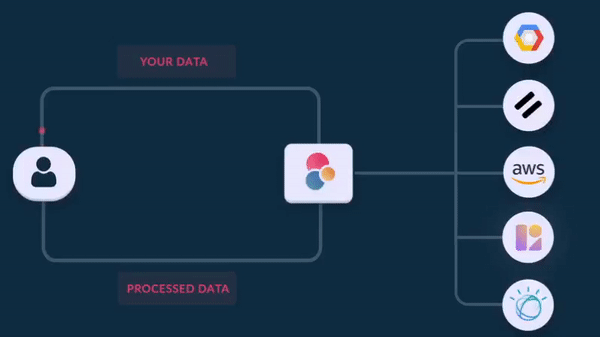 There are many reasons for using multiple AI APIs : ‍
Fallback provider is the ABCs.
You need to set up an AI API that is requested if and only if the main AI API does not perform well (or is down). You can use the confidence score returned or other methods to check provider accuracy.
Performance optimization.
After the testing phase, you will be able to build a mapping of AI vendors' performance that depends on the criteria that you chose. Each data that you need to process will be then sent to the best API.
Cost - Performance ratio optimization.
This method allows you to choose the cheapest provider that performs well for your data. Let's imagine that you choose Google Cloud API for customer "A" because they all perform well and this is the cheapest. You will then choose Microsoft Azure for customer "B", a more expensive API but Google performances are not satisfying for customer "B". (this is a random example)
Combine multiple AI APIs.
This approach is required if you look for extremely high accuracy. The combination leads to higher costs but allows your AI service to be safe and accurate because AI APIs will validate and invalidate each other for each piece of data.
‍
Try Eden AI for FREE
Interview with SkyBiometry Software Developer
We had the chance to talk to SkyBiometry Software Developer, Matas Malickas, who agreed to answer some of our questions:
‍
Can you introduce SkyBiometry?
SkyBiometry is a spin-off of Neurotechnology and uses its award-winning algorithms to provide biometric technology as a service. SkyBiometry was created in 2012, providing cloud-based facial biometric services for over ten years.
The technology behind us is a result of continuous algorithm research and software development in the areas of biometrics and object recognition that is delivered all around the world for more than 20 years. Members of our team are professionals having 5-15 years of experience in biometric solution development as well as algorithm research and consultancy. We believe that the rapid growth of cloud technologies opens opportunities to deliver better products faster and scale out easier for our customers.
Who are your customers?
SkyBiometry is used for user validation and facial verification in fields such as advanced security, time attendance, and dating/social applications. Our algorithm is suitable for any other project which needs cloud-based face detection or recognition API. We have a lot of customers who use our service for very unusual, non-standard, and interesting projects.
We are always ready to give you advice and share our experience in different projects which are concerned with facial biometrics.
Why did you decide to be integrated into Eden AI?
Eden AI is an ambitious project that helps users to get the best out of what is on offer in the AI field. What we like the most about Eden AI is that this platform allows users to freely explore various providers through a convenient user interface and the available API without the need to create multiple accounts on each platform.
How to use SkyBiometry on Eden AI?
You'll need some documentation to use SkyBiometry face detection on Eden AI. Then call the API:
Eden AI is a must-have
Eden AI is the future of AI usage in companies. Our platform not only allows you to call multiple AI APIs but also gives you :
Centralized and fully monitored billing for all AI APIs
A unified API for all providers: simple and standard to use, quick switch between providers, access to the specific features of each provider
Standardized response format: the JSON output format is the same for all suppliers thanks to Eden AI's standardization work. The response elements are also standardized thanks to Eden AI's powerful matching algorithms.
Best Artificial Intelligence APIs of the market: big cloud providers (Google, AWS, Microsoft, and more specialized engines)
Data protection: Eden AI will not store or use any data. Possibility to filter to use only GDPR engines.
You can see Eden AI documentation here.
‍