If you're a creative professional, this is perfect for you!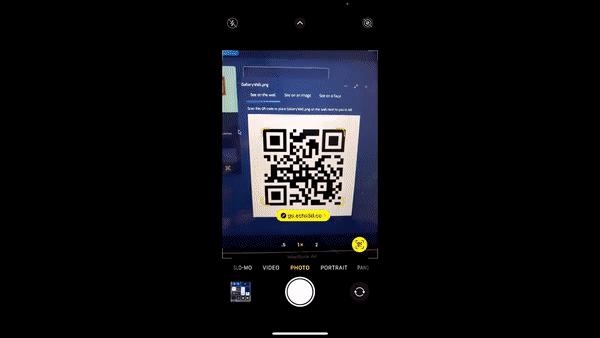 Whether you're an artist, photographer, AR engineer, hardware engineer, carpenter, etc.), you can create a very simple and impressive augmented reality portfolio.
No need to download an app and it's free using echo3D!
Register
Don't have an API key? Make sure to register for FREE at echo3D
Setup
Watch the video tutorial:
Instructions:
Sign up with echo3D for free
Get your image ready (I created a gallery wall in Photoshop to be fancy). Download the PSD file here to reuse it).
Click the Add to Cloud button and upload your image
Click Next and choose "Anywhere" location for this demo. Let it upload.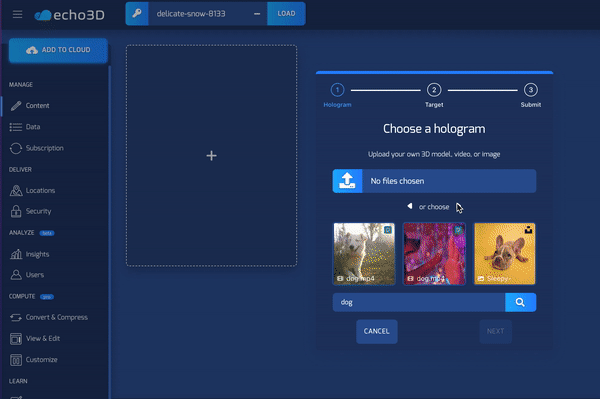 Click on the small QR code under the asset to get the full sized QR code OR use the link to share with other people
Share the QR code or link (Pro tip: Save the QR code on your phone and let people scan it directly from your phone in person! See their reaction live)
Re-use the Gallery Wall Photoshop template here. It's available as a .psd file.
Check ours out with this link https://go.echo3d.co/yaV5 or scan this QR code:
---
Learn more
Refer to our documentation to learn more about how to use echo3D.
Support
Feel free to reach out at support@echo3D.co or join our support channel on Slack.
Share yours with us! Send it to Bebe@echo3d.co.
More Tutorials
To learn how to make other similar projects, try one of these:
---
echo3D (www.echo3D.co; Techstars '19) is a cloud platform for 3D/AR/VR that provides tools and network infrastructure to help developers & companies quickly build and deploy 3D apps, games, and content.