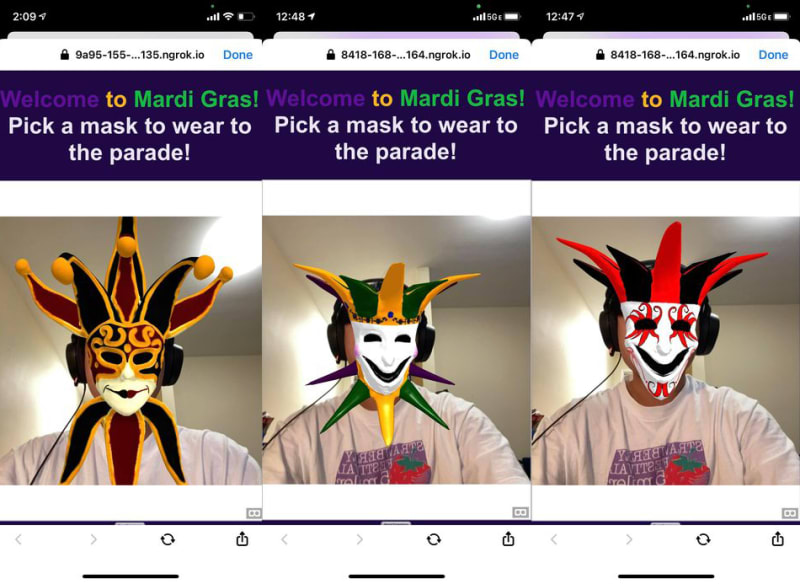 Join the Mardi Gras Masquerade Parade using FaceAR and echo3D!
Which Mardi Gras mask will you get?
Register
Don't have an API key? Make sure to register for FREE at echo3D.
How to Use
User shuffles between 3 masks by clicking the screen. Underneath the camera canvas is a reset button that will reset to the first mask.
Learn more
Refer to our documentation to learn more about how to use FaceAR and echo3D.
Setup
Follow the instructions here!
Screenshots
Support
Feel free to reach out at support@echo3D.co or join our support channel on Slack.
To learn how to make similar projects, check these out:
Beignet Recipe (Ready in 10 minutes or less!)
Because Mardi Gras is such a fun holiday with a very famous delicious treat, we will share how we make them at home so you have a snack while you go through the tutorial! Reference link: here
Ingredients
Store bought pizza dough (can be the one in a can like Pillsbury!)
Powdered sugar
Cooking oil
Instructions
In a saucepan, heat 2 inches of oil to 350 degrees F
Set a plate to the side with a paper towel on it
Flour the pizza dough, roll it into a ball and cut small rectables about .5 inch thick
Fry 2–3 minutes at a time until deep golden brown
Let excess oil soak into the paper towel
Top with powdered sugar (if you want to go all in, carefully toss the hot beignets into a paper bag full of powdered sugar to get them REALLY coated!)
Credit: Pillsbury
echo3D (www.echo3D.co; Techstars '19) is a cloud platform for 3D/AR/VR that provides tools and network infrastructure to help developers & companies quickly build and deploy 3D apps, games, and content.