There are 10,000,000+ YouTube videos, Chrome extensions, and resources for coding.
Don't waste time going through all of them to find the best.
Follow for such content.
1. Scribe.
Writing up docs and how-to guides used to take up so much time, but not anymore!
Scribe creates auto-generated step-by-step guides, cutting down hours of work to minutes.
It's a must-have tool if you're working solo or in a team.
2. Fireship.
This YT channel is a bit different to the others.
Jeff does an amazing job of explaining super complex stuff in an understandable way in seconds, not hours.
The production quality is killing.
Watching this channel will teach you so much.
3. FreeCodeCamp.
freeCodeCamp is the ultimate free resource for learning and upskilling your programming skills.
Over 9,000+ tutorials.
Whatever skills or technology you're looking to build, there's sure to be a tutorial.
4. Wappalyzer.
This is a personal fave of mine!
It's helped me several times as a web developer and business owner.
Wappalyzer tells you the tech stack of any website.
This is a great asset if you want to stay on top of technology trends.
5. Traversy Media Brad.
traversymedia has created web development courses for over a decade.
And he's damn good at it too!
His YouTube channel is full of simple-to-understand crash courses on everything from beginner frontend to advanced backend.
6. Official Documentation of whatever technology you're learning.
This is a primary method of how professional software developers learn.
This is where you ultimately want to be.
7. LeetCode.
LeetCode is arguably the best platform to practice technical interview questions.
Anytime you want to switch companies for a higher position or pay, you should be spending time here preparing for your technical interviews.
8. Daily Dev.
Want to stay on top of the latest developer news?
dailydotdev chrome extension has you covered.
It even offers personalization so you get just what you're looking for.
Currently used by over 150k devs, and growing.
9. ProgrammingWithMosh.
Mosh has a wealth of experience and has transferred that into courses and content taking people from limited coding experience through to hirable software developers.
A lot devs have had fantastic outcomes learning from him.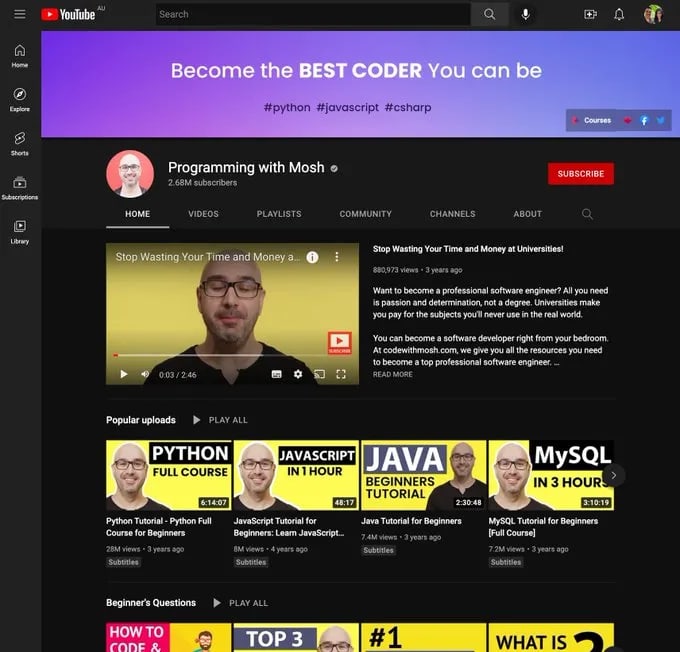 10. Harvard CS50 Courses.
Get Harvard education without the price tag (it's free).
Deepen your knowledge in your current domain or expand your areas of expertise, and know that you're getting information straight from top quality sources.
If You liked this Article.
Follow for more such content around web development, resources, tips, and cheatsheet.