Hope you are doing well and your family friends and loved ones are healthy back home!
Actually, I thought of sharing it with you
I'm a Big Fan of Elon Musk
What's the story ?
Few Years Ago when SpaceX was nothing much and just started with an Idea
Elon Musk on an Interview and talked about Neil Armstrong & Gene Cernan who both testified against commercial space flights and didn't liked his idea...
Never Give Up Approach
Elon didn't give up and keep growing his company SpaceX with multiple projects back to back and also started working with NASA contracts
---
And the day has come !!!
---
SpaceX will now have a historic manned NASA flight in collaboration with NASA to Launch First Astronauts to Space Station from U.S. Since 2011.

What this mission is about?
You can Read Here
Yesterday, SpaceX Crewed mission postponed due to bad weather just before launch
New Schedule : Saturday, 3:22 p.m. EDT May 30
---
Interestingly... What's great thing to see....
---
"This is a dream come true, I think for me, and everyone at @SpaceX @elonmusk #LaunchAmerica"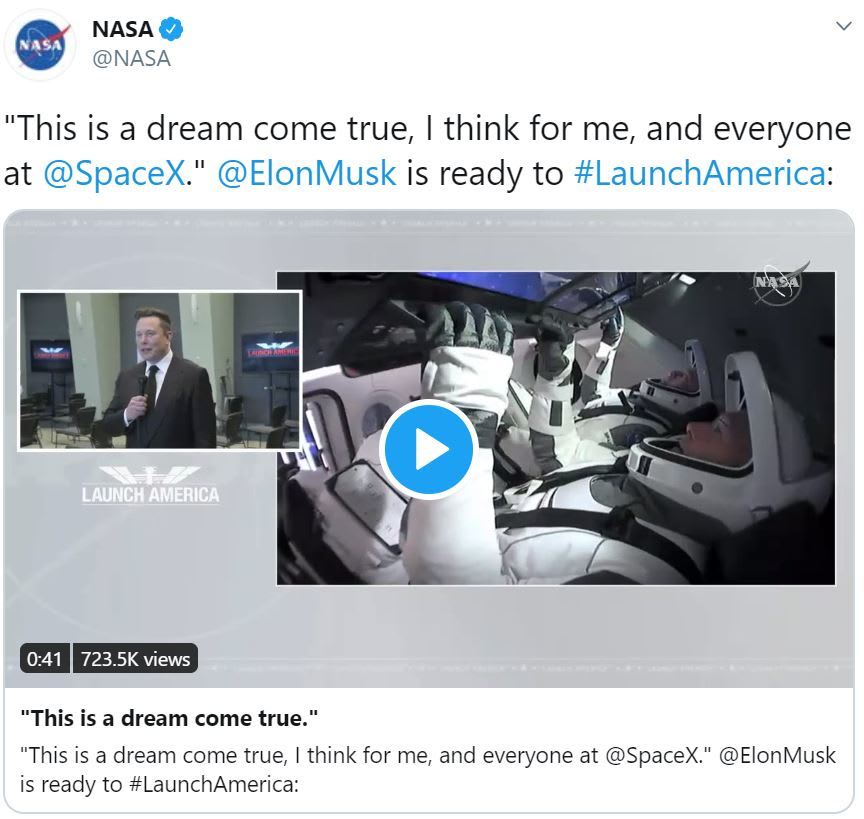 ---
And they did it now as per decided schedule : Saturday, 3:22 p.m. EDT May 30
---
What Donald Trump says on Elon Musk 🚀🌍🤩👨‍

---
AWESOME ELON 🚀🚀👨‍🚀👩‍🚀🌍🌍🌌🌌