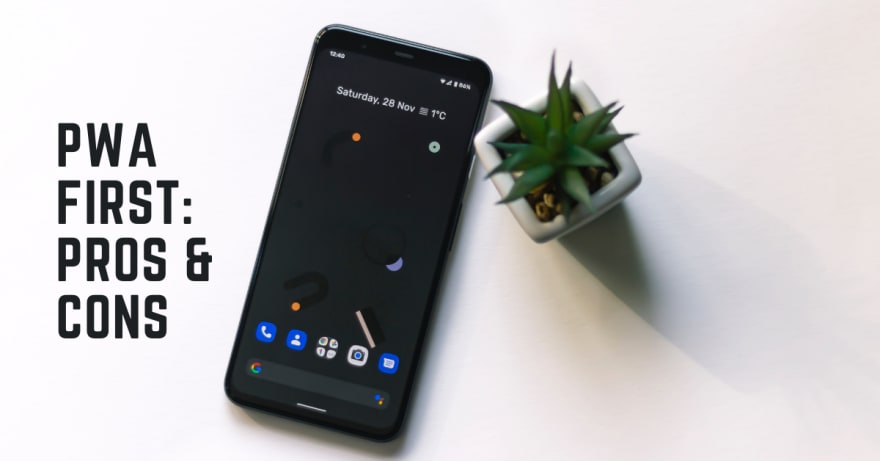 A couple of years ago the Mobile First strategy was a priority for the majority of eCommerce companies. Nevertheless, everything changes very quickly, and recently the Mobile First was replaced with the PWA First approach.
PWA First is a concept that implies in developing a progressive web application as your entry into the market instead of building an iOS or Android mobile app.
In some ways, the PWA First can be considered as a form of the Mobile First, but it's not limited to a single platform or an app store.
The main difference between PWA and a native mobile app is that PWA can be released on the web and it also doesn't have to be installed. It means that online users can easily find a PWA and get fast access to it.
Let's investigate if the PWA First is a good solution exactly for your online business.
PWA benefits:
PWAs are faster than a traditional website due to the caching and request processing technologies;

Light weight. For example, Twitter Lite PWA is only 600KB. In fact Twitter Android native mobile apps is 23,5MB;

The biggest advantage of PWA is its ability to run in offline mode;

Lower development cost. If you are an online merchant, it would be much cheaper for you to create only one app that will fit any device, rather than to build several apps for each operating system;

Higher level of security. PWA is based on the HTTPS protocol, which protects data from intercepting and spoofing.
PWA drawbacks:
Limited features for iOS users. Currently Android users can take more advantages of using PWA, as Safari browser doesn't support progressibe web apps at all;

App store traffic. App stores are a separate world with thousands of apps to choose from. As it was mentioned, PWA doesn't require to be downloaded, so you will have to look for another way to reach your target audience;

Challenge of finding an experienced PWA developer. The PWA First concept is comparatively young, which may become a reason there are still less professionals that will be ready to create a truly functional progressive web app for your business.
If you want to offer your customers exceptional mobile experience, you shouldn't give up on the PWA idea. To learn more about it, you can visit this article that describes all basic aspects of Magento PWA development.